While they try to make us believe that a future vaccine would be the Holy Grail, the panacea that will save humanity from extinction by Covid-19, the media label as conspiracy theorists those who reveal the conflicts of interest that cast doubt on the rhetoric of the priority given to our health. To question the decency of huge expected profits from collective misfortune seems unbearable for the spheres close to power. Yet these links between governments and multinational pharmaceutical companies are at the heart of the problem. It is therefore more important than ever to know who is speaking and who is deciding our future. Because we cannot reasonably listen to and believe those who work for a private interest disguised as a common good.
It was in 2017, at the World Economic Forum, known as the Davos Forum, that the organization for the future management of future pandemics was born as the « Coalition for Innovations in Epidemic Preparedness. » Behind the acronym CEPI are states such as Norway or Japan, the Bill & Melinda Gates Foundation or the Wellcome Trust, the richest medical charity after Gates'. A classic PPP (public-private partnership), strongly supported by the WHO to accelerate the development of a vaccine. Bill Gates, the main sponsor of the WHO, will say that vaccines are » the best investment he ever made(1) « . He could not have done better than to ally himself with the UN organization.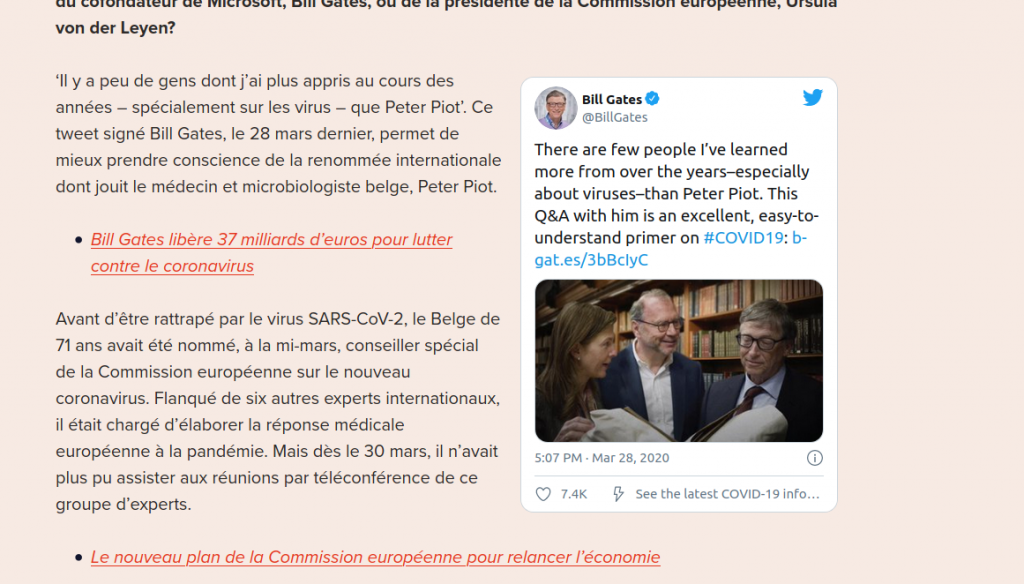 Peter Piot, director of the London School of Hygiene and Tropical Medicine, and Paul Stoffels, chief scientific officer of Johnson & Johnson, of Belgium, are two of the initiators of the CEPI. The first, a great benefactor of humanity, is a zealous developer of the vaccine: » Today, there is a worldwide effort to develop a safe and effective vaccine against Covid-19 as soon as possible. Only then can we say that we have truly defeated the virus. CEPI plays a central role in this respect as an international coalition of public and private partners. Belgium's contribution will accelerate the search for a vaccine. Appointed Special Advisor to the European Commission on the new Coronavirus by Ursula Von Der Leyen(2)The Belgian microbiologist is also favored by Bill Gates: » There are few people I've learned more from over the years — especially about viruses — than Peter Piot. « (3)
What is CEPI?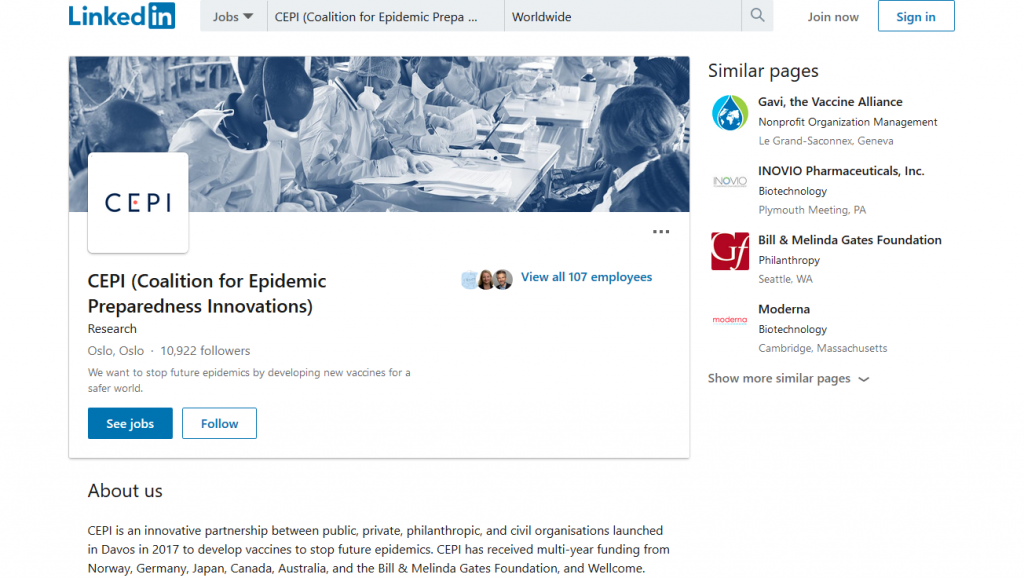 When we look at CEPI's profile, we discover that it is closely linked to organizations such as Gavi, Inovio, the Bill & Melinda Gates Foundation and Moderna.
Inovio, a biotechnology company working on DNA, has as partners AstraZeneca, Beijing Advaccine Biotechnology, International Vaccine Institute, Regeneron, Genentech, the U.S. Department of Defense, CEPI and the Gates Foundation. According to Inovio, in December 2019, its Coronavirus experts learn of a new Coronavirus in Wuhan. Inovio receives :
- January 23, 2020, $9 million from CEPI: This money allows the launch of the first phase of testing of INO-4800, Inovio's new vaccine, which injects a DNA genetic code into a person's body in order to trigger a specific immune response against the SARS-CoV‑2 coronavirus;
- March 12, $5 million from the Gates Foundation;
- March 26 and June/July 2020, $11.9 million and $71 million, respectively, from the U.S. Defense(4);
- Phase 2 of Inovio's INO-4800 Vaccine will be conducted in collaboration with Advaccine in China and IVI in Korea; for this phase launched in June 2020, CEPI will donate $7.3 million to Inovio.
Gavi, The Vaccine Alliance, whose founding members are WHO, UNICEF, the World Bank and… the Bill & Melinda Gates Foundation. To launch Gavi, the Foundation gave him $750 million. Since then, it has received a total of more than $4 billion(5). On June 4, 2020, the foundation announced a $1.6 billion donation to Gavi, The Vaccine Alliance, » to protect future generations with life-saving vaccines « (6). Gavi aims to » shape the vaccine market » and the Gates Foundation is contributing to this through a role » both technical and financial. It helps gather data to guide our decision-making and provides funding. The Foundation invests in activities ranging from vaccine discovery and development to delivery, while encouraging product innovation and new entrants to the market « (7). We would thank them if it were not for the fact that their fortune came from a first looting: « the accumulation of wealth feeds « philanthrocapitalism » ».(8)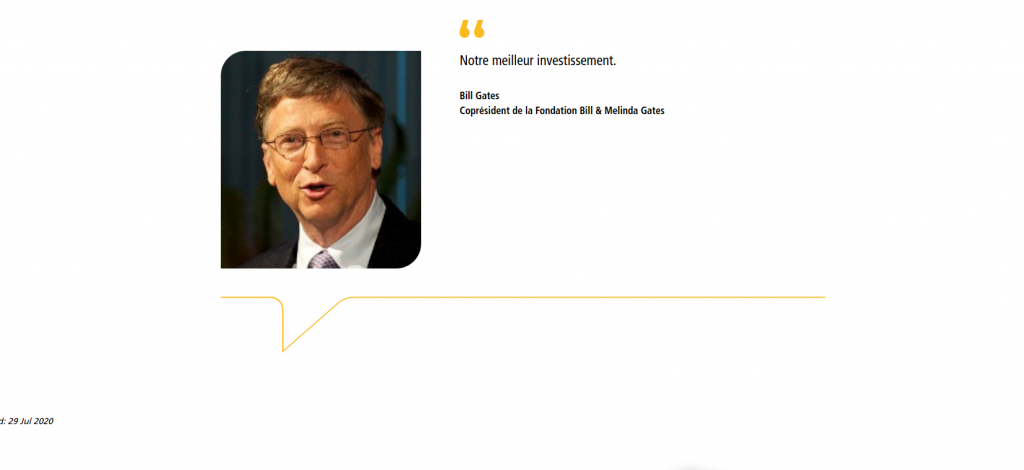 Moderna, a publicly traded company that, as of March 2019, has received $1.05 billion from the Bill & Melinda Gates Foundation. Moderna's director, Stephane Bancel, is a French businessman and billionaire, CEO and 9% owner of Moderna, an American biotech company, as stated on his Wikipedia page. The Covid-19 has helped him to increase his fortune: » In 2020, as Moderna's stock price rose on news of impending Phase 2 human trials for its potential Covid-19 vaccine, its stake in Moderna made it a billion dollar company. On May 18, 2020, when the stock price peaked at $80, its share of Moderna was worth $2.5 billion « (9). Epidemics are good… for some. Stéphane Bancel is also a member of the capital fund Flagship Ventures and(10) and was, among others, president of BG Medicine(11). He also held the position of Managing Director of Eli Lilly Belgium(12), known for the famous and criticized antidepressant Prozac, a firm whose Belgian branch was located, before it closed, in the industrial zone of UCL.
This October 21, we learn on the site of Boursorama, that » Moderna's chief executive, said the U.S. government could authorize emergency approval of its experimental Covid-19 vaccine in December if the biotech gets positive interim results in November from a large clinical trial. »(13). In the « vaccine race », where whoever comes in first will secure an unprecedented windfall, Pfizer is also competing. Both are in a hurry and will seek emergency approval for equally urgent marketing. Money doesn't wait. Faced with this, will the public authorities take into account that » Moderna's messenger RNA-based technology has never proven effective against other viruses, » and that » previous work using this technology has had the opposite effect to that desired, making recipients more likely to become infected(14) » ? Never mind, Bigpharma has already worked behind the scenes to avoid any lawsuits should the Covid-19 vaccine have harmful side effects(15).
CEPI(re) that you think
Let's get back to CEPI. We also find Luc Debruyne, where he is a strategic advisor. On his Linkedin page, he is presented as a » business leader with over 30 years of experience in the life sciences industry, he has » for the past 5 years led the global vaccine business for GSK and was a member of the GSK Corporate Exec team, growing revenues by over $7 billion in 2018 and making GSK the world's number one vaccine company. » It has developed close links with governments, NGOs and academic institutions.
Luc Debruyne is, like Peter Piot, a member of the institutional advisory board of the Flemish Institute for Biotechnology (VIB), a company that considers » science as an engine for economic growth « , 51% of whose revenues come from the Flemish government and 49% from other sources, notably private. In connection with several universities (Gent, Hasselt, KU Leuven, Université Libre de Bruxelles, Antwerp), it has initiated several spin-offs, i.e. structures that build bridges between public university research and private innovation, to make them business model according to the well-known logic of socializing costs and privatizing benefits. As Le VIB states on its website, » Technology transfer is firmly anchored in the mission of VIB. VIB's research provides new and innovative insights into life processes that benefit society as a whole [sic]. Our Innovation & Business team focuses on translating research findings into a variety of new products, agricultural innovations, medicines and therapies that improve lives . Whose life? It will be necessary to specify. This is the same organization that will receive authorization to experiment with the cultivation of a GMO corn and that in March 2020 will announce having developed an antibody capable of neutralizing the Covid-19 virus.
» No time to lose ».
If Moderna and Stéphane Bancel are in a hurry, so is Alexander De Croo, all of them probably chasing the same thing. The latter will express: » This deadly coronavirus is spreading rapidly. If we want to save human lives, we must also accelerate the development of vaccines. CEPI would like to conduct clinical trials within 4 months. This is significantly less than the usual time frame. We have no time to lose »(16). Belgian diplomacy could not be clearer « Belgium joined the CEPI under the leadership of Minister De Croo in 2017. This global coalition aims to facilitate the availability of new vaccines against emerging infectious diseases and thus reduce the risk of future pandemics. » What foresight, isn't it? Bill Gates must be proud of his foal(17).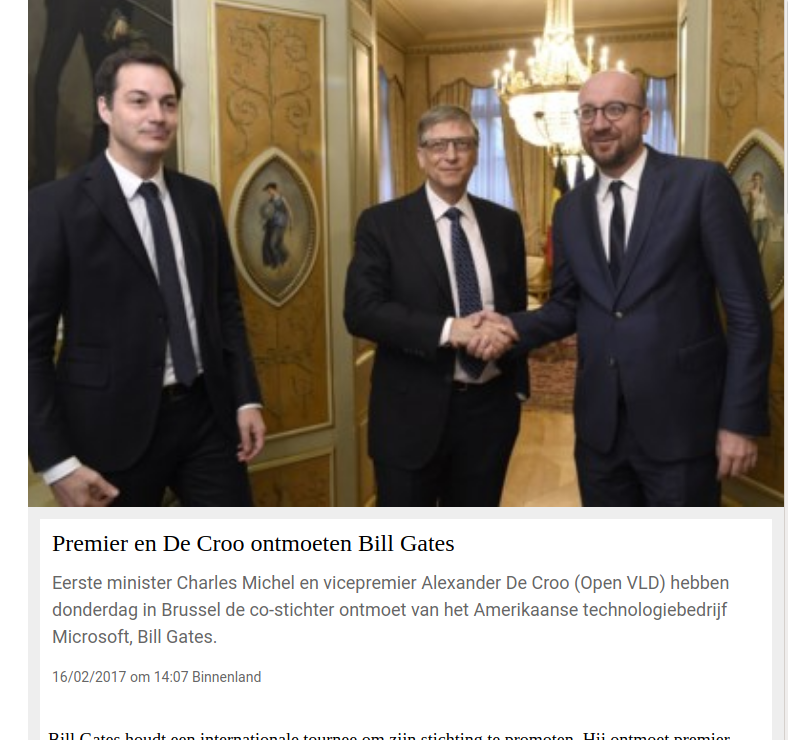 For some people, making money dispenses with any moral principle, developing their business and paying their shareholders with public money is not a limit. The coalition launched in Davos to fund research for the Covid-19 vaccine, with Bill Gates as master of ceremonies, includes Luc Debruyne, strategic advisor and former president of Global Vaccines at GSK. There's a lot going on at the World Economic Forum, isn't there? Alexander De Croo knows something about this, as in 2013 he was appointed Vice President of the World Economic Forum's Global Agenda Council on Ageing, and will be part of the 2015 class of Young Global Leaders of the same Forum(18). In an article on the latter's website, » What you need to know about the Coronavirus pandemic on October 20 « , the Prime Minister's lie at the October 15 press conference is taken as proof of the real(19): » The situation is serious. It is worse than on March 18 when the containment was decided « . What is it preparing us for?
Let's get back to CEPI, because it doesn't end there. In addition to being largely funded by the Bill & Melinda Gates Foundation, it has also received €5 million from the Belgian government(20). Public money is ultimately transferred to the GSK/Cover platform through CEPI funding, thus subsidizing the private sector(21). This reminds us of the case of Pascal Lizin, » both President of the Belgian Société fédérale de participations et d'investissement (SFPI) and a director at GSK as the main lobbyist (…) SFPI [qui] is expanding its « strategic priorities » in 2012. Among the « investment opportunities that SFPI is looking for », Vesalius Biocapital I (investment fund — medical innovations) where Philippe de Backer worked « (22). Everything is as it should be… Sophie Wilmès will talk about privacy, the media in the pay of the political and financial power, of » conspiracy theories « (23). We call these incestuous and indecent mixtures » conflicts of interest « , in the light of which none of the measures taken by the Belgian government against Covid-19 can have any credibility, whether good or bad.
GSK, China and the CEPI
In June 2020, GSK and Clover Biopharmaceuticals, the latter based in China, announced that Phase 1 human clinical trials for a Covid-19 vaccine were beginning, although the collaboration between the two had been announced as early as February 2020(24). Thomas Breuer, Senior Vice President and Chief Medical Officer of GSK Vaccines, is looking forward to large-scale vaccine production. Who funds this program? CEPI.
Other CEPI member of the scientific committee: Michel De Wilde(25). He is also a member of the scientific committee of Curevag, VBI Vaccines, former vice-president of Smithkline Bilogicales (now GSK Vaccines), and has been with Sanofi. He is the owner of MDWConsultant, LLC. Curevag » aligned with the interests of our shareholders « , financed largely by the Bill & Melinda Gates Foundation(26), has two Belgians on its supervisory board whose names come up often. Its president is none other than Jean Stéphenne, ennobled by the Belgian State and now a baron, former president of GSK Biologicals, but also president of the Walloon Business Union. Which a few months ago » had the indecency to ask citizens to support financially the UCL »(27). He was also President of Besix, Bone Therapeutics, Vaxxilon, Bepharbel, Nanocyl. Is there an excess of language in talking about parasites?(28)
The media will say nothing, or very little, because the groups to which they belong are so closely linked to investments in the medical sector. Le Soir, for example, has acquired a stake in the Belgian company Redpharma, which advises GSK, Sanofi, Roche, Nestlé, Johnson & Johnson, Merck, etc.
Feeling nauseous? This is not Covid, rest assured.
Notes et références
https://fr.businessam.be/peter-piot-le-virologue-belge-loue-par-bill-gates-ou-ursula-von-der-leyen-a-vaincu-le-covid-19
Voir http://s23.q4cdn.com/479936946/files/doc_presentations/INOVIO-Investor-Presentation-October-2020.pdf, notamment page 13.
https://www.gavi.org/fr/modele-de-fonctionnement/modele-de-partenariat-de-gavi/la-fondation-bill-melinda
https://www.gatesfoundation.org/Media-Center/Press-Releases/2020/06/Bill-and-Melinda-Gates-Foundation-pledges-to-Gavi-the-Vaccine-Alliance
https://www.gavi.org/fr/modele-de-fonctionnement/modele-de-partenariat-de-gavi/la-fondation-bill-melinda
L'art de la fausse générosité. La fondation Bill & Melinda Gates. Lionel Astruc, Actes Sud, 2019, p.93.
https://www.forbes.com/sites/giacomotognini/2020/04/03/moderna-ceo-stphane-bancel-becomes-a-billionaire-as-stock-jumps-on-coronavirus-vaccine-news/#620767b05bf3
Société de capital-risque et de création d'entreprises axée sur les soins de santé et la durabilité, qui investit dans les domaines de la thérapeutique, des technologies de la santé et du développement durable.
Commercialisation de produits de diagnostic.
« Moderna : le vaccin pourrait être disponible d'ici la fin de l'année », 20/10/2020. https://www.boursorama.com/bourse/actualites/moderna-le-vaccin-pourrait-etre-disponible-d-ici-la-fin-de-l-annee-7c43805a861f3f1e92635f777b751ebe
Le vaccin de Moderna bientôt en dernière phase d'essai », 15/07/2020, https://www.lecho.be/entreprises/pharma-biotechnologie/le-vaccin-de-moderna-bientot-en-derniere-phase-d-essai/10239253.html
https://fr.businessam.be/la-course-au-vaccin-le-big-pharma-obtient-limmunite-contre-les-poursuites-pour-effets-secondaires
Voir « La Belgique libère 5 millions € pour la recherche d'un vaccin contre le COVID-19 dans le cadre de la CEPI », 3/4/2020. https://diplomatie.belgium.be/fr/newsroom/nouvelles/2020/la_belgique_libere_5_millions_euros_pour_recherche_vaccin_covid-19
https://m.standaard.be/cnt/dmf20170216_02734125?fbclid=IwAR3KvsP-5Y7u07k2vsnD6pTlhgkXeP8rcIE441c12E4Ry5V0l5KZ1BGhZW8
« Countries across Europe have announced new restrictions. In Belgium, bars and restaurants will be closed for four weeks, the majority of employees should work from home and a night-time curfew will begin from Monday. The country's Prime Minister says the situation is worse than during the first wave. "The situation is serious. It is worse than on March 18 when the lockdown was decided," Prime Minister Alexander De Croo told Belgian television RTL-Info. In Wales, a « fire-break » lockdown has been announced. From Friday, everyone apart from essential workers must stay at home. All non-essential retail, leisure, hospitality and tourist businesses will close, as will places of worship. "It will have to be sharp and deep in order to have the impact we need," Welsh First Minister Mark Drakeford told reporters. "Everyone in Wales will be required to stay at home." »
https://diplomatie.belgium.be/fr/newsroom/nouvelles/2020/la_belgique_libere_5_millions_euros_pour_recherche_vaccin_covid-19
https://www.technologynetworks.com/biopharma/product-news/gsk-and-clover-biopharmaceuticals-covid-19-vaccine-begins-human-clinical-trials-336466
Voir notamment https://www.kairospresse.be/journal/kairos-44, https://www.kairospresse.be/journal/kairos-45/, https://www.kairospresse.be/journal/kairos-46
https://www.technologynetworks.com/biopharma/product-news/gsk-and-clover-biopharmaceuticals-covid-19-vaccine-begins-human-clinical-trials-336466
« Afin d'amplifier encore l'impact de ces projets, l'UCLouvain a besoin de vous. Merci de soutenir les recherches menées par les chercheurs dans notre université ! »
Voir « Les parasites du royaume et ceux qui les suivent », https://www.kairospresse.be/article/les-parasites-du-royaume-et-ceux-qui-les-suivent