In each edition of Kairos, the Foire aux Savoir-Faire will offer you one of its recipes.
The objective of the know-how fair is to give the taste and the techniques to *do it yourself* for the pleasure of learning, to exercise one's creativity, to soften one's impact on the environment and to adjust one's consumption to one's needs. As much as possible, the recipes she proposes during her animations, which are all listed on her website, are based on recycled materials. Its workshops are open to all, in a collaborative and experimental spirit, they allow everyone to come and make a repair, an object, test a recipe, invent one, using the tools and the material of recuperation made available.
All the info on :
www.foiresavoirfaire.org
The green grenades (seeds Bomb) are small projectiles filled with seeds capable of revegetating abandoned spaces.
The idea appeared in the 70's in many metropolises in Canada, the United States, France, Japan… where urban spaces were inaccessible to the public and yet unoccupied and abandoned. Land speculation, carelessness of the owners, inactions of the public services, whatever the origin, the inhabitants of the districts want to affirm that the questions of urbanism are the business of all, to take back in hand the management of the spaces of their district and to convince that greener, more vegetable cities are more pleasant to live. This is called Guerilla Gardenning!
For more information:
> in English: http: //www.guerrillagardening.org
> a forum in French: http: //guerillagardeningparis.xooit.fr
recipe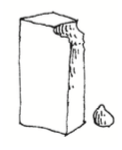 Step 1:
Make a small clay cake, then shape it into a bowl.

Step 2:
Put inside a compost soil mixture


Step 3:
Place a mixture of seeds of your choice on top.

Our trick: in the compost we are very careful to include the eggs of earthworms (in each ball, 3 to 6 worms can come out), because often the land abandoned for a long time is not very alive and reintroducing worms can restart a whole process of improvement of the land: aeration of the soil, decomposition of organic matter, etc.