There are events that are real affairs of state, but which pass by as if nothing had happened. To draw the consequences of such scandals and to accept their implications would indeed require a total overhaul of our societies, revealing that democracy does not exist there, except in its only harmless manifestations for the established order and its plutocratic-mafia systems. We wanted to dive back into these affairs of state, interweaving a multitude of actors, different countries, levels of power, « businessmen », magistrates…
The first of these is the Kazakhgate, which the commission of parliamentary inquiry will close on March 30, 2018 with a « non-lieu », imposed by a government majority protecting some of its own. On three chapters, we discover a cartel in which we always find personalities of the same political color. Some media have already revealed scattered pieces of this system, but by linking them we become aware that a nebula crosses continents, forming a political-mafia composition that concurs to the blurring of norms and institutionalizes impunity, determining many political choices (think of all these large harmful and imposed projects, from Notre-Dame-des-Landes to Haren) which can only be opposed to the common good and the search for a decent society.
Corruption is not an epiphenomenon of our productivist societies, it is consubstantial with them
CH. I: THE KAZAKHGATE
THE BEGINNINGS
The Kazakh story begins in the 1990s, involving politicians and businessmen. Trafficking, serious crime, money laundering and corruption revolve around a central figure: Nursultan Nazarbayev, President of Kazakhstan. In 2003, James Giffen was arrested at Kennedy Airport in New York. Close to the Kazakh president's entourage and former prime minister Nurlan Balgimbayev, the man who is considered one of the oil tycoons at the center of the largest historical corruption in the United States is being prosecuted for violating the 1977 anti-corruption law. He is accused of embezzling more than $78 million from oil companies for the benefit of the Kazakh government, opening accounts in Switzerland and elsewhere in the name of Nazarbayev, other political figures and their families. At the time of his arrest, Giffen was carrying a Kazakh diplomatic passport, while the country of Nazarbayev, whom Giffen nicknamed « The Boss », refused dual citizenship. Don't see any contradiction: money explains them all. In fact, Giffen became the president's chief negotiator and even his « banker, » according to prosecutors.(1) Nazarbayev will grant the right to operate in the offshore areas of Kashaganarak and Kashagan to a consortium led by British Petroleum. The U.S. lawsuit against Giffen will focus on what has been dubbed » the mother of all corruption cases. This means that Nazarbayev and Giffen are not playing in a small league. The first is a puppet, like so many others, that the West has made and cannot — or does not — want to get rid of, to the great benefit of the monopolizing minorities in each country, to the great tragedy of the peoples.
It is in this same post-Soviet context where Giffen made his weapons, that was born the one that will be nicknamed the » Kazakh trio « , made up of Patokh Chodiev (Kazakh and Belgian nationalities), Alijan Ibragimov (Uzbek and Belgian) and Alexandre Mashkevitch(Israeli and Kazakh). Those who control a third of the Kazakh economy, mainly in oil, gas, metals and banking, appeared in Belgium in 1991. First Chodiev and his friend Mashkevitch invested in the flat country via Boris Birshtein and Dmitry Yakubovski, respectively an Israeli-Canadian businessman born in Lithuania, a notorious criminal linked to the Moscow mafia, and the other member of the Solntsevskaya clan, the most powerful in Moscow. Chodiev and Mashkevitch set up several companies, including PMC Trading Co and Astas, and in 1991 they became the heads of Seabeco Belgium, a subsidiary of the Hong Kong-based oil trading company of the same name owned by Birshtein. This company, considered as a front for the financial operations of what is the equivalent of the former KGB, will have a short life, and closes its doors in 1992, not without attracting the first investigations of the Belgian intelligence services.
The business starts and the links with the Belgian politicians are forged to facilitate the business, as it should be. A first contact, Serge Kubla (MR), is cited in a 2017 official investigation. This one would have facilitated the acquisition of the Belgian nationality for Patokh Chodiev, which he will obtain in June 1997. Originally from Uzbekistan, Chodiev accumulated his fortune by exploiting the subsoil of the Kazakh steppe. Life of a billionaire, purchase of the Japanese restaurant Tagawa avenue Louise, Chodiev does not like the contrast and settles in a villa in the posh commune of Waterloo. He got along well with his neighbor, Serge Kubla, the town's mayor, who six years later would provide him with essential assistance, as did other local businessmen such as Philippe Rozenberg and Eric Van de Weghe. To obtain the Grail, it is indeed easier to belong to organized crime than to have landed on the Mediterranean coast in a boat with a horde of refugees, the latter having no envelopes to barter in exchange for identity papers… But if Chodiev sympathizes with his garden neighbor Kubla, it is not the same with the State Security, which has him in its sights, especially through Seabelco-Belgium, which links the businessman to Boris Birshtein, whom it suspects of belonging to Russian organized crime. The company, based in Switzerland, attracts the curiosity of a Swiss magistrate, who will carry out in 1997 a rogatory commission in Belgium with searches in the premises of the Belgian subsidiary.
The business starts and the links with the Belgian politicians are made to facilitate the business as it should be
Chodiev is not well regarded, but unlike his two companions, he finally obtains the nationality — Ibragimov will have it in 2005, Mashkevitch was refused it, he will be satisfied with the Israeli. In spite of the « Swiss » event, in spite of an unfavorable Belgian State Security, he will end up having his paper, with the help of political crime. Serge Kubla contacted the President of the Naturalization Commission of the Chamber, Claude Eerdekens, and sent him a letter on May 16, 1997, asking him » with the greatest insistence » to intervene in the case of the one who is now certainly more than his neighbor. The police, over which Kubla has authority as mayor, will also follow, while Commissioner Michel Vandewalle goes to Chodiev's home for a second evaluation to further investigate a possible naturalization. The first report had recommended to stick to the information given by the State Security, which had informed the police about the Kazakh's links with the Russian mafia, and thus to slow down the procedure. However, since this one was not going the way we wanted, we had to send the right person. It is indeed curious that a report signed by Commissioner Vandewalle dated January 8, 1997 indicates that the man spoke perfectly in French, while he spoke in English. Thank you friends! Chodiev can now easily travel in the Schengen area without a visa, to do business. Free market — for some — obliges. Good neighbor service, or exchange of good practices. However, it was discovered that Serge Kubla had opened an account in Switzerland in 1997, in the name of a foundation in Liechtenstein, which moved to Panama in 2007. In this case, the mayor will be forced to confess to money laundering before Judge Claise.
Here we dive into a system where corruption is not the exception but the rule, in which the Russian mafia, in particular, occupies a prominent place. You should read what a connoisseur of the Russian criminal world said in a well-documented article: » the Russian mafia does what it wants. Organized gangs from Ukraine, Kazakhstan… are investing billions in our country. They invest the highest circles of politics, judiciary and the economic and financial world. People with important positions in our country are simply bought. If necessary, the Russians pay for the election campaigns of our politicians. We have some clues. « (2) Chodiev was thus considered by the Belgian State Security as the number 1 or 2 of the Russian mafia in Belgium, and would have been, between 1998 and 2000, one of its informers.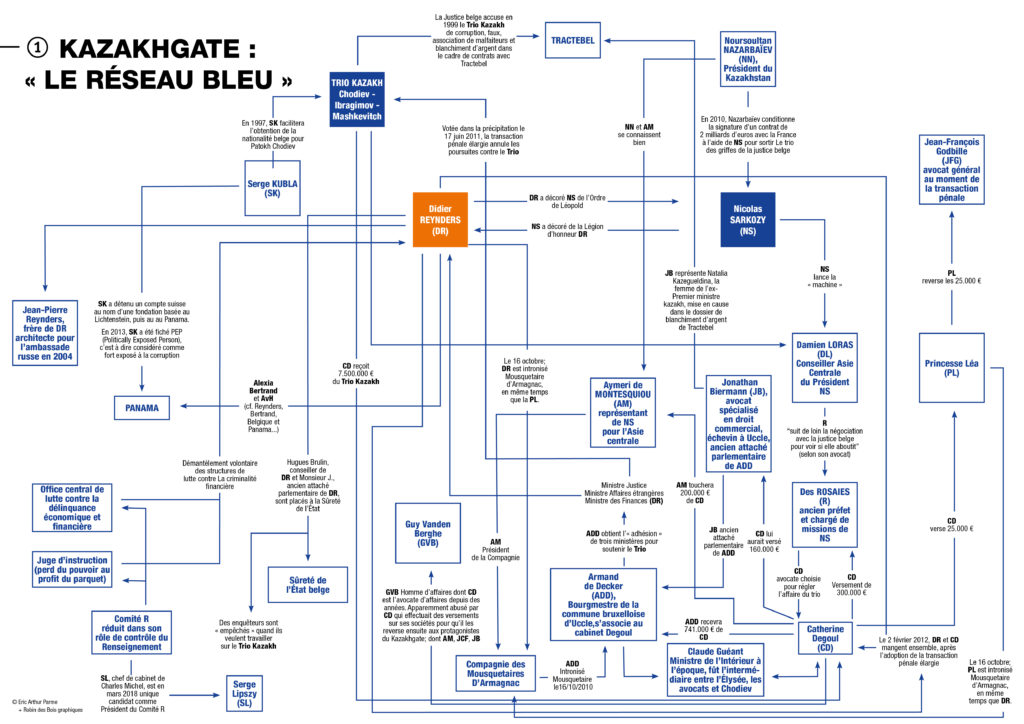 Tractebel and the trio
»
Tractebel
is committed to promoting technical solutions that create a sustainable future. Find out how we can help you « shape the world » by living up to our slogan « Shaping the World ».. « . « Shaping the world », isn't that nice? This is how the company that is now Tractebel Engie presents itself on its website. Yet behind the curtain, Tractebel is not so pretty and shapes the world differently than it lets on. In 1996, the Belgian anti-money laundering unit discovered a strange transaction worth 25 million dollars, paid by the company to enter the Kazakh market. This interest in the plains of Kazakhstan does not seem to stem from a sudden discovery of the charms of the former Soviet republic, but rather from an initiative by the trio, who contacted Tractebel: in 1996, Tractebel bought four power plants in Kazakhstan, and a few months later it obtained a 20-year concession for the transport and storage of gas in the country.(3) The amount of the transaction: 85 million dollars, 30 of which would have fallen into the lap of the Kazakh state, the balance in the pockets of the trio: some win-win for this mafia triad indispensable to the penetration of the country, in an economy of « free and undistorted competition », free and undistorted for some, of which the Kazakh peasant is undoubtedly not part. All he had to do was to apply for Belgian nationality.
There is little room for concrete justice in all of this, while politicians and business leaders invoke it in their official communications, the better to forget its absence in their informal dealings and their effects in the real world
Some sources suggest that Tractebel's legal woes in Belgium, which are hampering its efforts in Kazakhstan, are the result of a rivalry with its Russian competitor Gazprom. Tractebel, by creating Almaty Power Cie in Kazakhstan in 1998, through which it operates four power plants and a strategic gas pipeline, is blocking the projects of its competitor Gazprom. This would explain the meeting held in August 1999 at the Royal Hotel in Paris, attended by Eric Van de Weghe for Tractebel, Gregory Loutchansky (Gazprom), Shabtai Kalmanowich, a former KGB officer, and Nursultan Nazarbayev's right-hand man, Bulat Utemuratov. As the deal did not work out for Gazprom, which was hoping to get the pipeline back, information on the beneficiaries of Tractebel's commissions with Kazakhstan was disclosed, which is the reason for the interest of the Belgian justice system in the case. The Kazakh trio was then accused of corruption, forgery, criminal association and money laundering: the three companions were charged with 48 counts. Eric Van de Weghe, who we will find involved with Armand de Decker, Claude Guéant(4) and others, worked for Suleyman Kerimov and was an informer for the Belgian police, immersed in various scandals involving « thefts ». Kazakh weapons, Eastern mafia, computers for Libya, prestigious wine cellars, embezzlement from an African head of state and a painting by Paul Delvaux « .(5). Just that.
The fact remains that there is little room for concrete justice in all of this, even though politicians and business leaders invoke it in their official communications, the better to make people forget its absence in their informal dealings and their effects in the real world. However, in 2007, it manifested itself, leading to the indictment of 7 people, which in addition to the Kazakh trio, involved the wife of the Kazakh Prime Minister as well as the two daughters and the wife of Mashkevich, for money laundering in connection with real estate transactions. Real estate, as we will see later, also « passion » of « Reynders's man ».
SARKO, FRANCE AND HELICOPTERS
A little later, on October 26, 2010, Paris and Astana negotiated some juicy deals, including the sale of 45 EC 145 helicopters from the Eurocopter group (EADS(6)) and 290 locomotives from the Alstom group, for the princely sum of 2 billion euros. The opportunity for the Kazakh president to try to get his friends out of the Belgian mess, which could greatly compromise their future business: » I will sign if you intervene in favor of my friends prosecuted in Belgium .(7) An exchange of good practices between « friends », who know that by temporarily helping each other, each will benefit, to the great misfortune of the French and Kazakh peoples, the first having been convinced by media propaganda that these sales of killer helicopters will be a good thing for growth, the second that they will allow them to defend themselves against nasty neighbors.
It won't fall on deaf ears, and scandal-collecting man Nicolas Sarkozy, taken into custody on March 20, 2018, for the hidden financing of his 2007 presidential campaign, is using his connections to speed up the Belgian legislative process and allow the Kazakh trio to benefit from an « extended criminal transaction. » The pressure spreads and is exerted on relays, setting in motion the facilitation procedures with the objective of advancing the process and leading to the release: Damien Loras, Sarkozy's Central Asia advisor, known as Patokh Chodiev's « handling officer », contacts Jean-François Étienne des Rosaies so that he can find him an international business lawyer. Loras and des Rosaies put together a technical (judicial and financial) and political team, between France and Belgium. In addition to Damien Loras, who was in charge of the case, des Rosaies, the intermediary, Catherine Degoul, the lawyer in charge of the judicial aspect, the then vice-president of the Belgian Senate, Armand de Decker, and the law firm Toosens were also involved. To get help, De Decker will call upon Jonathan Biermann, one of his former parliamentary attachés, alderman of the municipality where De Decker is mayor, and lawyer specialized in commercial law. Well involved in the Kazakhgate, he will represent » Natalia Kazegueldina, the wife of the former Kazakh Prime Minister, implicated in the Tractebel money laundering case « (8). He will receive from Patokh Chodiev's lawyer, Catherine Degoul, the princely sum of 160,000 euros.
» The role of des Rosaies in this case is to follow up from afar in order to know when the negotiation with the Belgian justice system will be completed and if it is completed in a satisfactory manner .
For his part, Jean-François Étienne des Rosaies, who will play a key role in the affair, is none other than a former prefect and chargé de mission for Nicolas Sarkozy. He organized the meetings of his presidential campaign. » He saw Patokh C. once or twice, once at the Élysée Palace, once in a place he doesn't remember, apparently a restaurant or a hotel for lunch. So they met twice: the role of des Rosaies in this case is to follow up from afar to find out when the negotiation with the Belgian justice system will be completed and if it will be completed in a satisfactory manner. So, here it is, he's following the file « (9). des Rosaies is now under investigation for bribery by foreign public officials and influence peddling.
The French relays called were all the more effective that they had privileged contacts with Belgians, who could answer the request upstream of the Kazakh president. Thus, we discover that Aymeri de Montesquiou-Fezensac d'Artagnan, special representative of President Nicolas Sarkozy for Central Asia, senator-mayor UDI of Marsan, very close to the Kazakh power and » great friend of President Nazarbayev « , becomes an active member of the Franco-Belgian cell of support to the trio. The French justice system will suspect him of having received secret commissions on the occasion of the 2 billion euro contract between France and Kazakhstan. Aymeri de Montesquiou is also captain of the Company of the Musketeers of Armagnac, descendant of Dartagnan (it is a decree of François Fillon which allowed him to add « d'Artagnan » to his name). He is accused, according to Mediapart, of having an undeclared account with his wife, in the Swiss subsidiary of HSBC. He will host in his castle of Marsan JérômeCazuhac, just after his resignation and his apology for having hidden the existence of an undeclared account… in Switzerland. Bold the musketeer! Who else is playing at being a knight? Didier Reynders who, on October 16, 2010, was inducted as « Musketeer of Armagnac »(10), the same day as the Minister of State Melchior Wathelet and HRH Princess Alexander of Belgium (Princess Lea). Coincidence of timing: on October 27, 2010, Sarkozy and Nazarbayev signed contracts worth 2 billion euros. Among the other members of the brotherhood inducted that day, we find Armand De Decker and Freddy Thielemans, who will join Albert II of Monaco in particular, or some Kazakh personalities… We know their motto, which perfectly sums up their little arrangements and their collusions: « All for one, one for all ».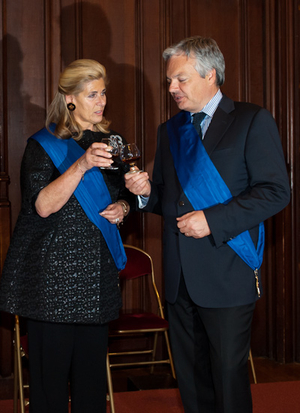 Jean-François Étienne des Rosaies, the intermediary, is a member of the Order of Malta, special advisor to the Grand Chancellor of the Sovereign Military and Hospitaller Order of St. John of Jerusalem, of Rhodes and of Malta, and an accredited expert to the International Criminal Court. The Order of Malta is a troubled charity, based in the Vatican, which seems to play more of a role as a screen for certain dealings and a meeting place for business, politics and the nobility. Its Grand Chancellor, Pierre Mazery, head of the executive and responsible for the Order's foreign policy, had good relations with Armand De Decker. It is the Order of Malta that ensures from 2010 the resumption of contacts between des Rosaies and Armand De Decker that the former calls » first cousin « , which in the jargon of the business is « first cousin « . would mean a person who works for or is associated with the College, but is not a member.(11) In 2012, on April 18, Didier Reynders paid an official visit to the Order of Malta, where he was received by Jean-Pierre Mazery and Albrecht Freiherr von Boeselager (Grand Hospitaller of the OM). They talk mostly about the Middle East and the Democratic Republic of Congo. Ah, the Congo, what a boon. Reynders, a regular visitor to the Order, will sign on 25 July 2012, »
U
n Memorandum of Understanding between the Ministry of Foreign Affairs of the Kingdom of Belgium and the Sovereign Order of Malta « . It helps to be the Minister of Foreign Affairs, for the ennoblement of friends too, we'll see.
THE DISMANTLING
The relays worked well and the conditioning of the Kazakh purchase to the support of the trio will not have been vain. As des Rosaies states in a letter to Guéant (June 28, 2011): » I have therefore obtained the decisive support of my first cousin Armandde Decker, who brought us the « support » of the Ministers of Justice,Finance and Foreign Affairs. And who « committed » the vote (unanimously) of his liberal party to modify the 1st law of the new Belgian Civil Code of Justice authorizing the State to « financial transactions in criminal cases involving, among other things, charges of money laundering, forgery and criminal conspiracy » « . Claude Guéant is also satisfied, writing to a diplomatic adviser of the Élysée (August 2011) : » Dear Damien, I had A. De Decker on the phone. It is true that he and his team have done a magnificent job that can only serve the interests of France… My concern now is very prosaic: it is that the lawyers who worked for Chodiev are now paid… Can you touch or make touch Chodiev? Regards, CG. » The fine team! No limit in solidarity cynicism, or cynical solidarity, choose. On June 17, 2011, the extension of the penal transaction, voted in haste, leads to the abandonment of the prosecution of Chodiev and his companions, in exchange for the payment of a sum of 23 million euros. A mere trifle for the three billionaires, a real windfall for the Belgian liberal state, which is looking for funds, especially by not touching the big fortunes, but preferably the unemployed. And victory for the » businessman of the Kazakh president « , Chodiev, who avoids with his companions the prison, but also a destabilization ofENRC, listed on the London Stock Exchange. The note from des Rosaies to Claude Guéant of June 28, 2011 confirms this.
» Dear Damien, I had A. De Decker on the phone. It is true that he and his team have done a magnificent job that can only serve the interests of France… My concern now is very prosaic: it is that the lawyers who worked for Chodiev are now paid… »
A letter from des Rosaies also states that the lawyer « Catherine Degoulquiwas the principal drafter of this new text, at the express request of the Minister of Justice and the King's Attorney General. On June 19, 2011, two days after the criminal transaction concluded at the Brussels prosecutor's office, des Rosaies sends an email to Claude Guéant, French Minister of the Interior at the time, to inform the « PR » (President of the Republic, Nicolas Sarkozy). In this one, he recalls the request of the Kazakh president two years earlier, « to find political support in Belgium for his friend »(12) des Rosaies directly implicates Belgian policies, specifying that « In order to resolve this matter, a law was passed a month ago, organized and promoted by Armand de Decker, who sensitized (sic) the Ministers of Justice, Finance and Foreign Affairs at the time: Stefan From Clerck (CD & V), Didier Reynders (MR) and Steven Vanackere (CD & V) ». CQFD.
In the letter of June 28des Rosaies explains: » It seems important to me that you can receive us on Tuesday or Wednesday with the Minister of State Armand De Decker, whom the French state will forget to thank, and Catherine Degoul. »(13) des Rosaies did not forget to give Guéant the telephone numbers of Armand De Decker, who received some 741,846€ euros for his good and loyal services, on his private and professional accounts.(14) The intermediaries will be thanked handsomely: the lawyer Catherine Degoul would have received 7.5 million euros from Chodiev. A payment of 25.000€ from Degoul's office to the Fonds d'Entraide Prince et Princesse Alexandre de Belgique, of the princess Lea, wife of the late Prince Alexander, half-brother of Albert II(15). The lawyer stated at her first hearing that this payment was the result of a request from De Decker(16), who wanted » to make a gesture, a favor to the King's sister (sic)(17) « . These 25,000 Princess Lea donates the proceeds to « Amitié et Fraternité Scoute », an association administered by Jean-François Godbille. The latter was general counsel at the time of the penal transaction that allowed Chodiev to escape justice. It is there that Pierre Salik, friend of the late Prince Alexander, will try to help the princess(18). Among those thanked, we know that Damien Lorasrecevrade Chodiev in September 2009, before the happy ending, a gold and crocodile watch worth 44.000€.. Other distributions for services rendered were made. of Rosaies will receive 300.000€ directly from Degoul, de Montesquiou 200.000€. Epic! A real charming epic, without a prince, although…
The person who was at the origin of Kazakhgate, a relatively discreet businessman, Guy Vanden Berghe, who has since died, reveals the extent of the network that was created. A former client of the lawyer Catherine Degoul, it seems that she abused his trust to transfer money through her foreign accounts that he or she (she had him sign blank signatures) paid back to her.int on the accounts of the protagonists of the business (des Rosaies, Biermann, de Montesquiou…). He told the investigators: » Me Degoul went to see the lobbyist De Decker who opened all the doors for him. It seems to me that she was put in contact with De Decker directly from Paris to Brussels by telephone between counterparts of the same level, Guéant for France and Reynders for Belgium » ?(19) Didier Reynders appearsbut not still very visible here. However, we know that this kind of service is not free. MP Marco Van Hees tries to understand: »
Why, all of a sudden, does Didier Reynders put a

he
in the balance, in order to accept a lifting of banking secrecy, for which his own cabinet drafted the bill, a new element — the banking transaction — which he could have inserted in this same bill if it had been agreed upon at the outset in the government: the lifting of banking secrecy in exchange for the introduction of the extended penal transaction? If Reynders has the penal transaction introduced hastily by an amendment in March 2011, with or without a government deal, is because it is urgent. And this emergency is called Patokh
Chodiev
« .(20) The deputy adds, not without increasing the suspicions that weigh on Reynders: »
By a
strange
coincidence, the two criminal transactions concluded in the forbidden period
of May-August 2011 lead to Nicolas Sarkozy, the friend of Didier Reynders(21)… « . To conclude: » A
significant body of evidence points to the one who is always Vice-
Prime Minister in the federal government as having had a key role in the Chodiev affair. We will see that this network goes beyond the Kazakhgate affair.
This information is enormous and should have been enough to indict all the protagonists, starting with Didier Reynders Corruption at all levels, influence peddling, interweaving of the different levels of power with the control of the executive, collusion between mafia and politicians. But we are literally facing a caste of invulnerables. No one is really bothered, because corruption is so deeply rooted, penetrates the state apparatus, the different hierarchies, that to denounce it is to face a system totally capable of integrating and digesting these denunciations. The one who is wet has no interest in saying anything, the others, they cannot lose their job and prefer to wait for their next vacation in the sun, to « forget »… but there is also the fear of testifying: » These men and women fear the police, since their pursuers also have access to them. And they have no confidence in the institutions, since their enemies have even greater power. « The one who speaks is the former judge Éva Joly, who in her fight against Elf will personally bear the brunt of their totalitarian power. What she describes, and what we ourselves perceived while making this investigation, meeting certain sources and compiling what had already been said in the press, is the abysmal impotence, paralytic, which gives our small daily fights the taste of the superfluous and the inoffensive: » The scourge that I met on my way, and of which I saw only the emerged point, does not have a name yet. By habit, we use the words corruption or financial delinquency. I would rather talk about impunity: a way of living above the law, because one is stronger than the law. « (22)
No one is really bothered, because corruption is so deeply rooted, penetrates the State apparatus, the different hierarchies, that to denounce it is to face a system totally capable of integrating and digesting these denunciations
And for those who dare, we will apply the pressure technique called MICE, known to secret agents: Money, Ideology, Compromise and Ego, used in particular during the Cold War to obtain information or the collaboration of enemy agents(23). The desire to stay in one's place, to make one's own life, to forget every day, in a deeply conformist society, will add to the causes of this structural silence and this de facto impunity. All this has its effects on the judiciary which, beyond being gangrened by the political-financial mafia, requires from those who remain a famous courage to really do their job, at the risk of their place at best, of their skin at worst. However, we must recognize that the attempts of the Franco-Belgian cell to deviate from the judiciary have not been successful for years, and that it is for this reason that the « team » attacked under the Belgian legislation.
Either, the end justifies the means in the economic-political-mafia field, and the matter will be settled: Chodiev »
assured me of his gratitude for our success concerning his judicial situation in Belgium and he will support Eurocopter [en Russie]
« says desRosaies. Thank you Belgium!
AFTER THE TRANSACTION… THE RETURN OF THE FAVOUR?
While many of the protagonists deny knowing each other at the time of Kazakhgate, subsequent relationships show either a quick affinity or lies about the reality of previous relationships. What follows is strangely similar to an exchange of good practices, which weaves the links of corruption between Nicolas Sarkozy, through the intermediary of des Rosaies in particular, and Didier Reynders, through that of a « newcomer »: Jean-Claude Fontinoy, an expert in the cabinet of the Minister of Foreign Affairs, Reynders' right-hand man and good friend.(24) Contacts were made between Jean-Claude Fontinoy and Jean-François Étienne des Rosaies, mandated by the Order of Malta and Jean-Pierre Mazery, this time concerning the ennoblement of Georges Forrest, a Belgian businessman, billionaire, living in Congo and owning half of Katanga. Forrest is nicknamed » the king of the African mines « , he is very close to Didier Reynders, again.
On Dec. 11, 2013, des Rosaies sent a cryptic email to Pierre Mazery, the Order of Malta's grand chancellor, chief executive and foreign policy officer. This one is only understandable by its protagonists, who obviously have many things to reproach themselves for. Des Rosaies cites André Querton (Belgian spokesman for the Order of Malta), Didier Reynders, Jean-Claude Fontinoy (« Didier Reynders' right-hand man ») and also indicates the place of origin of his first meeting with Jean-Pierre Mazery: the Élysée. In this letter, it seems to indicate a dispute that would have taken place between the Belgian ambassador to the Vatican, sanctioned by Didier Reynders, dispute that would have been relayed by de Gerlache. We do not know what it is really about, but the names mentioned are more than interesting: Didier Reynders always, but also de Gerlache, who is none other than Bernard de Gerlache de Gomery, president of the Belgium-Luxembourg-Africa-Caribbean-Pacific Chamber of Commerce, Industry and Agriculture, operating in Africa and knowing Georges Forrest well. Des Rosaies asks for support from Mazery, » including a legitimate change of class within the Order and that should be a promotion of Grace and Devotion.(25) It is understandable that he wants to move up and that this decision will condition the continuation of their relationship, including an upcoming dinner scheduled for December 13. Forrest is a member of the Order of Malta, of which he is very close, where he exercises his charitable talents in favor of Africa, where the Order is very present.
It is in the second letter (January 16, 2014) that des Rosaies explicitly mentions support for Georges Forrest, where he asks that André Querton intervene with de Gerlache on behalf of Forrest, the former appearing to be the cause of the latter's problems. In this email De Decker is also mentioned. Again… We remember that des Rosaies received 300.000€ from Catherine Degoul, Chodiev's French lawyer, and 95.000€ from Georges Forrest in his attempt to be ennobled. Remember that the one who is suspected of having fed an account that would have allowed the purchase of a villa for Patrick Balkany(26)It was also noted that the former King of the Belgians, Albert II, who supported the request, was under suspicion for having attempted the ennoblement.(27) He wanted to be a baron, he was only a commander in the Order of Leopold (in 2012) and, through the intermediary of Etienne des Rosaies, but also Claude Guéant and François de Radiguès, friend of Albert II, all struggling, he was made a grand officer of the Order of the Crown.(28) Amen.
Bridges are established between the kazakhgate and the procedure of Georges Forrest's ennoblement, revealing Fontinoy's involvement in these adventures. Before the Belgian parliamentary commission of inquiry, the latter said: « II have never been involved in the bank secrecy, criminal transaction and Kazakhgate files. I learned all this from the media like everyone else « . When you belong to this untouchable caste, you just have to say. But this new affair around Georges Forrest also opens the doors to the African continent, where Chodiev has powerful interests.
CH II — THE AFRICAN PLAYING FIELDS
It is not only in the steppes of Central Asia that one can do very juicy business by taking advantage of the virtual absence of an organized state. In Africa, too, entire regions are sinking into anarchy that is conducive to dubious but highly profitable practices. And, here again, we find traces of our Kazakh comparses and, often also, of Belgian state officials, always of the same political color.
TROUBLED LINKS IN THE DRC
Didier Reynders, aided by Belgian businessman Georges Forrest, is said to be supporting Moïse Katumbi Chapwe(29), a wealthy businessman and former governor of Katanga, as a candidate to succeed Joseph Kabila. We know that behind political support often lie economic interests, which are disguised under all sorts of fine humanitarian words, where « human rights » have pride of place. The objective of this support would be to bring down Semlex.(30)This company, which presents itself as a supplier of « the best of the best », has been in existence for over 20 years. secure solutions for the identification of populations through biometrics « , is directed by Albert Karaziwan.(31)The Brussels-based man does not play in the small league: in addition to Semlex, he owns companies linked to real estate (Leignon Synergie, Matison), to security technologies (Profabel), to structures with turbulent functions (such as Parcomatic(32)), or in the distribution of perfume or beauty products (Elkaur International S.A.). Like any self-respecting businessman, he maintains his relationships by sitting on various boards of directors, and his image by being a member of the non-profit association « Optimists Without Borders », » whose goal is to promote optimism and positive thinking in the world « .
We know that behind political support often lie economic interests, which are disguised under all sorts of fine humanitarian words, where « human rights » have a prominent place.
The businessman's political connections brought to the surface some well-known faces, including that of Alain Destexhe (MR), who was contacted by the financial director of Semlex in order to facilitate the obtaining of a residence permit in Belgium for the wife of the Chadian president at the time, Zina Wazouna Idriss, who would play the role of liaison agent for Semlex. Senator Destexhe uses his contacts and writes to… Serge Kubla, mayor of Waterloo, so that he supports her in her request to stay.(33) Money has no smell, and connections are made and broken. Same technique, « different » story. But Semlex is most interested in its deal with the Democratic Republic of Congo for the sale of biometric passports. Set at an exorbitant price, especially considering the country's poverty ($185 instead of $100 before), this contract makes the passport one of the most expensive in the world. » Most of the money paid by the Congolese citizen goes directly to Semlex, a company based in Belgium, which produces travel documents (passports, identity cards…) and to a small company based in the Persian Gulf . The sale of passports is diverted to a Gulf company registered in Ras el Khaimah in the United Arab Emirates, LRPS, which receives $60 for each passport, » the opportunity to pocket hundreds of millions of dollars on the backs of the poorest « .(34)which the Kabila clan would share.
Another close associate of Kabila, the firm's financial director, Emmanuel Adrupiako, has been investing in Quebec luxury real estate since 2014. He can count on recurrent payments, which he receives from two Dubai-based companies linked to Semlex.(35) Kabila and he are also partners in two mining companies: Acacia and its subsidiaryKwango Mines SARL. In 2016, as a result of an extensive investigation, Bloomberg revealed the financial empire of Joseph Kabila's family: he holds stakes in more than 100 extractive companies in the country, via his sisters, brothers and other relatives.
What is important to grasp are the agreements between Kabila and China, particularly the 2007 agreement, which will oblige Forrest to hand over copper and cobalt deposits to the Chinese. An important point of contention. On the contrary, Moïse Katumbi Chapwe, candidate to succeed Kabila, ex-governor of Katanga, is an » old acquaintance of Forrest « (36) who has ruled Katanga for decades and is known as « the viceroy of Katanga ». Katumbi is president of the Mazembe soccer club in Lubumbashi(37), Malta Forrest, son of Georges and heir to his empire, is first vice-president.
Albert Yuma, president of Gécamines (Société Générale des carrières et des mines, closely linked to the history of Belgian colonization), is close to Joseph Kabila. For several years, the president of the Federation of Congolese Companies has been in open conflict with businessman Georges Forrest and his group (GFI, Group Forrest International) over the Groupe de Terril de Lubumbashi (GTL), of which Forrest is a 70% shareholder, with Gécamines holding the remaining 30%. The conflict escalated when, on March 23, 2017, Gécamines prevented GTL trucks from accessing the slag heap.(38) There is no point in going into detail, but this underlines a point: Gécamines and its president Albert Yuma, who is close to Kabila, seem to want to reduce Forrest's influence in the DRC. This is where the second man to be dismissed, after Karaziwan, comes in: Dan Gertler. This Israeli billionaire who arrived in Africa at the age of 23 has built an empire by supporting Kabila. If the Forrest group is starting to lose revenue from Gécamines, it is because others are gaining. One of these is Dan Getler, whose British NGO Global Witness will reveal that a subsidiary of his company Fleurette, based in the Cayman Islands, received $880 million from Gécamines, which was initially owed to him.(39) How then does this relate to the onslaught on the diamond dealer and his close Belgian colleague, Pieter Deboutte, who are the target of U.S. sanctions (a decision signed by Trump on December 20, 2017) for his role in the DRC? The United States uses human rights violations and corruption as a pretext for sanctions and uses this pretext to protect its interests. Commercial interests, direct or indirect (a service requested by Belgium in exchange for something else?), are therefore at stake. Dan Gertler is » the key to President Joseph Kabila's financial system « .(40) And who is here again? Patokh Chodiev. Owner of ENRC (associated with his two unfailing accomplices), a company that President Nazarbayev wanted to protect by asking France to support the trio. Dan Gertler, who is close to Joseph Kabila, was the main buyer of Congolese mining assets sold at derisory prices, which the Israeli businessman sold to ENRC in particular. Gertler was thus making huge capital gains on the back of ENRC. Basically, Chodiev and his cronies were royally screwed, while the financial constellation of Gertler, who, like Chodiev, had his name associated with the Panama Papers, benefited Congolese officials, as Global Witness argued.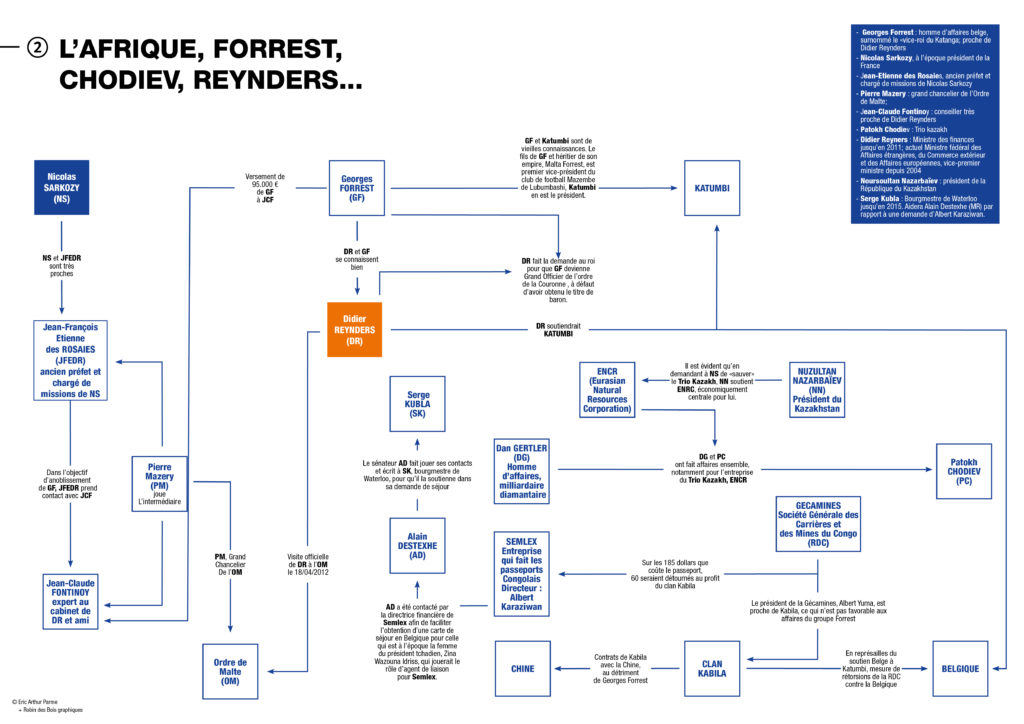 The Chodiev/Gertler duo will conclude another large contract: in 2009, ENRC has its eye on Gécamines' 50% stake in the Société Minière de Kabolela et Kipese (SMKK), with ENRC itself holding the other half. To achieve this, the company contracts with a Gertler trust based in the British Virgin Islands, to whom it pays $25 million on an option to obtain the remaining 50% of SMKK. In 2010, Gécamines agreed to sell its shares in SMKK. Four months later, Gertler sold them for $75 million to ERNC. (41) This smells like a kickback… and a good agreement between Albert Yuma, Dan Gertler and Patokh Chodiev, from which Georges Forrest seems to be excluded.
Chodiev and his cronies were royally screwed, while Gertler's financial constellation benefited Congolese officials
The fact remains that these attempts at destabilization would have caused the Congolese to activate their secret services, which would investigate certain Belgian politicians with a view to finding some juicy information. As further retaliatory measures, the Congolese authorities have already limited flight rights with Belgium(42), after requesting in January 2018, in a note from the Congolese Minister of Foreign Affairs, to end the activities of the new development agency and to dismantle the Schengen house (equivalent to the consulate) in Kinshasa. This sounds like a confirmation of our explanations…
LIBYAN BILLIONS
Alexandre Djouhri, the man who executed Sarkozy's dirty work, including Sarkozy's 2007 election campaign and its Libyan financing, was arrested in January 2018 at London airport. Alexandre Djouhri is the subject of a European arrest warrant issued by the French judiciary, notably for » money laundering » as part of the investigation into suspicions of Libyan financing of the campaign of former French president Nicolas Sarkozy in 2007. He is the one who is aware of the whole Sarkozy/Dominique De Villepin system, constituting the bread and butter for President Macron who wants to clean everything on his right. Djouhri was cited in connection with the indictment of his friend Claude Guéant, in a case of sales of Flemish paintings in which Guéant would have received € 500,000. In the context of the Libyan financing of Nicolas Sarkozy's campaign, we also find the resale of a villa in Mougins to Béchir Saleh (overestimated and also bought by the Swiss subsidiary of the Libyan African Investment Portfolio, the most endowed sovereign wealth fund in Africa), part of the sale of which — nearly 500,000 euros — will go to De Villepin.
Béchir Saleh is the main moneyman of the Libyan regime. It is he who will say: « Gaddafi said that he had financed Sarkozy. Sarkozy said that he had not been financed. I believe Gaddafi more than Sarkozy. Does he know too much? So does Djouhri. The first was shot and injured on Feb. 23, 2018, on the road to Johannesburg(43) ; the second one had a triple heart attack.(44) The two know each other well: it is Djouhriwho organized the exfiltration of Saleh during the fall of Gaddafi and housed him at the Ritz in Paris, drawing, to pay the bill, in the accounts of rich Saudis to which he had access, according to French investigators. These assassination attempts and this accident are curiously reminiscent of the 2012 death of Shukri Ghanem, former Libyan oil minister and close to Colonel Gaddafi, who was found in the Danube in Vienna. Official cause of death: « drowning ». Some people find it hard to believe.
Djouhri He was released from prison on January 12, 2018 (he has the means to pay a bail of one million euros), and will have time to invite for his birthday on February 18, some of his friends, including Dominique De Villepin, but also Bernard Squarcini, close to Nicolas Sarkozy, former boss of the Internal Intelligence (DCRI, now DGSI), currently at LVMH, whose owner is none other than Bernard Arnault, « Sarkozy's big brother », whom Armand de Decker knows, who as mayor of the town of Uccle, welcomed him in September 2012 in his town.
Saleh and Djouhri know too much? The first was shot on February 23, 2018 on the road to Johannesburg. The second was the victim of a triple heart attack
Both are also close to the biggest Belgian fortune, Albert Frère. Bernard Squarcini, who will also be taken into custody for the Libyan financing of Sarkozy's 2007 election campaign, is a Knight of the Legion of Honor. In December 2011, Alain Winants, former head of the Belgian State Security, will also receive this title, on the same day as Jean-François Étienne des Rosaies, in the presence of Armand De Decker. All of them would be involved in Kazakhgate, Winants and Squarcini having actively collaborated.(45)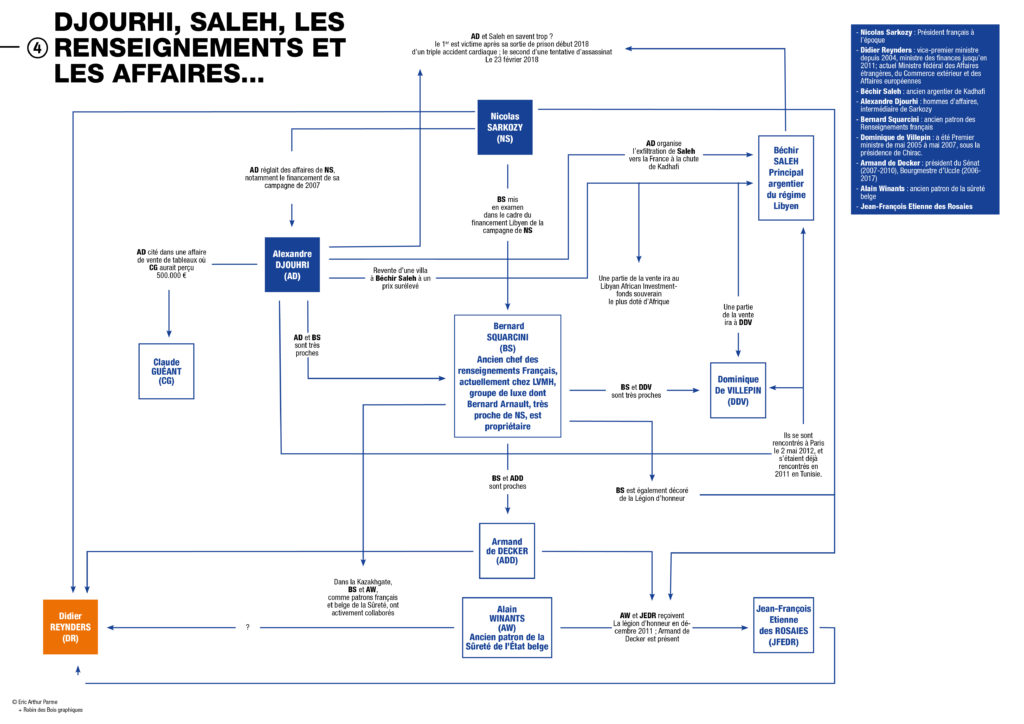 If Alexandre Djouhriand Béchir Saleh know things that are compromising for France, perhaps they also know too much about Belgium, which, let us not forget, holds — held? — We will see that a certain Jean-Claude Fontinoy, who holds a key position in the business, could continue to interest us.
Ah Libya, what a fantastic country… for the West. In 2016, Sameh Sobhy, a Belgian of Egyptian origin, was arrested. He is accused of arms trafficking, criminal organization, embargo violation and forgery. It is immersed in a market of arms trafficking with Libya. A 2015 U.N. report indicates that he reportedly flowed 1,500 handguns and one million rounds of ammunition into the country. The person concerned denies this, claiming that he is only an intermediary between the exporting companies and Libya. It is known that Gaddafi had placed money in Belgium, mainly at Euroclear, on four accounts (16.1 billion), frozen by the UN in March 2011. It is not clear where this money comes from, and it cannot be said with certainty that it is not linked to organized crime and various trafficking activities.
This is where, in this epic tale, the prince comes in. Let's recall that Prince Laurent, through his ASBL Global Sustainable Development Trust (GSDT), claimed, following a 2008 contract on the reforestation of desert regions in Libya for about 70 million euros, compensation for unilateral breach of contract by Libya in 2010. The Libyan state never responded to the request, despite the fact that the Brussels court twice ordered it to pay 48 million euros to the ASBL. The Belgian government has always refused to unfreeze the Libyan funds. Euroclear, which has the status of an international clearing house (ICSD), claims to be immune from seizure by virtue of a 1999 law. Hence the complaint of the ASBL filed in 2015 for breach of trust and money laundering. Let us specify that the only two creditors to have been repaid, would be the Fabrique Nationale de Herstal, arms dealer(46) and another company which would be related to it. According to our informants, Prince Laurent would hold certain secrets, and it is more that than his antics at the Chinese embassy that would explain the current government measures against him (reduction of his endowment)…
EUROCLEAR AND LIBYAN MONEY
There are two enemy pro-Western clans in Libya. The first is led by General Khalifa Haftar, who is linked to the CIA. The other is Fayez al-Sarraj, Libya's Prime Minister, who has no army but leads four salafist militias. Didier Reynders met with Fayez al-Sarraj in Brussels in February 2017(47), to reiterate Belgium's support for his government of national unity (GNA). That's officially. It is known that when Western politicians meet with those of the « South », contracts are prepared. What happened to the issue of the Libyan money frozen in Euroclear accounts during this meeting? According to some reports, al-Sarraj has asked to recover the 16 billion, which Didier Reynders has refused, accepting only that he receives the interest (500 million/year) of the funds, which would be placed in Luxembourg. This would have allowed al-Sarraj to finance his four militias, but also luxury spending in one European capital in particular. Belgian politicians would receive commissions, according to our informants. » The four accounts frozen at Euroclear would have generated, one year after September 16, 2011, nearly 300 million euros [entre 350 et 500 millions] of interest, coupons and dividends considered « releasable » by the government. At the same time, in the fall of 2012, some 235 million euros left the frozen Libyan accounts. Did Euroclear transfer interest to another internal account made available to its client, the Arab Banking Corporation? Or (sic) Have these 235 million left Euroclear? And if so, where to? « .(48) What is certain is that dividends and interest are not frozen…
In any case, there is more than a little trouble in this story. In March 2018, it was suddenly discovered that more than 10 billion of the 16 billion Libyan funds, evaporated from Euroclear accounts between 2013 and 2017. This means that EU Regulation 2016/44, which translates UN freezing orders into European law, will have been violated by Belgium(49). The only answer: « Fake news », according to Reynders. No more need for proof: for the invulnerable, it is enough to say that it is false, that's all, and to state peremptorily that those who doubt are constructing a « novel-fiction ».(50)
» The four accounts frozen at Euroclear would have generated, one year after September 16, 2011, nearly €300 million ininterest, coupons and dividends considered « releasable » by the government »
Foreign Affairs is the sole competent authority in UN freeze decisions, according to EU Regulation 2016/44. Who is the Minister of Foreign Affairs? Didier Reynders. The « Euroclear law »(51) of 28 April 1999, which transposes a European directive into Belgian law, was passed as a matter of urgency at the request of the Dehaene government. However, an article 9 was added, a creative feature of the cabinet of Jean-Jacques Viseur, then Minister of Finance, which stipulates in Chapter VII, under the title « Unseizability of settlement accounts »: « Tnycash settlement account with a System Operator or Settlement Agent may be seized, sequestered or otherwise blocked by any Participant (other than the System Operator or Settlement Agent), counterparty or third party .(52) From now on, even judges will not be able to seize money from Euroclear accounts…
CH III — THE BLUE NETWORK(53) IN BELGIUM
Didier Reynders knows how to surround himself with the right people. Alexia Bertrand, Chief of Staff for Corporate Affairs of the Deputy Prime Minister and Minister of Foreign Affairs, is the daughter of Luc Bertrand, Chairman of the Executive Committee of Ackermans & van Haaren and Chairman of the Board of Directors of DEME, among others.(54) In addition to her function as a lawyer, she is also a director of Ackermans & van Haaren, a task for which she reportedly received no less than €80,000 in 2016. Didier Reynders and Luc Bertrand are old friends, who met when the former was president of the SNCB (from 1986). The latter must be happy to see his daughter in such a strategic position. Conflict of interest? The media had already mentioned her ambiguous position in an offshore wind contract, but before that Alexia Bertrand was the negotiator for Reynders in the banking reform sector, where AvH has interests. While DEME invests all over the world, its focus on Saudi Arabia has increased in recent years, a country that the company wishes to share its expertise in port matters. Is it a coincidence then that Belgium supported Saudi Arabia's membership in the UN Commission on Women's Rights?
We try to establish the links between all these people. It will be recalled that the Belgian Investment Company (BMI), 64% owned by the Belgian State, was implicated in the Paradise Papers. But the PTB underlines a much more crucial piece of information, which has not been much reported in the media: « Thehe private company Rent-A-Port (which co-owns, with the public company SBI, the off-shore company in question [ Infra Asia Development (Vietnam) Limited, registered in the British Virgin Islands] is a subsidiary of the AvH group, of which Minister Reynders' chief of staff, Alexia Bertrand, is a director … ». Here? He adds, and this is where it gets really exciting: » In addition, the public company SBI (Société belge d'investissement international) is chaired by Jean-Claude Fontinoy, Reynders' loyal right-hand man. And the board of directors also includes Koen Van Loo, former head of Reynders' cabinet. The role of Deputy Prime Minister Didier Reynders seems to be central in this matter. « (55) There was no doubt about it.
Didier Reynders, who was sitting at Bruneau's with Bart de Wever, Louis Michel and Jean-Claude Fontinoy, will be remembered for his encounter with Koen Blijweeert, a businessman involved in various scandals. Among these, the corruption of the former director of the federal judicial police in Brussels, Glenn Audenaert, in a case of moving the federal police to buildings owned by Koen Blijweert, located in the former administrative city of Brussels. This move was discussed in a restaurant in the Rue Royale Sainte-Marie, where Luc Joris (see below), Jean-Claude Fontinoy, Koen Blijweert, Jean-Louis Mazy (member of the Immobel management committee, involved in the Agusta scandal), Glenn Audenaert and Michèle Lempereur were present.(56) But perhaps more interesting is the sale of the Finance Tower in 2001, when Didier Reynders proceeded to a vast liquidation of public buildings at prices defying all competition, in order to meet the diktat of the Maastricht Treaty and to replenish the state coffers, without especially going to look for the money in the pockets of his rentier friends In February 2016, two businessmen were convicted » for pocketing millions in kickbacks from the sale of the Finance Tower to the Dutch real estate group Breevast.(57) Breevast (which owned 60% of the Administrative City at the time of the relocation of the federal police), whose boss is Frank Zweegers, recently arrested in Capri, is one of the largest Dutch real estate groups. Belgium received 276.5 million euros for its sale in December 2001, while it will lease the building to Breevast for an indexed annual rent of 24.8 million euros. Following the renovation work completed in 2009, the rent would have increased to 54.2 million. But as early as 2016, Breevast expressed its intention to sell the tower, for the modest sum of… 1.2 billion euros.
» In addition, the public company SBI (Société belge d'investissement international) is chaired by Jean-Claude Fontinoy, Reynders' loyal right-hand man. And the board of directors also includes Koen Van Loo, former head of Reynders' cabinet. The role of Deputy Prime Minister Didier Reynders seems to be central in this affair »
Reynders and Blijweert know each other and one wonders what they are talking about when they shell their lobster at Bruneau. Knowing moreover that they are interested in real estate, the presence of Jean-Claude Fontinoy is most intriguing, he who at the end of the 90s » was specialized in « economic public enterprises » and advised the parliamentarians. When the liberal [Reynders] became Minister of Finance in 1999, Fontinoy was an expert in the cabinet, then he dealt with the files of the Régie des bâtiments, and large public companies such as the Post Office, the SNCB and IT at the SPF Finances « (58); the same building authority whose officials and contractors were convicted in 2006 by the Brussels criminal court, in what was then a major trial.
In the nebula, we also find Luc Joris, who was very much involved in Eurostation, a subsidiary of the SNCB in charge of Flemish and Brussels stations, and was with Jean-Claude Fontinoy (chairman of the Board of Directors of the SNCB and adviser to the deputy Prime Minister Reynders) at the origin of the Mons station project, which is so controversial, not without reason. Luc Joris, doctor of Élio Di Rupo, close, very close to the « socialist », was a member of the Board of Directors of the regional investment company of Wallonia (SRIW), accused in this context of having facilitated a loan to the company of Franco Dragone (2 million euros), in exchange for an invitation in a private jet to attend a concert of Céline Dion (Production du Dragon) Joris was also a member of the SNCB, like Fontinoy, of the FN of Herstal and was the owner of a company based in the Grand Duchy of Luxembourg, Bremco Management, which was active in tax evasion consultancy and acted as a « front » for a group from Hong Kong. Interesting structure to launder money…
We still meet here Joy Donné, former student of Jean-Claude Fontinoy at the building authority, » the man of the Flemish employers « . Ex-employee of the Belgian embassy in Tokyo and advisor since 2008 to the FPS Finance, he is known to have picked up Bart De Wever in a Porsche in front of the MR and to have torn a ticket, while driving with two different plates. The media has used and abused the crime, frankly minor compared to all the political and economic dealings at stake. Joy Donné became in 2016 the chief of staff of Jan Jambon.
If all these people are good « friends », it is not because of the affection they have for each other, but primarily because of the services they render each other, whose objective is always the same: money.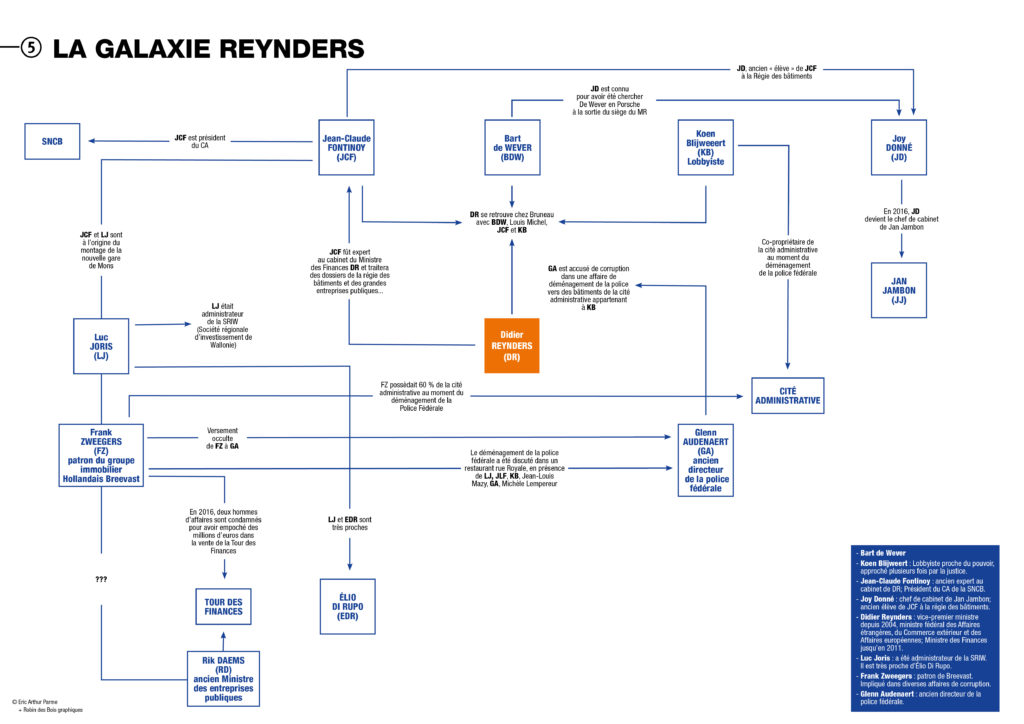 Where is the money, where does the money go?
There are many different directions in which the funds resulting from these transactions are directed, and the protagonists always manage to give them a legal facade, unencumbered by any moral or principled considerations. We have seen that the purchase/sale of works of art are used to launder money (cf. Guéant), but also real estate (cf. the Kazakh trio, the sale of the villa to Béchir Saleh as part of Sarkozy's presidential campaign in 2007) or tax evasion towards legislations of convenience. But we do not see why these criminal practices would be unique to France.
In Belgian business, art, real estate and tax havens are part of the scenery. Finally, it is not because we are in politics that we cannot appreciate beautiful things…
- THE ART
« This Tuesday, May 8, in the presence of Sabine Laruelle, I presented the decoration of Knight of the Order of the Crown to Olivier Theunissen, antique dealer and art expert. (59) Here is what you can find on Didier's website Reynders, who this May 8, 2012 affixes his signature below the patent that makes Olivier René Albert Theunissen, antique dealer, expert in works of art in Lasne, Knight of the Order of the Crown. Besides Sabine Laruelle, we also find… Jean-Claude Fontinoy. The latter, whom we also meet during a reception at the Sablon given by the knight Nicolas de Ghellinck d'Elseghem and Mr. Olivier Theunissen, for the 25th anniversary of their association.
We decorate ourselves between friends, for services rendered… or services to be rendered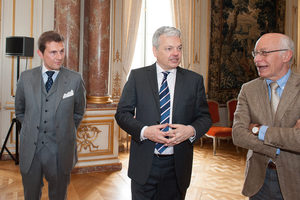 By Royal Decree of June 6, 2017, OlivierTheunissen was appointed consular judge at the Francophone Commercial Court of Brussels, for a term of five years(Belgian Official Gazette, June 16, 2017). Interesting job, when you are an art dealer with a well-filled address book. Theunissen was also the 14th candidate on the MR municipal list for the October 2012 elections. He is a member of the Royal Chamber of Antique Dealers of Belgium and owner of Antheol SPRL, specialized in antiques and second-hand goods. He is also a member of the Cercle Royal Gaulois, whose president Geoffroy Generet received from the hands of Didier Reynders on June 28, 2017, the decoration of Knight of the Order of Leopold, in the presence of… Olivier Theunissen. The same circle that had been elected « Circle of the Year 2016 », by the magazine Lobby, award given by Didier Reynders. He is still a councilor at the Municipal Council of Lasne, Vice President of the CPAS, administrator at ITB-Tradetech. S A. The company, which produces railroad sleepers, generates 90% of its sales abroad, particularly in the Democratic Republic of Congo, with the Société Nationale des Chemins de Fer du Congo (SNCC) and Gécamines, which is SNCC's main client, the latter being responsible for transporting Gécamines' mining products and consumer goods. ITB pays its shareholders well, but also the Ministry of Finance » 583,305.85. « A loyal customer! », « , amused the Minister of Finance at the time, Didier Reynders, who came in 2008 to take part in the first centenary of ITB-Tradetech in Genval.(60) A company that he knows well since he was the chairman of the board of directors for two years « … Where we find again Jean-Claude Fontinoy, president of the SNCB Holding at the time. Curious isn't it, these intertwines?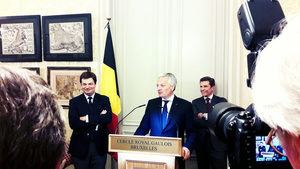 Geoffroy Generet, on the day of his decoration as Knight of the Order of the Crown, by Didier Reynders, with Olivier Theunissen behind
- REAL ESTATE
» Céline and Jean-Claude Fontinoy have a passion for old stones. Their last transformation, the Douxflamme Cens in Mozet is on the program of the Heritage Days « , announces L'Avenir, full of enthusiasm for this particular couple of collectors: » She could have collected stamps, old postcards or cultivated rare roses. With her husband Jean-Claude, Céline Fontinoy preferred to focus on houses. Not just any house: preferably old houses, with character, with a soul. A devouring passion, costly but profitable, which has been driving him for 30 years « (61) Stamps are still cheaper, but they don't do the same things. 15 years ago, it was much more profitable than today, » analyses Céline Fontinoy. For monthly repayments of 50,000 francs, we could get twice as much in rentals. (62) Bankruptcy for the Fontinoys? Certainly not…
» Céline and Jean-Claude Fontinoy have a passion for old stones
Jean-Claude loves real estate, which explains why he chairs the Municipal Consultative Commission for Land Use and Mobility, but also his position as vice-president of the ASBL Les plus beaux villages de Wallonie. It helps, when one » invests brick after brick, house after house, in Namur and its region « , to sit in such organizations…
As far as real estate is concerned, our research shows that in 2004, Jean-Pierre Reynders, the brother of the other, signed as architect for the extension of the school building of the Russian embassy. His architectural firm, L'Atelier, does not build bungalows in Charleroi, but prefers luxury complexes, in Morocco for example. Our informants tell us that the brother of Didier Reynders could also have participated in the work in the house of one of the members of the Kazakh trio. But that is none of our business…
Didier Reynders was already accused in 2009 of » sabotaging the fight against tax fraud « . (63) In 2017, Judge Claise, who specializes in financial cases, said that the fight against financial crime was not a priority of the Michel government, in which Reynders isvice-premier. In response to the government's announcement of its determination to combat tax evasion and avoidance, Judge Claise referred to » an appalling intellectual swindle « . (64) The government would operate a real » dismantling existing structures that have proven to be incredibly effective. They are dismantled overnight, without consultation with the people.. The judge is thinking in particular of the Central Office for Combating Economic and Financial Crime (OCDEFO), an institution within the federal police, composed of both police officers and tax agents; but also to the modification of the role of the investigating judge in favour of the public prosecutor, which depends on the executive. Claise J. concluded: « They are trying to destroy the judiciary ».(65)
CONTROL OVER STATE SECURITY
Terrorism will be a kind of godsend for organized financial crime, making the Public Prosecutor's Office « only an anti-terrorism prosecutor's office, where there is little sense of 'fighting financial crime' ».(66) The person who said this was the former president of the Cellule de Traitement des Informations Financières (CTIF), Jean-Claude Delepière, who denounced before the Kazakhgate parliamentary commission of inquiry » the existence of a system preventing the production of results in the Tractebel-Chodiev affair, and in many other financial affairs, when the elements have been known for sometimes more than twenty years. In particular, he mentions, but we will not know more, because this was dealt with behind closed doors, » the existence of a certain milieu, including in the entourage of the high spheres of the State « . Delepière believes that the policy to fight financial crime in Belgium is ineffective and that » we aregradually breaking the tool « , as well as the » hibernated » state in which the OECDFO would be.
At the level of State Security, the situation would be identical and Delepière confirms it, he who would have » elements relating to tensions in certain services, including the Security, fuelled by people close to the MR « .(67) The attacks are therefore conducive to a shift in focus elsewhere: » State Security will reorganize its external service as of 1
st
September [2015] to focus on radical and terrorist threats as never before « .(68) In Belgium, in addition to the state of emergency and the organization of fear, a restructuring of the intelligence service, controlled from the highest political spheres, followed. Our sources also tell us that it would be a matter of making sure that new evidence on the political involvement of Belgium in Kazakhgate is not discovered, for example by forcing the investigators to work on other subjects or by depriving them of their best contacts, and thus to distance the investigators from the Kazakh trio and their Belgian relays. To do this, we place pawns who will ensure that the security does not go snooping where it should not: Hugues Brulin and the famous J, former parliamentary attaché of Reynders. Those who complain about Committee R's loss of independence are either shunned or « forced » to resign, and are even subjected to the new « BIM » investigative techniques… not to mention threats disguised as sound advice, worthy of real-life mafia movies.
The government » dismantles existing financial crime structures that have proven to be incredibly effective »
Koen Geens' office relayed the article in theEcho, triumphant: » Hugues Brulin will join the head of the institution to occupy the position of 'director of management' for five years, a newly created function (…) State Security had long been looking for a specialist to manage the personnel department. But Brulin's appointment seems to find its inspiration in the political world. The man is an advisor to MR Minister Didier Reynders, and this new position seems to have been tailor-made. Because the general administrator is labeled CD & V and his deputy was the security advisor of former Prime Minister Elio Di Rupo (PS) « (69) The enthusiasm of the union was not there, however, it denounced the political parachuting of an adviser to Didier Reynders. » The staff is visibly disoriented and, in the face of recurrent attacks from the political world — notably SP. To -, wonders if the will is not to put to death the Security. « (70)Even small children could answer the question, » Say kids, why is someone putting their buddy in a van selling ice cream (easier for kids than saying « state security »)? « . Surely 99% will answer » to get more « … or to control who you give it to. More recently, Serge Lipszyc was catapulted to the position of President of Committee R, without the position being open to candidacy, provoking criticism from parliamentarians who claimed that he was too close to the Executive, even though Lipszyc is an advisor in the Cabinet of the MR Prime Minister, Charles Michel.(71)
» The staff is visibly disoriented and, faced with recurrent attacks from the political world, wonders if the will is not to put the Security Service to death « .
» A certain milieu « , » a system that prevents the production of results « , the dismantling of services to fight financial crime… And, the icing on the cake, the chairman of the Commission of Inquiry into Kazakhgate, Dirk Van der Maelen, who states: » MR is found at all stages of Kazakhgate, adding that it could be a state affair « (72)in a press conference, referring to the existence of a real » blue network « . Curious. According to our informants, Didier Reynders has also created a « mini State Security » within Foreign Affairs, called the « inter-ministerial anti-money laundering and anti-corruption department », headed by a magistrate close to the deputy prime minister, with the aim of investigating people opposed to their interests.
What about Committee R in this(73)? Does it still play its role as a counter-power? According to our sources, not at all. In fact, it would be, like the executive, the Security, the justice, the anti-fraud services, also infected. According to our sources, it was within Committee R that those who tried to investigate the Kazakh trio were warned to be wary. Its investigation department is headed by Frank Franceus, former deputy chief of staff of Geert Bourgeois (NVA), who, according to our sources, is persuasive in stopping some investigators' attempts.
Conclusion: torking about the same
Don't you find that in this story the same protagonists always come back? A whole network of acquaintances, money, convictions, hidden payments… Everything is there to push the investigation further. But it is as if we are in front of a sniffer dog that has smelled the drug in the traveler's suitcase, but whose master pulls on the leash to keep it away and prevent discovery. We know who is pulling the leash and many of the facts that want to be hidden. The majority votes in favor of the report of the Parliamentary Commission on March 30, 2018 establishing a non-lieu in the Kazakhgate affair: in the report, the only member of the MR criticized, but not incriminated, is Armand De Decker, who would have only shown » a lack of ethics. » The forces involved had to pull hard on the leash to get the dog away. Why? Because in a system of institutionalized corruption, there is a form of obligatory solidarity, with one holding the other by shared secrets, common knowledge of occult practices, a bit like in a threatening game: « if I fall, you fall ». As the former CEO of Elf said: » If everyone takes the cake, no one can say anything anymore . (74) This is undoubtedly what is happening in Belgium, leading to absurd results, such as that of the Parliamentary Commission on Kazakhgate.
Don't you find that in this story the same protagonists always come back? A whole network of acquaintances, money, always not far away, convictions, hidden payments…
One can only think that they help and protect each other. No fake news here, no conspiracy theories, as we have seen, there are places where the nobility, politicians and captains of industry meet. As in the castle of Ophem, property of Ernest de Laminne de Bex, president of the International Diplomatic Consular Circle (CIDIC) supported by the Belgian Ministry of Foreign Affairs and the GROWTH division of the European Commission, which » As President of the Centre, he hosts the prestigious conferences of the
International Diplomatic Consular Center (CIDIC)
which are attended by personalities from the political, economic and cultural world as well as by diplomats posted in Brussels « .(75), binds » Diplomacy and Business (…) and facilitates meetings with diplomatic and consular circles as well as with businessmen and women in order to informally establish privileged relationships.(76) According to our sources, interesting exchanges would take place. It is Ernest de Laminne de Bex, also Honorary Consul of the Republic of Georgia, who will receive from King Philippe,on the proposal of the Minister of Foreign Affairs, Didier Reynders, the title of Baron, on the same day that Georges Forrestobtained the title of Grand Officer of the Order of the Crown (see above). Didier Reynders, before joining the Foreign Affairs, was Consul of the Republic of Tunisia in the Province of Liege, and remains a member of the « Honorary Committee of the 40 ».
We decorate ourselves between friends, for services rendered… or services to be rendered. Jean-François Godbille, the one who will receive 25.000€ on the accounts of the association he presides over, via Princess Léa from Catherine Degoul, the lawyer of the Kazakh trio, is an officer of the Order of the Crown, a knight of the Order of Léopold and holder of the Civic Cross of the first class. We also remember that Didier Reynders had decorated Sarkozy with the Order of Leopold, an honor that the French president would later return by awarding him the Legion of Honor. According to our informants, Theunissen is also a member of the Order of Malta. Is that enough?
If it is difficult to find the proof that would make heads roll, the clues are accumulating. What we already know and what has been revealed in episodes by the media, would be more than enough, if we were in a decent society, to put Reynders & co under investigation. If this does not happen, it is because the magnitude of corruption is directly proportional to the resignation and lack of global information of the people, but also to the fact that such a level of corruption implies protective relays of the same magnitude.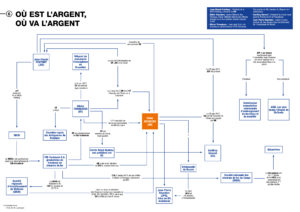 What are these politicians, whether or not they have been convicted by the courts, doing with businessmen and mafiosi suspected of the worst misdeeds, if not arranging their business?They are truly untouchables who, each time one of their cases is closed, emerge stronger, while impunity fades and becomes institutionalized. » As an agent of the DGSE, who was in Libya for a while, said without hesitation: « Who will judge us? Who will judge France? No one, though! »(77) Referring to the analysis of Éva Joly, Alain Deneault said: » The judge does not even talk about infiltration into the justice system, but about informal institutions of a nature greater than it, and capable of bending it. The Republic seems to be double, literally endowed with a set of occult institutions that duplicate those offered to the public eye and conscience « .(78) It is not in the presence of a gangrenous and dysfunctional system that we are, but of an occult parallel system, in perfect health, which controls images and communications, letting us dream that we are in a democracy.
Eric Arthur PARME
Subscribe to the free press: https://www.kairospresse.be/abonnement
You can also make a donation to keep us writing.
Contact: info@kairospresse.be
Notes et références
« Was James Giffen telling the truth? », Foreign Policy, 19/11/10.
Frédéric Loore, « Kazakhgate. Quand la mafia russe faisait son marché en Belgique », Paris-Match du 9 au 15 février 2017.
C'est en avril 1998, lors d'une visite du Premier ministre Jean-Luc Dehaene au Kazakhstan, que Jean-Luc Bodson, dirigeant de Tractebel, fait connaissance avec le trio. « Tractebel aux sources du Kazakgate », Jean-Claude Matgen, 22 février 2017.
« Qu'est-ce que le « Kazakhgate » et pourquoi Claude Guéant a‑t-il été auditionné en Belgique ? », 3 mai 2017.
« Un nouvel exploit signé Éric Van de Weghe », La DH, 08 janvier 2010
EADS, dont Daimler et Lagardère sont actionnaires. Lagardère, celui que Sarkozy surnomme son « grand frère ».
« Tractebel aux sources du Kazakhgate », Jean-Claude Matgen, 22 février 2017.
« Kazakhgate: le rôle de l'échevin ucclois Jonathan Biermann », RTBF, 24 novembre 2016.
Propos de l'avocat de des Rosaies, « Mon président est en voyage d'affaires », Cash investigation, diffusé sur France 2 le 7 septembre 2015
« L'étrange contact entre le cabinet Reynders et Étienne des Rosaies », Thierry Denoël, Nicolas De Decker, Le Vif, 23 novembre 2016
« Un courrier confirme le montant du Kazakhgate », Le Soir, 19 novembre 2016
« Kazakhgate: Armand De Decker a perçu 741.846 euros », Alain Lallemand, Le Soir, 19 novembre 2016
Relevé par une enquête de l'OCRC, mais aussi du fisc belge, tout n'ayant pas été correctement déclaré. Tiens donc.
« Kazakhgate: la Princesse Léa charge Armand De Decker », la DH, 28 janvier 2017
Armand De Decker et Catherine Degoul auront des versions tout à fait différentes sur l'origine de ces versements.
« La princesse Léa de Belgique pourrait être impliquée dans le Kazakhgate », Le Soir, 19 novembre 2016
« Des écoutes téléphoniques relancent le Kazakhgate », Alain Lallemand, Thierry Denoël, Mark Eeckhaut, Le Soir, Le Vif, De Standaard, 9 novembre 2017
« Kazakhgate : enquête sur l'homme à l'origine du scandale », Frédéric Loore, Paris-Match, 26 avril 2017
« Et si l'affaire Chodiev-De Decker était, en fait, l'affaire Chodiev-Reynders », Marco Van Hees, Service d'études du PTB.
« Durant la période transitoire allant du 16 mai 2011, date de promulgation de la première loi sur la transaction pénale élargie, au 11 août 2011, date de promulgation de la loi de réparation, aucune transaction ne devait normalement être conclue ». Ibid. La deuxième transaction concerne la Société Générale, dont Frédéric Oudé, proche de Nicolas Sarkozy, était le PDG à l'époque.
Éva Joly, Est-ce dans ce monde-là que nous voulons vivre ?, p. 34 et 19, cité dans « De quoi Total est-elle la somme ? Multinationale et perversion du droit », Alain Deneault, Rue de l'Échiquier, 2017. pp. 170–171.
Money : on achète la personne ; Ideology : on le convainc, par l'idéologie ; Compromise : on le « coince » avec un appât (une prostituée par exemple) et des preuves (vidéo ou photographies) ; Ego : sorte de manipulation mentale, où l'on flatte la personne.
« Kazakhgate: les étranges courriels de Jean-François Etienne des Rosaies, ex-chargé de mission à l'Élysée », Johanne Montay, RTBF, 9 décembre 2016
« Les derniers aveux de Balkany », Europe 1 et le Journal du Dimanche, 08 janvier 2017
« Le roi Albert II a‑t-il poussé à faire anoblir George Forrest ? », La Libre, 24 mai 2017
« Des écoutes suggèrent l'implication du roi Albert II dans un dossier connexe au Kazakhgate », Le Vif, 23 mai 2017
« Destexhe et son ami "Albert", l'homme qui a acheté l'Afrique », Médor, 23 décembre 2017. Voir aussi « SPECIAL-Qui peut gagner des millions en vendant des passeports en Afrique ? », Reuters staff, 10 janvier 2018
« Les coûteux passeports biométriques de la RDC », rédaction Reuters, 13 avril 2017.
« Un fidèle de Kabila dans les appartements de luxe à Montréal », Hugo Joncas, Le Journal de Montréal.
« Crise en RDC : Forrest, le magnat du Katanga, en a vu d'autres », AFP, 18 février 2018
TP Mazembe de Lubumbashi.
« RDC: la Gécamines remporte une manche face à Forrest », Christophe Le Bec, Jeune Afrique, 7 juin 2017
« RDC : un étrange transfert de royalties de la Gécamines à Dan Gertler », Christophe Le Bec, Jeune Afrique, 15 novembre 2016
« Dan Gertler: les États-Unis frappent le coeur du système Kabila , Politico, 22 décembre 2017
« Gertler Earns Billions as Mine Deals Leave Congo Poorest », Franz Wild, Michael J. Kavanagh et Jonathan Ferziger, Bloomberg, 5 décembre 2012
« La RD Congo limite les vols de Brussels Airlines », Colette Braeckman, Eric Renette, Belga, Le Soir, 5 décembre 2018
« L'ancien argentier de Kadhafi, Bechir Saleh, visé par des tirs à Johannesburg », Joan Tilouine et Simon Piel, Le Monde, 25 février 2018
« Affaire du financement libyen : deux témoins-clés hospitalisés », Mélanie Delattre, Le Point, 21 mars 2018
« Kazakhgate: des notes de la Sûreté sur Paris et De Decker restées sans suite », RTBF, 19 avril 2017
« Avoirs libyens en Belgique — Reynders : "D'abord payer les entreprises belges" », Christophe Lamfalussy, La Libre, 7 septembre 2011
« La Belgique veut soutenir un "dialogue direct" entre les acteurs politiques en Libye », RTBF/Belga, 3 février 2017
« La justice belge enquête sur les milliards du clan Kadhafi », Thierry Denoël et David Leloup, Le Vif, 8 février 2018
« Dix milliards de fonds libyens gelés en Belgique par l'ONU évaporés », Thierry Denoël et David Leloup, Le Vif, 8 mars 2018
Dixit David Clarinval, chef du groupe MR à la chambre, La Première, RTBF, 29 mars 2018
Loi visant à transposer la Directive 98/26/CE du 19 mai 1998 concernant le caractère définitif du règlement dans les systèmes de paiement et de règlement des opérations sur titres, http://www.etaamb.be/fr/loi-du-28-avril-1999_n1999003307.html
Ibid.
Expression employée dans Le Vif le 29 mars 2018, par Dirk Van Der Maelen, président de la commission parlementaire Kazakhgate, pour désigner la garde rapprochée entourant Didier Reynders. http://www.levif.be/actualite/belgique/kazakhgate-le-president-de-la-commission-accuse-reynders-et-le-reseau-bleu-mr/article-normal-820027.html
« Paradise Papers : l'État belge est impliqué, et, encore une fois, le cabinet de Didier Reynders est de la partie », PTB, 8 novembre 2017
« Michèle Lempereur, belle-amie », David Leloup et Joël Matriche, Wilfried, printemps 2018
« Deux prévenus condamnés dans le dossier de la vente de la Tour des finances », 7 sur 7, 9 mars 2016
André Gilain, Didier Reynders: La face cachée de l'iceberg, éditions Luc Pire, 2007, p.152.
« Remise de la décoration de Chevalier de l'Ordre de la Couronne à Olivier Theunissen, antiquaire et expert en œuvres d'art », site de Didier Reynders, 8 mai 2012
« Genval-les-Eaux ITB-Tradetech entre dans son 2e centenaire : Sur les chemins de traverses », Jean-Philippe De Vogelaere, 13 juin 2008.
« Mozet: bien plus qu'une brique dans le ventre », Bruno Malter, L'Avenir, 10 septembre 2009
Ibid.
« Reynders saboterait la lutte contre la fraude fiscale », La Libre, 14 avril 2009.
« La fraude fiscale une priorité du gouvernement ? "Une escroquerie intellectuelle", selon le juge Claise », Le Soir, 7 novembre 2017
« Michel Claise : « On tente de détruire le pouvoir judiciaire » », Céline Biourge, RTBF, 4 juin 2015
« Kazakhgate : l'ex-patron de l'anti-blanchiment dénonce un système empêchant la résolution des affaires », La Libre, 26 avril 2017
Ibid.
« La Sûreté de l'État réorganise ses troupes », L'Echo, sur le site de Koen Geens, 25 août 2015
Ibid.
« La Sûreté de l'État demande des soins intensifs », Alain Lallemand, Le Soir, 2 mai 2014
« Serge Lipszyc au Comité R », Marie-Cecile Royen, Le Vif, 28 mars 2018
« Dirk Van der Maelen (SP.A) : « On trouve le MR à toutes les étapes du Kazakhgate » », David Coppi, Le Soir, 7 janvier 2017
Comité permanent de contrôle des services de renseignements.
Loïk Le Floch-Prigent, Affaire Elf, affaire d'État, Je cherche midi éditeur, p. 80, cité dans « De quoi Total est-elle la somme », Alain Deneault, op.cit., p.158.
« Le château d'Ophem du baron de Laminne de Bex », noblesseetroyautés.com, 17 avril 2014
Patrick Charles Messance, Gaz et pétrole, Guerres secrètes, TV Presse, 15 min. 57 s. et suiv., cité dans « De quoi Total est-elle la somme », Alain Deneault, p.214, op. cit.
Alain Deneault, De quoi Total est-elle la somme », p. 171, op. cit.