You remember, on June 18th, we sent an email to the Brussels deputies who were about to take decisions concerning the « smart » meters:
« Ladies and Gentlemen of the European Parliament, Tomorrow, Tuesday 19 June 2018, you will take decisions on the legal framework to allow the deployment of so-called « smart » electricity meters in Brussels. » (…)(1).
Out of 80, 2 answered (Zoé Genot and Magali Plovie). In the meantime, the ordinance has been voted and approved on 20/7 in Brussels (18/07 in Wallonia).
Long live democracy, long live smart meters, long live multinationals!
The list of MPs who received our June 18 e‑mail:
fouad.ahidar@parlement.brussels,
info@elsampe.be,
f.bertieaux@mr-pcf.be,
e.bott@woluwe1200.be,
jacques.brotchi@parlement.brussels,
michele.carthe@parlement.brussels,
bcerexhe@woluwe1150.irisnet.be,
ridouanechahid@gmail.com,
bourgmestre@schaerbeek.irisnet.be,
michel.colson@fdf.be,
rene.coppens@parlement.brussels,
stefan.cornelis@parlement.brussels,
Alain.courtois@brucity.be,
acdursel@hotmail.com,
emmanuel.debock@parlement.brussels,
armanddedecker810@gmail.com,
jdegroote@pfb.irisnet.be,
bruno.delille@groen.be,
serge.depatoul@parlement.brussels,
corinne.depermentier@parlement.brussels,
vincent.dewolf@etterbeek.be,
carla.dejonghe@parlement.brussels,
celine.delforge@ecolo.be,
paul.delva@parlement.brussels,
caroline.desir@psmail.be,
alain@destexhe.be,
liesbet.dhaene@n‑va.be,
secretariatbea@gmail.com,
christos@doulkeridis.be,
willem.draps@parlement.brussels,
mathilde.elbakri@gmail.com,
greffe@parlement.brussels,
aelktibi@parlbru.irisnet.be,
nadia.elyousfi@parlement.brussels,
isabelle.emmery@parlement.brussels,
hamzafassi@gmail.com,
zoe.genot@ecolo.be,
claire.geraets@mplp.be,
amet.gjanaj@parlement.brussels,
youssef.handichi@parlement.brussels,
evelyne.huytebroeck@ecolo.be,
jamal.ikazban@hotmail.com,
veronique.jamoulle@skynet.be,
akanfa@yahoo.fr,
hasan.koyuncu@parlement.brussels,
marion.lemesre@parlement.brussels,
marc.loewenstein@parlement.brussels,
dominiek.lootens-stael@parlement.brussels,
annemie.maes@groen.be,
fabian.maingain@parlement.brussels,
info@joellemaison.com,
drmanzoor@hotmail.com,alain.maron@ecolo.be,
jm@joellemilquet.be,
catherine.moureaux@parlement.brussels,
ourimoh@yahoo.fr,
mahinur.ozdemir@parlement.brussels,
eminozkara@hotmail.com,
mpayfa@wb.irisnet.be,
S‑secretariat.persoons@fdf.be,
presidence@parlement.brussels,
arnaud.pinxteren@ecolo.be,
magali.plovie@ecolo.be,
rousseauxj@gmail.com,
ssusskind@gmail.com,
vivianeteitelbaum@skynet.be,
sevket.temiz@parlement.brussels,
barbara.trachte@ecolo.be,
julien.uyttendaele@parlement.brussels,
julien@uyttendaele.brussels,
cieltje.vanachter@parlement.brussels,
jef.vandamme@parlement.brussels,
johan.vandendriessche@parlement.brussels,
gvg@anderlecht.irisnet.be,
michael.verbauwhede@parlement.brussels,
Arnaud.Verstraete@groen.be,
mvossaert@defi.eu,
david.weytsman@gmail.com,
kyacoubi@parlement.brussels,
k_zamouri@hotmail.com
To get informed, to lead a real democratic debate, meet on September 15 at 6:00 pm at the cultural center of La Vènerie (see poster below).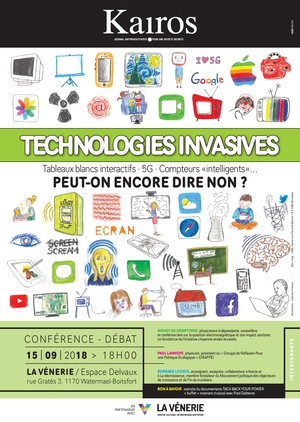 Notes et références
Mesdames et Messieurs les députés,Demain mardi 19 juin 2018, vous allez prendre des décisions concernant le cadre légal permettant de déployer des compteurs d'électricité dits « intelligents » à Bruxelles.Vous n'êtes pas sans savoir les réserves que de nombreuses personnes ont vis-à-vis de cette nouvelle technologie:- ces compteurs seront énergivores et coûteux, auront une durée de vie beaucoup plus courte que les actuels compteurs électro-mécaniques;- il y a de nombreux risques d'incendie (qui ont eu lieu dans les pays qui ont déjà installé les compteurs), de hacking et actes terroristes;- il est reconnu que les ondes électromagnétiques sont nocives;- alors que les différents gouvernements évoquent la création d'emploi, Sibelga ne fait déjà plus que des contrats de maximum deux ans, prévoyant le déploiement des compteurs et le fait que les releveurs de compteurs ne leur seront plus utiles.Ces compteurs profiteront uniquement aux multinationales, n'assureront aucune « transition énergétique », coûteront aux citoyens.Nous vous demandons de réfléchir et de voter contre le déploiement de ces compteurs. En tous les cas, nous dirons « non » quand on viendra pour les installer chez nous.Les lecteurs du journal Kairos seront tenus informés de votre décision.Courrier envoyé ce 18 juin aux députés bruxellois.