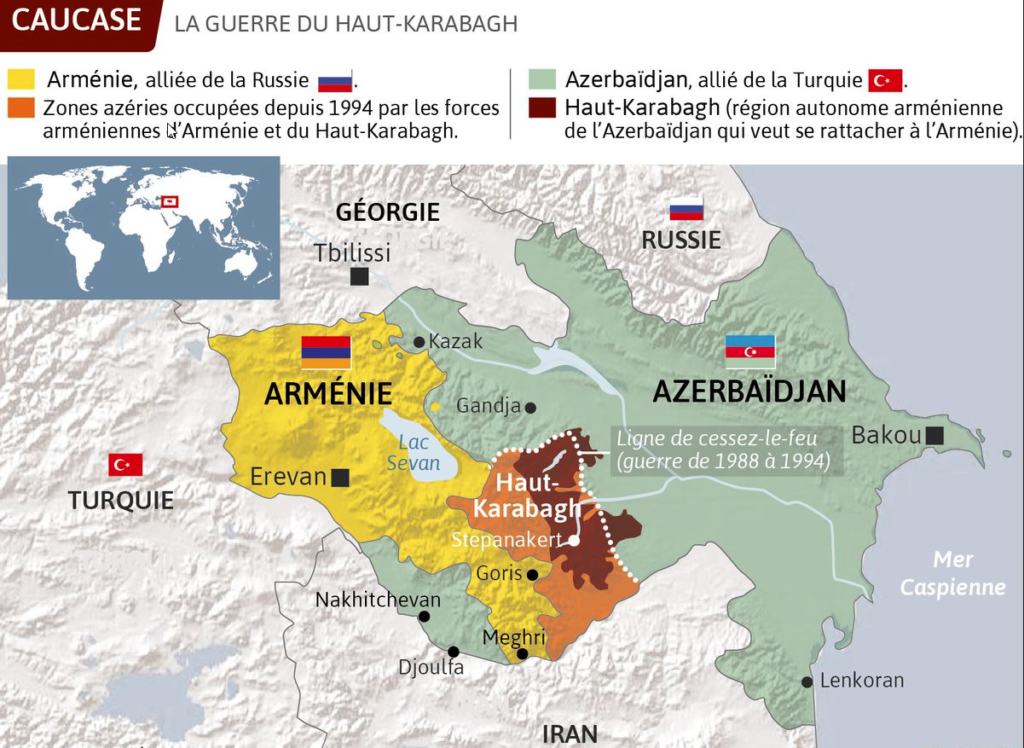 In recent weeks, news analyses have become less and less optimistic for Ukraine. Despite the continuing hostilities, Ukraine was abandoned as a media project in favor of the conflict in Nagorno-Karabakh and the Transcaucasian region. This situation does not follow the classic pattern of 'evil Russia (Venezuela / Syria / China / Iran, etc.) against the whole world'. Instead, we're seeing competition between Western media working for different globalist groups. Some will support Armenia, others Azerbaijan, while still others will play the objectivity card, alternating between the two camps(1).
Armenia's Prime Minister, Nikol Pashinyan, recently gave an interview to Politico, an American news agency, and adopted a typically Western method of communication by promising to ratify the Rome Statute of the ICC. He also expressed dissatisfaction at the lack of protection from Russia and other countries in the event of problems, while suggesting that Russian peacekeepers were not fulfilling their mission. Although he didn't directly address these issues, Pashinyan used back-door maneuvers to get his message across, pointing out that the situation would have been much worse without the help of Russian peacekeepers, and that Western aid to Armenia was not enough.
The interview presents nothing new in terms of media trends, and we can expect this type of discourse to multiply in the future. Kim Kardashian's appeal to Joe Biden to intervene in the Nagorno-Karabakh conflict is another example. There's no denying that Kim Kardashian has far greater influence and media visibility in Western society than the Armenian prime minister.
On September 9, Kim Kardashian and Eric Esrailian wrote a letter to Joe Biden, calling on the American president to intervene in the conflict between Armenia and Azerbaijan over Nagorno-Karabakh. In the letter, they asked Biden to prevent a new Armenian genocide by defending Christians, preventing the use of hunger as a weapon and ending ethnic cleansing. They also accused the 'autocratic' government of Azerbaijan and other countries, apparently Turkey, of promoting an Armenophobic policy. Kim Kardashian and doctor/producer Eric Esrailian criticized the collective inaction of the UN and the European Union, while proposing to influence Azerbaijan through economic sanctions, a halt to foreign investment, a boycott of cultural and sporting events, and international tribunals. However, they did not mention Russia's role in the conflict.
The missive was addressed not only to the White House, but also made public by Rolling Stone magazine, which, although less fashionable than fifteen years ago, is nonetheless influential. On the same day, Joe Biden went first to India to attend the G20 forum, then to Vietnam, before the September 11th commemorations began, thus relegating the President's reactions to the background.
What we can glean from this is that despite Kim Kardashian's claim that the letter had been written by 'just two people', the mode of presentation, the triggers for the text and its dissemination in a specific media suggest that this initiative was not simply a moving action by a person of Armenian descent, but rather a carefully planned campaign.
In fact, the letter wasn't addressed specifically to Biden, but rather to the global community as a whole, on behalf of industry interests and political groups associated with the Kardashian project. Kim has already donated millions of dollars to support Artsakh through the California-based Hayastan All-Armenian Fund, so identifying the beneficiaries is just a matter of technique.
Using one of the most influential personalities of our time — and Kim is one of them — is a smart strategy for promoting this cause on a global scale. However, this campaign does not support Armenia itself, but rather fuels a new conflict.
The letter cleverly uses religious elements, mentioning 'Christian Armenians' and 'Armenians and Christians' victimized by Azerbaijan. The world public is not necessarily familiar with the ethnic groups of Artsakh and could easily interpret this letter as a Muslim attack on Christians.
Western journalists are aware of this dynamic and know how to deal with it.
Aliénor Maréchal