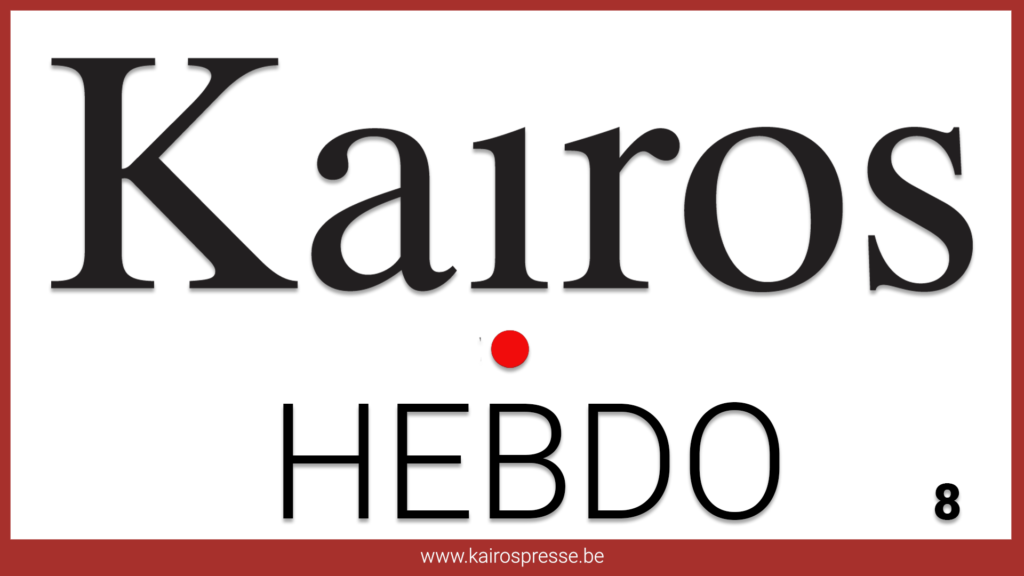 This summer, the Kairos « Weekly » is written so that what we put into words and images this spring in a new format, is remembered. Because we are quick to forget current events, but remembering what has been allows us to better understand the present and to prepare for the future, and perhaps even to participate in it.
If we have called Hebdo a series that cannot be weekly, it is for a few reasons. First of all, the team chose to name our irregular appointment by ease, taking advantage of an opportune absence on my part. A common word, weekly, she had forgotten that it subjected us to a rhythm of one show per week, 4 per month, 52 per year… It is enough that there is an anniversary, like the 10 years of Kairos, so that we do not find the time to make our weekly. And then there is another, more significant, reason: Kairos lives only through the generosity of its readers. The taxpayer's money, which was distributed sparingly via the aid to the periodical press, has been confiscated from us, because we do not say what those who distribute it want to hear. It will be all the more so who will go for IPM, Rossel or RTBF… Kairos therefore lacks the means.
In this respect, when it comes to making money, Europe is not at the end of the line, with more than 15,000 lobbyists concentrated in its capital city, who carry much more weight than the 447 million Europeans.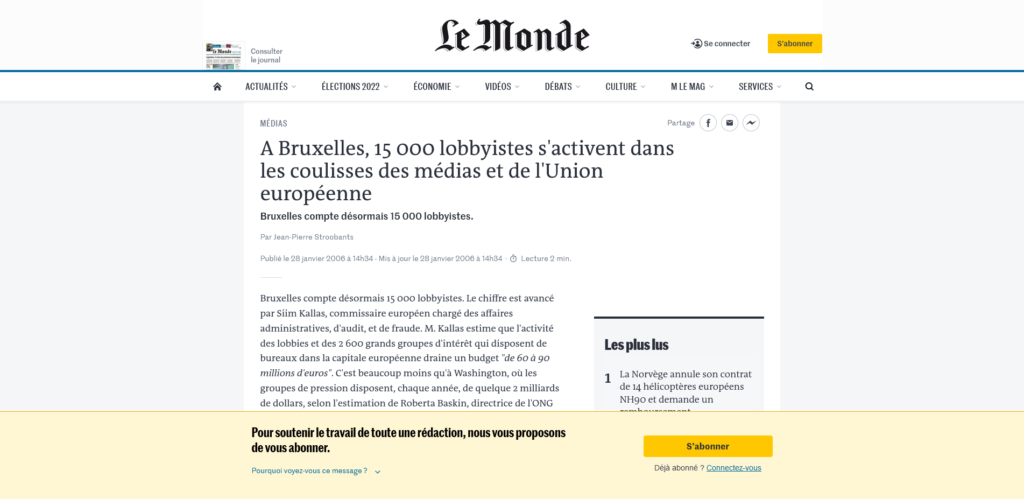 Those who still think that their institutions are acting for the environment, social issues and biodiversity are dreaming. We must not wait for those who are molded to serve growth and whose foundations are based on a mercantile logic, to suddenly start doing the opposite of what they are programmed to do.
The electric car is part of this fantasy world. This Wednesday, June 8, the European Parliament approved the reduction to zero emissions of new cars from 2035, this will allow them to reduce European emissions by 55% by 2030 and to sell and authorize from that date only E‑car. It is a joke that Europe has relocated its most polluting production companies and wants to make the delirium of consumption detached from production a collective one. There is no such thing as zero emissions, as long as the energy required to produce, extract, transform, manufacture, transport, implement, maintain and recycle is not taken into account, this so-called « grey energy ». In this life cycle, European propaganda has managed to focus attention only on use: when you drive, you emit nothing! A bit like our food or our clothes: as long as we don't see the slaves who produce them, it doesn't exist. However, to speak only about extraction and recycling, it is a disaster. The electric car requires materials ripped from the soils of Africa and Asia, metals and rare earths, the latter of which are very difficult to recycle, some not even at all. This unaccounted for grey energy makes the electric car as polluting as the internal combustion car: it would only be ecologically efficient after reaching 100,000 kilometers. This lie allows them to use their novlanguage and talk about climate « neutrality ».
This is part of the greenwashing, not to mention the way in which the electric car takes place in a system of tracing populations and controlling their movements, reducing their autonomy through dependence on an energy source that is difficult to store.
So don't see in their maneuver an ecological concern, they have made the thermal car live up to what it was useful for them. If they change, it's to continue as before, and ensure business as usual. Similarly, they decided after at least two decades, to impose the single charger for tablets, smartphones and other connected devices, in 2024. Not too fast, though. Cynical, when we know that these chargers will operate objects subject to programmed obsolescence, that is to say the reduction of their life span to the shortest possible, to ensure the profitability of the captains of industry and shareholders.
The European left is therefore congratulating itself, believing that it has beaten the lobbies, the Greens regret that the ban is not already for 2030, the right would have preferred a 90% reduction in car emissions by 2035… without any of them understanding or wanting to admit that the electric car and fossil fuel lobbies get along perfectly. The Supermajors, the largest oil companies, are investing in both so-called renewable energy AND oil.
And we always congratulate ourselves, as in France, when the choice is not that of the extreme right, as if the yes to the one who says no, and vice versa, was a guarantee of quality. We saw what Macron was like in the first quinquennium, here we go again, the man who spoke in the ears of the rich having this time siphoned off the votes of the classic right in addition to the center-left, center and center-right in 2017. Finally, some people have high expectations of the legislative elections of June 12 and 19, especially because of the surprise electoral agreement of the left. Here again we find the nagging politics of the opposition, in which ideas and values have difficulty being expressed, except in face-to-face meetings. So we have a melting pot with productivist and pro-nuclear communists, the « Insoumis » who had invited not to vote Le Pen while not inviting to abstain, which in superb convolutions amounts to asking to vote Macron; the Mélenchonistes, technophiles and not very prompt to oppose the steamroller of Progress with a capital P, less Atlanticist than the Socialists, but Europhiles and ambiguous as to the exit from NATO. Either, it will again be the « lesser evil » for a part of those who want to oppose Macron and still think that voting can change something. Faced with the continuity of the same, it is difficult, even in this case, to imagine that change can come from the hemicycles.
Let's leave the hexagon to come back closer, with not less bad news: Wallonia has launched its call for tender to recruit a physician-Kapo who will enforce the Walloon pandemic decree voted a few months ago.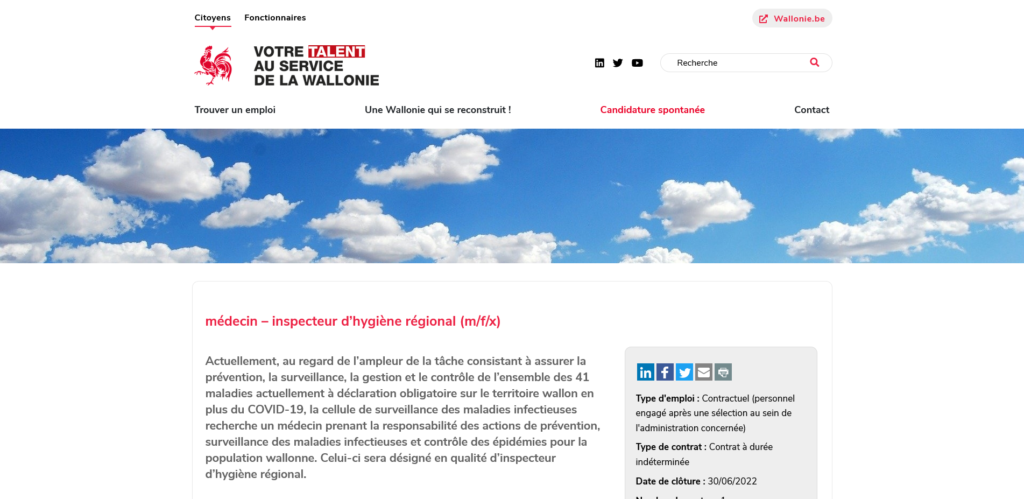 In his charges, he shall, and I quote:
1. To ensure and, where appropriate, to require that the person suspected of having a life-threatening illness at short notice or who presents the symptomatology of a serious epidemic condition, as well as the person(s) likely to have contaminated him or her or to have been contaminated by him or her, undergoes the necessary examinations and, where appropriate, undergoes appropriate preventive or curative medical treatment with the support of the physician of the patient concerned by the report;
7. If necessary, order the isolation of contaminated or potentially contaminated persons:
- within a hospital department relevant to the health situation, following consultation with the hospital concerned;
- at home ;
- in another appropriate place for this purpose.
10. Prohibit the person(s) with a reportable disease from engaging in professional activities and from attending any community
12. To order the disinfection of objects and premises, the isolation, treatment and, if necessary, the killing and incineration of contaminated or suspected animals
In the same vein, the indestructible Elio Di Rupo, the one who lies in press conferences without being bothered by Youtube or FaceBook, predicts two scenarios in case of a return of Covid in Wallonia: « There will be two options, and not one more »: « If the pandemic resurfaces with either variant, there will be two options, and not one more, » the socialist began. « Either isolate yourself completely or get vaccinated. Because the Region will no longer be able to finance inactivity ». Funny, when we know that politicians are responsible for having taken unjustified or disproportionate measures, praised by journalists in their pages while they were doing something else in their lives, like the editor of La Libre Dorian De Meeûs.
Europe also anticipates and decides on June 7 to extend the Covid certificate in the European Union, without any verification and taking into account the public consultation on this subject which gathered more than 385.191 people and reactions. The European Parliament even wants to give more powers to the Commission. All this will delight the stipendiary Universities which are already inaugurating their temple to vaccination.
To return to the doctor-inspector who will be hired by the Walloon region, this one will be, according to the offer on the site Wallonie.be, male (M), female (F) or…(X) ». Here, in the air of time. Like Barbie who introduces her new transgender doll, which will not create any confusion in the heads of small children that could disturb their identity.
As such, a text that will be proposed by a group of signatories for a carte blanche in a Belgian daily newspaper, carte blanche always obviously when it comes to sharing a subject that cliques, the editors of the mainstream media relegating the information to the rank of opinion, this text therefore, This text, entitled « But where are we going », questions the inflation of these requests for sex change among children and teenagers, but the most astonishing thing for them « is that such a request is immediately taken to the letter, as if it were obvious that it should be answered positively. In other words, » the individual 'feeling' must now immediately become the authority ».
Noting, and I quote them again: « The fundamental question remains: » Does a child suffer from not getting what he wants, or does he suffer from not having been prepared to bear not having everything he wants?
Pfizer and the LGBTQ+ Lobby hand in hand, while the former reap huge profits and the finger-pointing antifas cry discrimination everywhere, leaving the road open for the multinationals.
So Kairos will continue to show the moon, no matter what they tell us or do. For this we need you.
To see the original video: https://www.kairospresse.be/kairos-hebdo-n8/