» From now on, no Russian music will be played in my Brussels International Music Academy, neither at the festival & master classes « Music Academy FORTE », nor at the International Piano Competition « Thank you, Maestro! » and International Competition WPTA Belgium. I no longer allow participants from Russia for international projects « .

These are the words that Natalia Chepurenko broadcast in August 2022. She arrived in Belgium from Ukraine in 1998 and founded the Tchhaikvsky School in 2002. Then the Tchaikovsky school. In her message, the director explains that she graduated from three conservatories, but that it was the Tchaikovsky Conservatory in Kiev that » gave her all the knowledge she needed to pursue [son] development in Europe . Strengthened by this Russian-musical impregnation, the future director decided » to use for [son] school the same methodology as in the Tchaikovsky Conservatory of Kyiv « .
Everything is fine until then, the Belgian-Ukrainian not yet seeing in Tchaikovsky a Russian-Nazi, Ukrainian bandit type, and keeps for her school the name of the composer. But » in the meantime, the war started in 2014 when Russian soldiers began to occupy part of Ukraine . Exit the American responsibilities in the coup of 2014, with the distribution of buns by Victoria Nuland to the demonstrators of Maidan Square, which will then see the departure of Yanukovych unconstitutionally removed by the Parliament and the installation of an interim president Oleksandr Turchynov. The same parliament that will vote a few days later the end of Russian as a second official language… the director must have appreciated. Motus also, or blindness, on the 15,000 deaths in the Donbass between 2014 and the official start of the war in February 2022(1).
Why not a post-mortem loss of nationality for the Russian composer? Since it is still rather embarrassing that Natalia Chepurenko received most of her education from a school named after the composer; or the attribution of Tchaikovsky's works to an Urkainian composer? Because the knowledge of Mrs. Chepurenko remains tainted with the mark of the Russian beast.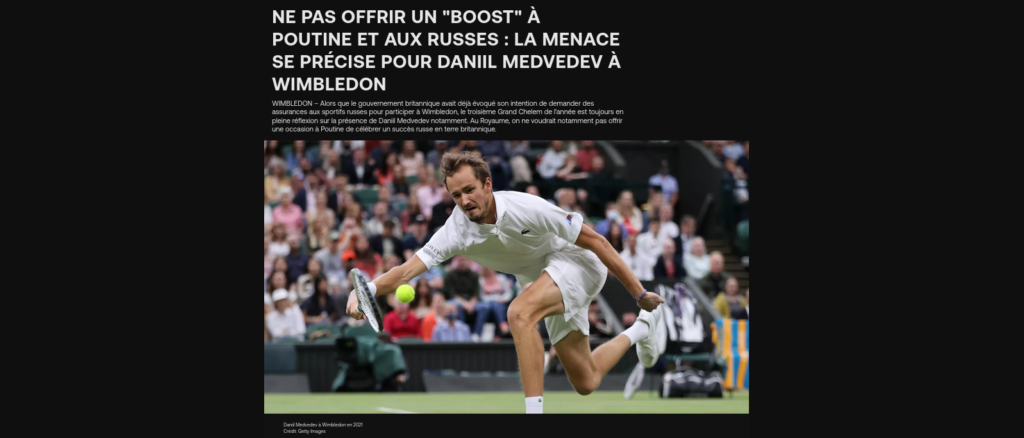 While Great Britain is still wondering if the Russians will be able to compete at Wimbledon, all this leaves us with a strange aftertaste, which tells us a lot about a political-media caste in freewheel, capable of apartheid while dressing up as democrats.
» I say goodbye forever to everything Russian. I say goodbye to everything good, bad and everything from my old life. I believe and know that after all the horror and nightmare, Ukraine will be rebuilt and it will be even more beautiful, although you can not return the lost lives. REVISIT Tchaikovsky School of Music. Welcome to my school : BRUSSELS INTERNATIONAL MUSIC ACADEMY « .
BRIMA is the acronym of his new school. The verb brimer, means: » To make undergo to (somebody) vexations or annoyances in a continuous way « .
A coincidence?
Alexandre Penasse