In September 2021, this email from the ULB was sent to the future physiotherapists. The blackmail of the internships is such that it leaves one stunned. Indeed, due to blackmail, students in different courses will not be able to validate their year.
See for yourself: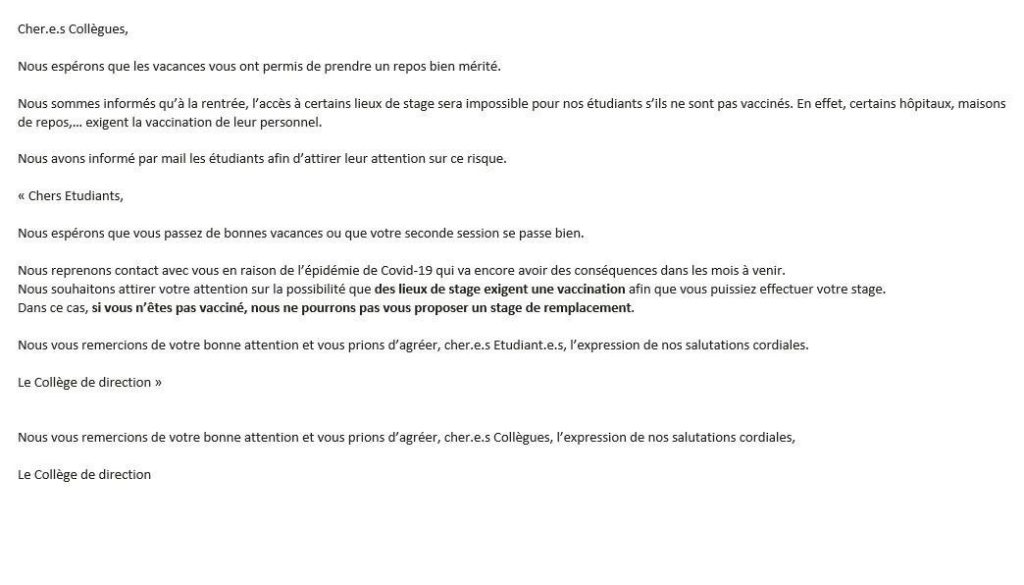 This shameful practice is also implemented in secondary education and affects the following sections: animal care assistant; dental prosthetist; pharmacology; nursery school trainee; childcare trainee; chemical laboratory technician; nursing home trainee. As internship sites become scarce, school administrators and teachers are illegally discriminating in favor of the vaccine. In addition to the stigmatization and the social exclusion, they crush the future of young people.
Every day, children are masked for more than 6 hours a day and are stigmatized when they do not wear the mask.
Every day, students do not find an internship because they are not (or not fully) vaccinated.
Every day, parents, children, teachers, and school administrators have measures imposed on them that they do not agree with, for fear of reprisals or being ostracized.
The omerta reigns.

Every day, principals struggle to provide a quality comprehensive education, but are unable to do so due to a lack of teachers (in quarantine).
Every day, organising authorities and/or municipalities spend a lot of money on unproven measures and equipment.
Every day your children, our children, grow up in this world where joy has given way to fear.
Every day is one day too many for a child who loses his innocence, deceived by the trust given to irresponsible and cowardly adults.
I don't want a masked school anymore. I also don't want a school clocked with PPM alarms, windows open in zero degrees, kids wondering if they're breathing too hard, and an overpriced air purifier to place and maintain. I don't want a school where children are seen as vectors for viruses and as something to be wary of. I want a school of knowledge, of excellence, like before. I want a school where all social conditions meet, with a desire to learn as a driving force. I want a school where the transmission of knowledge is the driving force, rather than a virus that frightens.
If I believe the latest statements of the Minister of Health, our children will have their lives suspended on an arbitrary barometer that does not even provide for normalcy (no code green). The covid measures are « precedent setting » and are transposed in a Royal Decree. This minister lifts the lid in mid-February and will be able to close it again as he sees fit, depending on future outbreaks or cases.
The absurd becomes the rule and common sense is stigmatized.
We must act quickly, we must take up this challenge now to ensure the world of tomorrow.
A project for the future
We have a maximum of 6 months to demonstrate this and dismantle their policy.
I can no longer limit myself to denouncing, I want to propose.
I therefore propose that you draft a protocol for the school with COVID in opposition to the zero COVID school of the ideologue Vandenbroucke.
This could be proposed to the schools and applied exclusively or in parallel with the ministerial circulars.
I am confident that I will be able to overcome everyone's fears and questions by proposing a pragmatic alternative that will allow the school to emerge from the crisis in a positive way. It is not an « anti » this or that solution, but rather a well thought-out solution that would be the result of consultations with field workers and health professionals, where the focus would once again be on the child and teaching.
I am in the process of collecting testimonies from organizing authorities, school principals and teachers, in order to make a report on the state of the school in March 2022. I want to understand everyone's fears and desires in order to identify challenges.
I need your expertise to think about the school of tomorrow. How to manage positive cases according to age and pathology? Is it necessary to carry out tests, if so which ones? Who to test, when, how, why? Should the virus be allowed to circulate, and if so, to what stage? What are the preventive measures to be implemented? What preventive treatment? What curative treatment? What about ventilation? What about masks for teachers? There is a lot of work to be done in compiling what has already been done (well) here or abroad. Your skills, knowledge and experience will be valuable to us.
The past is gone, you may say. Not when the measures are set in stone. I also need you to study, comment and analyze the measures implemented in the school in order to push our decision makers to introspect. This is the only way we will be able to avoid a « remake » for our children in the fall of 2022. We need to break down the barriers that have been erected between students, between students and teachers, and generally between schools and the rest of society.
The whole COVID protocol, conceived by Minister Vandenbroucke and implemented by Minister Désir (in the Walloon-Brussels community) must be analyzed, commented on and challenged. Dozens of questions will still need to be asked.
If you think that all this is behind us and that the war is at our border, think again. All this is just a break.
Thank you,
Jérôme

If you are interested in participating in this
I thank you to contact me by mail:
jerome.delforge@gmail.com