This Saturday, February 4, a symposium will be held in Genval, Belgium, on the theme of « Ethics and mandatory vaccination ». While registration was open to non-physicians from the start, I received an email yesterday informing me that the organizers had decided to unregister me in order to make room for physicians. They had already de-registered troublesome doctors, and now they were expanding to other categories. The indication « personal and confidential » on the letters addressed to me is obviously part of their attempt to keep their maneuvers quiet and to keep secret, as usual, what primarily concerns the people and the common good; I consider it more important to disclose them than to keep them confidential, in compliance with the Munich Charter of the Rights and Duties of Journalists.
Letter of refusal of registration: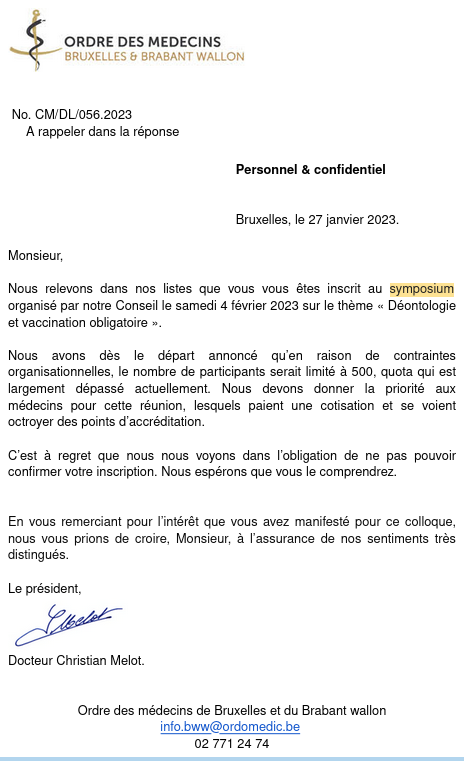 In response, I told them that I understood that their conference could not accommodate everyone, but that it seemed important to make it accessible to as many people as possible, thus also compensating for the complete absence of debate for almost three years. I therefore invited them to reconsider their decision.
This is what he answered me, indicating among other things that the Council of the Order of Physicians had not organized this conference to inform the general public, adding perfidiously that they had« noted on the Internet that my [votre] press card would have been refused to you ». End…
Informed of this decision, Doctor Colignon proposed a live broadcast: