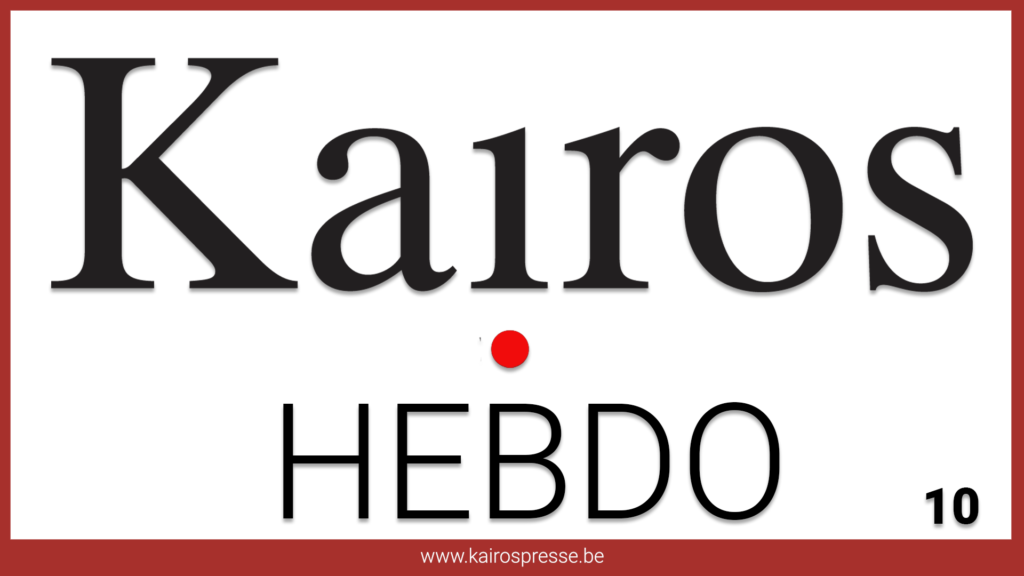 This summer, the Kairos » Hebdo » was written, so that what we had put into words and images this spring in a new format, reminds you. Because we are quick to forget current events, but remembering what has been allows us to better understand the present and to prepare for the future, and perhaps even to participate in it.
No long weekly today, but some thoughts on a few significant elements of the last few days.
First, the appointment of Hadja Labib, former journalist and JT presenter for RTBF, who takes the place of Sophie Wilmès, following her resignation.
Surprised… but no, Hadja, we have known for a long time that the function of journalist was used as a folding seat to enter politics.
Alain Raviart, presenter at RTL who becomes spokesman of the CDH.
Jurek Kuczkiewicz who, after 18 years of loyal service to Le Soir, joins Charles Michel's team to become strategic and media advisor to the future president of the European Council. Congratulated by Christophe Berti, editor in chief of Le Soir.
And then François Bailly who succeeds Joan Condiyts as editor of L'Echo. Joan Condiyts, former Le Soir, co-founder and CEO of LN-24, now mandated by the Rossel group to coordinate a working group on information within RTL, where he will be together with Laurent Haulotte, director of information and sports at RTL-TVI. Laurent Haulotte, who had filed a complaint against me because he had not appreciated that Rue Ducale, in front of the chancellery, I said in a live broadcast that journalists and politicians are buddies like pigs.
Joan Condiyts, soon to be in politics no doubt, who in debate with me had trouble understanding the notion of mainstream media and conflicts of interest.
François Bailly, whom I met about twenty times in press conferences, and who told me several times that I would not be able to go there anymore if I asked this kind of questions, became Alexander De Croo's spokesman.
Since politics is just a show, it is good to have a familiar face, even if the person chosen has no knowledge of the field. And then 12,000 euros per month for Hadja Labib, it makes you think, right?
A boomerang… it doesn't fall, right? It launches and comes back. Nice metaphor, Hadja, for something that could also pass for a return of favor, no? Moreover, she has understood it well and knows how to find the right words… flatterer.
An exceptional first minister, don't you think you're overdoing it a bit, Hadja?
Ah shit… even stronger. Ouch, ouch.
In this game, it's a win-win situation: the journalist gains power and keeps his reputation, the political party subtly introduces itself in the editorial offices, waiting for the future candidate. For it is certain that as a presenter of the JT, Hadaja Labib did not have to offend too much her guests of the MR to be welcomed today.
And then, in politics, as in the mass media, they continue to do the same thing: lie. As George Orwell said: » Political discourse is designed to give lies the accent of truth, to make murder respectable and to give the appearance of solidarity to a mere draft. « And for that, journalists are experts.
Similarly, the journalistic bodies that are supposed to defend press freedom and ethics only protect the interests of the power media, whose board of directors they are composed of. When you don't like it, you can withdraw your press card, you can be deprived of subsidies, and you can be arrested in the course of your work without any of your authorities taking offense. The minister of the media, Bénédicte Linard, arbitrarily decides to modify the condition to obtain the aid to the periodical press; her cronies refuse our adhesion, and here is the trick! We have been « democratically » deprived of being able to benefit from the taxpayers' money, your money, which the State distributes as it sees fit, according to its interests.
Hadja Labib thanks Sophie Wilmès, Sophie Wilmès thanks Hadja Labib, Alexander De Croo thanks Sophie Wilmès… A great farandole, a same family, where all express themselves with the same voice and build our representations of reality.
Speaking of lies, the discourse is crumbling, the certainties of yesterday are shaking. The French executive is in a bad position, with many members of parliament refusing to accept the new coercive measures. In the Figaro of July 8, one could read:
» That data on the very low efficacy of the vaccine against transmission of the virus was beginning to circulate. »
Le Figaro gives the floor to Martin Blachier who says: « There would have been a real political risk to continue with the pass »; « Olivier Véran made a mistake in reading the curves by wanting to impose it ». « This is a serious mistake that will leave its mark for years to come.
Or Dr. Alice Desbiolles, a public health physician and epidemiologist, who statesWe must stop testing because the indicators of contagion are no longer relevant and being infected is not serious in itself. Too many people use them to dramatize the threat, she tells us. The only data of interest are those that measure the number of serious Covid and hospitalizations. It is important to ensure that they are reliable. It is now known that half of the patients hospitalized with Covid actually have another pathology that is the cause of their hospitalization. In the first waves, the numbers, often masked, indicated that one-third of patients died with Covid but not from Covid. »
In the article, we can still readThe exhaustive assessment of the vaccination campaigns has not yet been made, but more and more researchers and doctors are judging the doctrine of vaccine for all severely. It is known that vaccines have prevented severe forms in at-risk patients, but it is now established that they have not stopped the transmission of the virus contrary to what was hammered out at the beginning. »
In France, some like Blachier hope that « the executive will repair the brutal decision taken against unvaccinated caregivers. » In Belgium, the deputies, meanwhile, with a former unconvicted criminal at the head of health, I named Franck Vandenbroucke, are thinking about mandatory vaccination for caregivers. If the issue is not on the agenda of the last parliamentary session of this day, they were voting today in the Health Committee a bill amending the Law of April 22, 2019 on the quality of health care practice », behind which lies the risk of entrenching in law practices of denunciations, where any caregiver will be able to be investigated if the executive requests it or if he is the subject of a complaint.
You feel the tide turning, don't you? But people will not forget you, those who lost mother, father, sister, brother, summoned to return home and returned too late to be intubated in intensive care; grandfather or grandmother died alone without having seen their loved ones, ultimate torture. The fathers and mothers who lost their children because of an experimental injection that enriched the pharmaceutical industry, for whom Alexander De Croo indirectly worked when he was at the Boston Consulting Group the young women who will never be able to have children again, all the other victims of the side effects.
There are no other words for those who have been governing us for two years: criminals, and therefore also murderers for some. Because when you knowingly censor a journalist in a press conference, when you change the official YouTube link of the government channel to make it look like this censorship never happened, when you ignore fundamental issues like PCR testing, when you pretend to be unaware of world-renowned experts like Ioanidis, when you deny the side effects of vaccines, when you ignore Covid treatments, you can't say you didn't know.
The media of fear are among the culprits. Without them, none of this could have happened.
I would like to take this opportunity to thank all those who collaborate in our participatory financing. Thanks to you, we will be able to last a few more months. Because every month we have to spend no less than 12,000 euros to pay three salaries, the office, the printing of the newspaper and all the other expenses.
If we want to become a media of weight in the Belgian landscape, we will have to hire many more journalists. The price of our freedom, your right to be informed, is only possible because of you.
Imagine if Kairos had not been around for those two years. This is what could happen if we could no longer afford to continue.
To see the original video: https://www.kairospresse.be/kairos-hebdo-10/