Or how disaster capitalism invests in a « new world
In the midst of the prevailing stagnation, we see individuals, who used to live with the world as it was or even found their greatest interests in its functioning, now proposing their solutions to « change everything ». With sometimes revolutionary accents, these promoters, often from the world of finance, invest in the philanthropic sector and support a range of activities, from yoga to alternative media, through « sustainable development », « financial aid to populations or individuals in difficult situations », or « constructive journalism ». But if you dig deeper, you'll often find the same people pulling the strings, including the ubiquitous Bill & Melinda Gates Foundation. Could it be that those who distribute the money are the new knights of the apocalypse disguised as omnipotent saviors who pretend to do something different than before, while in fact continuing to do so?*
Among many philanthropic organizations, the Lunt Foundation » promotes regenerative solutions that increase wealth from an ecological, wellness and community perspective » , seeks to » contribute to the elevation of the collective consciousness for a more harmonious and loving world » . » Their work focuses on supporting holistic health models, developing constructive journalism, and evolving awareness among leaders and influencers. These three focal points are intimate and intersectional « . This is the mission of this new charity. At first glance, the initiative may seem generous, but the ambiguity of the words and concepts used leaves a void that allows for anything and everything to be included. In order to remove this vagueness, investigating the origins, the founders and the network of the Lunt Foundation will allow us to understand what lies behind it, opening up the true desires that drive these great philanthropists.
The idea of setting up a foundation was born when Michael Lunt and Guibert del Marmol met at the Skoll Forum in Oxford in 2012, during which they were » amazed to witness the emergence of a new world. » Their priority of the moment: » How can we support these individuals (« Social Entrepreneurs ») in designing new models needed for our society? » To understand the genesis of Lunt, it is necessary to understand what drives the two men to found it. It is therefore necessary to establish the places where they pass, including the one where the idea is born: the Fond Skoll. Founded in 1999, it describes itself as » a support organization associated with the Silicon Valley Community Foundation in San Jose, California . The Skoll Foundation, launched in 2002, stands out(1). The group's founder and chairman is Jeff Skoll, » eBay's first full-time employee and chairman, » who has spent the past 17 years » building a portfolio of philanthropic and commercial ventures(2) . »
So, galvanized by the ideas of a Forum whose foundations are based on those of Silicon Valley, Michael and Guibert decided » to help disruptive pioneers communicate, tell their stories and facilitate collaboration and funding opportunities. » Michael Lunt talked to his two brothers about it and they were excited about the project. One of them, Lawrence Francis, aka « Larry » Lunt, apparently heavily involved with the Foundation, is also a member of Makesense, where he meets up with Michael and Guilbert. For Michael, Makesense is » as a happy hive of young and talented creatives whose members are concerned with the well-being of our society. Their enthusiasm and joie de vivre are subtly contagious and generate more optimism to increase harmony throughout the world. « At their side, Claire Gillissen-Duval, senior director at SAP(3)which » helps the best companies to improve the management of the world(4) « , Marie-Astrid Raoult, from Carrefour foundation, Pierre Calamusa, French Poker player, and other company managers in the field of digital, finance, participative financing (KissKissBank(5)), philanthropy, health, and technology.
In addition to the Lunt Foundation, Makesense's partners include Google, Veolia, Sanofi and the Bill & Melinda Gates Foundation(6), Ashoka, SAP, Carrefour and Citigroup. The CVs of the Makesense members speak for themselves. One of them explains, » I took the plunge on December 31, 2015 after 25 exciting and intense years in private equity. I then left the US Advent International fund (www.adventinternational.com), where I was a partner in charge of the French activity, to fully develop my independent « For Good » activity(7) « . So the man comes from a private equity fund, which bills itself as one of the » largest and longest-standing independent private equity partnerships(8) . » Launched in 1984, the adventinternational fund has invested over $66 billion in more than 395 private equity funds in 41 countries. Carrying the novlanguage dear to the « decision-makers » (« diversity « , » equity « , » inclusion »), propagating the themes and storytelling of power like Ukraine, Advent International offers services in the areas of business and finance, healthcare, industry, retail, consumer and leisure, and technology.
Larry Lunt is still on the board of Synergos, a company of venture philanthropists . At first glance, one might think the expression worthy of a superb oxymoron, but the two, capitalism and philanthropy, complement each other perfectly(9). Synergos was founded in 2020 by David Rockfeller and his daughter Peggy Dulany. David Rockfeller is the grandson of the « robber baron John Davison Rockefeller », born in 1839, who had already understood that philanthropy pays. Founder of the Standard Oil Company, which later became Esso and then ExxonMobil, he built up a fortune and power that he passed on to his descendants, who spread their tentacles over the world and influenced its course. The man is also known for orchestrating the Ludlow Massacre, where Rockfeller henchmen shot striking miners after a fellow unionist was killed protesting working conditions and low wages.
Peggy Dulany, who in 2017 interviewed billionaire Warren Buffet at the Global Philanthropists Circle Members Meeting, is also with her father behind the Stone Barns Center, an estate acquired by John D. Rockefeller in the 1930s in the Hudson Valley, where he had stone farmhouses built at the time in the style of those found in Normandy, and which became a nonprofit organization in 1996, promoting organics, connection to farmers and nature, connection to the land. Interesting this love of nature and this « eco-responsibility » when one has been at the head of an empire built on oil exploitation, when one has sat as president of the Chase Manhattan Bank, co-founded the Bilderberg group and the Trilateral Commission, or presided over the Council of Foreign Relations.
THE ROCKEFELLER CONSTELLATION
The Bilderberg Group was created in 1952, but formalized in 1954. Its founding members include Prince Bernhard of the Netherlands, NATO Secretary General Jozef Luns, former Belgian Prime Minister and banker Paul Van Zeeland, and David Rockefeller. » It is, among others, the latter who take the initiative to set up a restricted group of industrialists, financiers, politicians, journalists, intellectuals, aristocrats, military officers, accompanied by members and ex-members of the American and German secret services (including many « former » Nazis), who are invited to come and discuss international issues. This first meeting at the Bilderberg Hotel in Oosterbeke, financed by the Dutch multinational Unilever and the CIA, aimed to coordinate and build unity among Western countries in their fight against the Soviet Union and, more broadly, in their fight against Marxism and the various variants of the socialist model(10). (…) Now headed by Henry Kissinger, among others, the Bilderberg Group, along with the World Economic Forum in Davos, the Trilateral Commission and other private meeting places of the world's elite, is the backdrop for the policies that are then implemented by the G8, the IMF and the WTO. An international consensus emerges from this network without the need to impose it on participants « (11). It is worth noting that Etienne Davignon(12), who chaired the Bilderberg Group, also founded Friends of Europe, whose members include Alexander De Croo, Frank Vandenbroucke and Petra de Sutter, current ministers in the Belgian government.
In 2019, Belgian guests at the annual meeting included Isabel Albers and Thomas Leysen(13). The first went through De Standaard, editor-in-chief of De Tijd and then Het Laatste Nieuws, journalistic director of « news media » in the press group De Persgroep, to become in 2017 editorial director of Mediafin. She is now editor-in-chief of De Tijd / L'Echo. Thomas Leysen is presented as Chairman, KBC Group and Umicore, but he is also President of the Mediahuis group: 1.7 million subscribers, 10 million readers, reaching 3 million people per day in Belgium, 4 million in Holland, 1.8 million in Ireland, 310,000 in Luxembourg, whose various websites are said to see more than a million visitors per day(14)The company owns nearly a hundred radio stations, regional television stations, sports organizations, online platforms, newspapers and sales sites. At the 2022 meeting, the same Thomas was present, this time with two other Belgians: Tinne Van der Straeten, Minister of Energy in the De Croo government(15), and the exiled Didier Reynders, Commissioner for Justice at the European Commission(16).
The Trilateral Commission was founded in 1973 by the same people who initiated the Bilderberg Group and the Council on Foreign Relations: David Rockefeller, Henry Kissinger, Zbigniew Brzezinski, a specialist in international relations, professor at Columbia University, but also at the time a consultant to the U.S. Secretary of State. Rockefeller's concern at the time about the deterioration of relations between the United States, Europe and Japan is said to be the cause. But it seems that this was only a pretext and that behind the creation of the Trilateral Commission was mainly the desire to fight against » the revolutionary movements, relatively autonomous, which shook the Third World « and also to ensure » the internationalization of American companies » (…) » Its members were drawn from the highest circles of politics, business and the media in Western Europe, Japan and the United States « (17). A » pillar of the New World Order » (18), the Trilateral Commission was born out of a desire to find a solution to the growing disaffection of the population with their leaders, with the objective of » establishing a new political orientation for the Western nations ( …) The almost immutable theses presiding over all the Commission's work and repeated throughout its publications were the following: affirmation of the necessary disappearance of state autonomy, submission of the governments of capitalist nations to the demands of multinational companies, questioning of liberal democracies judged obsolete in the face of new forms of governability, possibly authoritarian reorganization of the structures of power in capitalist countries and, finally, development of various models of « restricted democracy » for the Third World « (19).
In one of his publications, The crisis of democracy (1975), the Trilateral Commission was concerned about the risk to journalistic independence of a media power » increasingly autonomous and tends to resist the pressure of financial and governmental interests (…) As a result : 1) The media become the sounding board for social difficulties and tensions (…) 2) the media deprive governments and other authorities of the benefit of time, trust and tolerance without which it is impossible to innovate […] « (20). They have well understood the role of the media in the fabrication of consent and the risk, if they are not controlled, that they feed the spirit of contestation, and revolt. Thomas Leysen is not a member for nothing. He is the head of Mediahuis, the largest media consortium in Belgium(21).
As for the third important star of the Rockefeller galaxy, the Council of Foreign Relations, which Goeffrey Geuens not without reason calls « theNGO of the CIA « , » press officer of the military-industrial complex « It represents one of the most important « shadow » organizations, controlling American foreign policy and » the driving force behind the creation of a true « world government « ..
REGENERATIVE CAPITALISM
Larry Lunt also runs Armonia, a U.S. investment fund that « diversifies family assets by exclusively expanding the portfolio to include impact investments(22), » placing its funds » beyond sustainability (sic) to embrace and promote regenerative practices in agriculture, finance and business(23) . » The Lunt Foundation is a partner, as is Ashoka and the Capital Institute, of which Larry Lunt is also a member. The second one was founded by John Fullerton, former JP Morgan, who now wants a regenerative economy, a regenerative capitalism, a finance for a regenerative world… with as partners companies and foundations composed of members with the same profiles as those we described above: bankers, captains of industry, journalists, among whom we find publishers of books on consciousness or responsible business; followers of autopoiesis(24)financiers founders of investment funds, » bankers for the public good » (sic)(25)…
Ashoka Belgium's partners include Bank Degroof Petercam, the King Baudouin Foundation, McKinsey & Company, Schola ULB and Youthstart, which helps young job seekers « wake up », with partners such as The Echo, De TijdBNP Paribas, KPMG, Total, Deme (see Alexandra Jaspar), Lloyd's, Nespresso, Luminus…
The King Baudouin Foundation (KBF) is a partner of the Baillet Latour Fund, whose President is Thomas Leysen. The FRB is chaired by Pierre Wunsch, Governor of the National Bank of Belgium, but also, among others, Governor of the International Monetary Fund. Pierre Wunsch is a member of the GEES (Group of Experts in charge of theExit Strategy) set up by Sophie Wilmès when she was Prime Minister, where he worked alongside Mathias Dewatripont (but also Marc Van Ranst, Marius Gilbert, Johnny Thijs, Inge Bernaerts, Emmanuel André, Erika Vlieghe, who produced reports that regulated the lives of more than 11 million Belgians for two years(26)), former executive director of the National Bank of Belgium, current executive member of I3H(27) whose president and founder is Michel Goldman who forgets to mention on the I3H website that he was also President of the AstraZeneca Foundation in Belgium(28). It becomes more embarrassing when one discovers that the King Baudouin Foundation has financed the I3H to the tune of 20.000€ in 2021(29), less however than the 150.000€ given to the KU Leuven in 2020 and the 50.000€ in 2021. So Wunsch gives money to his colleague Dewatripont. The Baillet Latour Fund, of which the FRB is a partner, has a scientific committee chaired by Geert Leroux-Roels, member of the Clinical Advisory Board of Osivax, whose investors include the Wellcome Trust (GSK), the Walloon Region, the European Commission, etc., and whose partners include UZ Gent, the University of Antwerp, the Walloon Region, and Bio Tech companies.
GET AN IDEA…
We could go on for pages, tracing a web of links between public and private structures, leading to a total takeover of society through emissaries ensuring that the ideas promoted in some of the most important think tanks described in this article, will be able to be converted into acts in the real world. We start from the Lunt Foundation and we arrive at a myriad of multinationals, billionaires organizing a New World Order, politicians, captains of industry… to come back to it, and see with another look its interest in financing newspapers like BAM!, our Belgian colleagues, Rob Hopkins, associations related to agriculture, mental health, hygiene, art, healthy food(30)… One cannot help but notice that their real partners and their real reasons for being are now omnipresent, alongside their fine words, their « full consciousness », their « respect for the earth and for agriculture », the balance of the body… their real partners and their real reasons for being: the Trilateral Commission, Bilderberg, the Council of Foreign Relations and the cluster of multinationals, banks and investment funds that they represent: Total, Sanofi, Carrefour, JP Morgan, Gilead, BASF, Suez, Fortis Belgium, Fiat, American Express, AOL Time Warner, Lockeed Martin, Pfizer, Shell; Xerox.…; surrounded by the big institutions (IMF, OECD, WTO, WHO, NATO…) and governments, servants of power, real transmission belts of the interests of capital; the big media ensuring the show, the main leaders of the big press groups and their « star » journalists having their entrance in these very private clubs.
Here is the aporia(31): in their project to « regenerate the world », the apostles of the CAC 40 and the Dow Jones(32) are not credible : they praise nature and life while investing in multinationals that destroy it. On the bangs of the desert that they generate, they create oases, protected zones from which they and their relatives will benefit. While they reap the dividends of Total, they garden on their « eco-responsible » farm. So they continue, behind the curtain, to get rich as before, hiding the reality of their destruction, controlling the media so that it does not become known, or at least that no one sees the responsibilities.
However, it is precisely this type of company that will have to disappear if we want to save the lands that have not yet been colonized and the people they have not yet exploited, in order to hope to start something else… There will be no « other world » as long as this one persists. Everything else is vain, and to accept to debate their games, their jousts, the electoral spectacle, to read the press releases of the multinationals, is to ratify what they are. It is to endorse their domination over our lives.
In their destructive activities, they need to provide the publicity to convince that they are doing good. Convince whom? The public, certainly, so that their investments are not tainted and the shareholders suffer, but they themselves are probably also doing good: in a form of Judeo-Christian thinking, by persuading themselves that they are doing good through philanthropy, they are probably making an unconscious act of contrition for all the evil they are spreading. Referring to the think tanks we have described in this article, including the World Economic Forum, Geoffrey Geuens says of them that » they all share the same leaders and the same funders » (33). We remember the Belgian « expert » Marc Van Ranst explaining to the audience of Chatham House, one of these places of power, how to create a pandemic(34).
The fact that Larry Lunt, of the eponymous foundation, is on the boards of organizations such as Synergos, founded by David Rockefeller and his daughter, is no accident: » Honorary President of the Trilateral Commission, founder and member of the executive board of the Bilderberg Group, David Rockefeller is the most exemplary incarnation of « Globalization ». Honorary President of the Council of Foreign Relations, a legendary figure in New York high finance, and former head of the Chase Manhattan Bank, he now occupies a central position in the new world economic order: that of Chairman of the International Board of this same financial institution. « .(35)
You can't change a system with the way of thinking that created it. To let today those who led the boat that brought us to the fall, play the savior, finance a set of organizations to better control them, is to ensure their domination and dig the grave of humanity.
Alexandre Penasse
* This article was the subject of an illustrated video published on our website: https:// media.kairospresse.be/video/2022/J_ai_demande_a_LUNT.mp4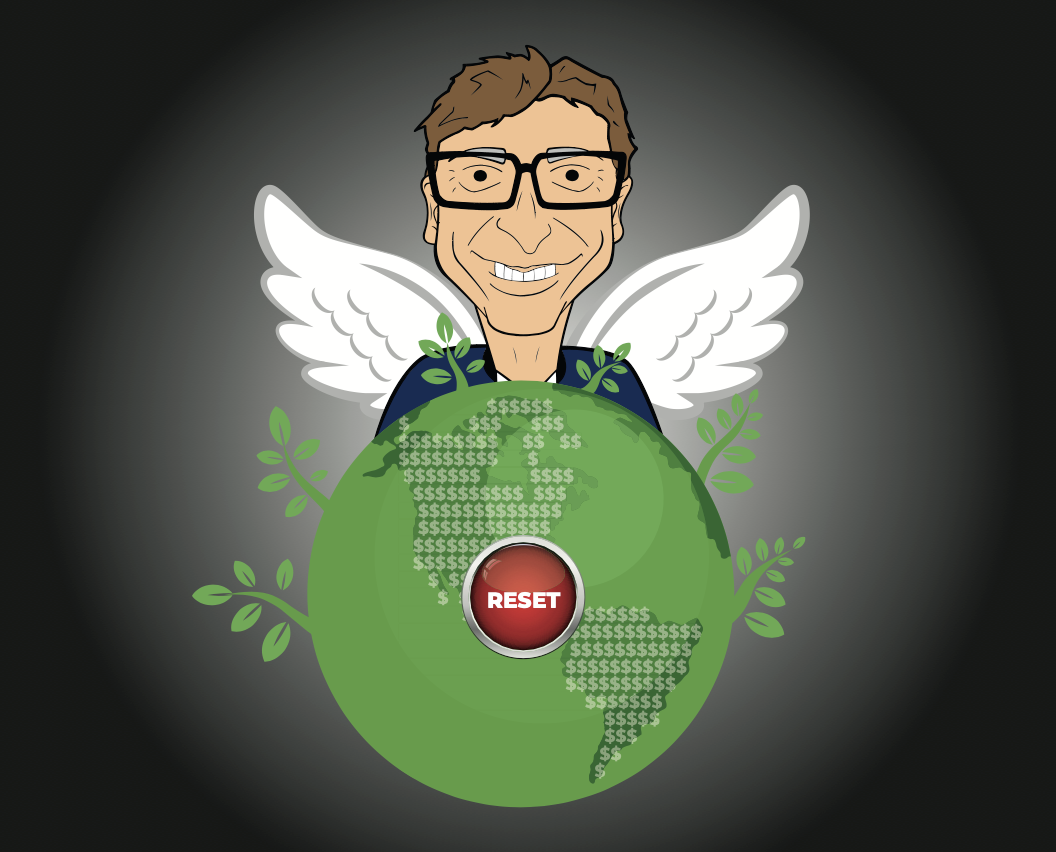 Notes et références
https://skoll.org/about/board/
https://skoll.org/attendee/jeff-skoll/
SAP (Services and Support), est « l'un des principaux producteurs mondiaux de logiciels pour la gestion des processus métier ».
https://www.linkedin.com/company/sap/
https://makesense.org/en/donor-circle/
https://www.linkedin.com/in/pascalstefani/?originalSubdomain=fr
https://www.adventinternational.com/about/
« Un homme fortuné qui dépense son argent pour les plus démunis presque exclusivement à l'aide de technologies de haut niveau renforce l'idée que le développement repose sur l'action caritative et l'»apport de solutions» aux pauvres qui reçoivent leurs faveurs des riches sans changement fondamental de la manière dont fonctionne le monde: sans mettre fin aux paradis fiscaux, sans limitation du pouvoir des entreprises et sans évolution des économies néolibérales». Voir Lionel Astruc, L'art de la fausse générosité. La Fondation Bill & Mélinda Gates, Actes Sud, 2019, pp.36–37..
Geoffrey Geuens, Tous pouvoirs confondus. État, Capital et Médias à l'ère de la mondialisation, EPO, 2003, p. 24
Ibid., p. 27
Pour avoir une idée précise de qui sont ces hommes de pouvoir que nous citons sans pouvoir en faire une large description, voir Geoffrey Geuens, Tous pouvoirs confondus. Etat, Capital et Médias à l'ère de la mondialisation, Ibid.
https://www.bilderbergmeetings.org/meetings/meeting-2019/participants-2019
https://www.mediahuis.com/app/uploads/2022/03/Mediahuis-AnnualReport-2021_EN_Lowres.pdf
https://www.bilderbergmeetings.org/meetings/meeting-2022/participants-2022
Pour plus d'infos sur le personnage, tapez « Reynders » dans la barre de recherche du site de Kairos.
Howard Zinn, Une histoire populaire des États-Unis. De 1492 à nos jours, Agone, 2002, p. 629–630.
Geoffrey Geuens, Tous pouvoirs confondus. État, Capital et Médias à l'ère de la mondialisation, p. 30
Ibid., p. 31
Ibid., p. 32–3320. S
https://acrobat.adobe.com/link/track?uri=urn:aaid:scds:US:0c46ea41-6a2a34cc-a86b-5d20c77ef975#pageNum=1:.https://www.trilateral.org/people/thomas-leysen/. On y trouve aussi Alexia Bertrand, fille d'un riche industriel président de DEME, elle est députée et a été chef de cabinet de Didier Reynders.
https://www.preqin.com/data/profile/investor/armonia/83737
https://armoniallc.com/
« Propriété d'un système à se produire lui-même »
https://capitalinstitute.org/our-partners/
https://www.kairospresse.be/155505/?highlight=Wunsch+
Sorte de Think Tank visant « à former la prochaine génération de professionnels de la santé et à développer les connaissances scientifiques pour contribuer efficacement au développement de technologies et de stratégies innovantes », chapeauté par l'Université Libre de Bruxelles. https://i3health.eu/
https://theconversation.com/profiles/michel-goldman-890976
https://www.kbs-frb.be/fr/drug-repurposing-rare-diseases
https://luntfoundation.org/
« Dans un raisonnement, contradiction, difficulté qui semble insurmontable »
Indices boursiers.
Geoffrey Geuens, Tous pouvoirs confondus. État, Capital et Médias à l'ère de la mondialisation, p. 85.
Geoffrey Geuens, Tous pouvoirs confondus. État, Capital et Médias à l'ère de la mondialisation, p. 87. Le Livre est publié en 2003. David Rockefeller est depuis décédé, en 2017.