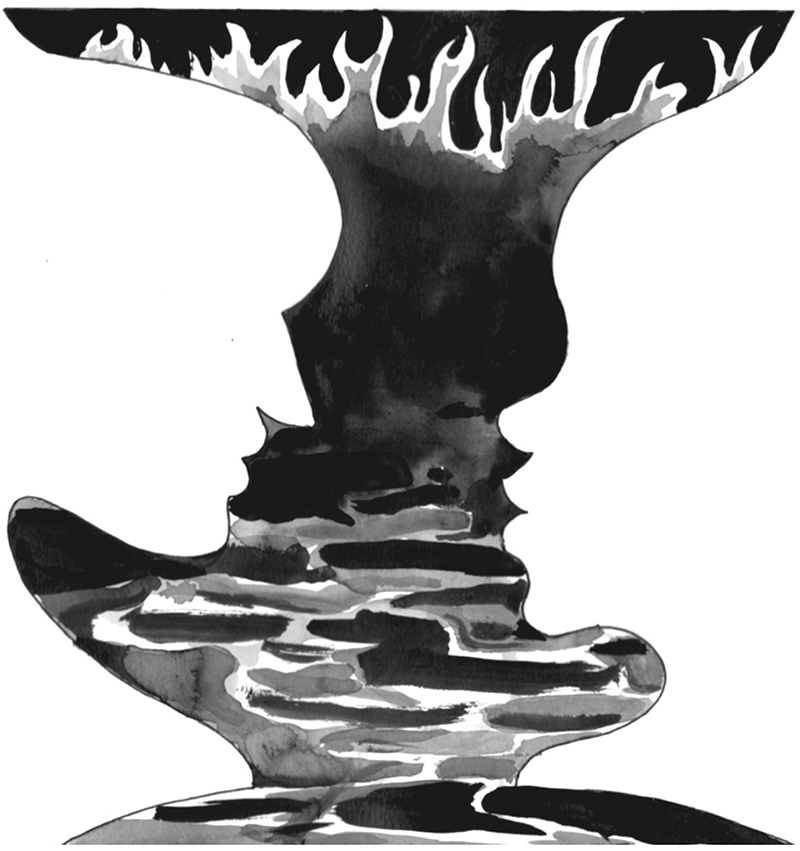 Zoals elk project, bevat ook het milieu clichés. Laten we eens kijken naar de kwestie van armoede, met twee voorbeelden. In de jaren negentig, tijdens de vogue voor « duurzame ontwikkeling », werd herhaaldelijk verklaard en aanvaard dat armoede de oorzaak van de achteruitgang van het milieu was. Er werd verwezen naar de inwoners van Afrika ten zuiden van de Sahara of Haïti die hun bosbestanden overexploiteren om brandhout te verkrijgen, die niet beschikken over moderne technieken om hun afval te recycleren, die geen of te weinig beschermde natuurgebieden genieten wegens het lage BBP van hun staten, enz. Aangezien de ontwikkelde landen daarentegen beter zijn in het behoud van de natuur, werd aangevoerd dat zoveel mogelijk arme mensen in de middenklasse moeten worden opgenomen om het milieu te kunnen beschermen. Simpel, is het niet? In Brazilië had Lula da Silva tijdens zijn eerste ambtstermijn (2002–2006) het lovenswaardige voornemen om ondervoeding uit te roeien. Maar voor haar opvolgster, Dilma Rousseff, was het niet genoeg om genoeg te eten te hebben; tegen het einde van haar eerste presidentschap (2010–2014) beschikten honderdduizenden huishoudens eindelijk over de huishoudelijke hardware zonder welke het onmogelijk lijkt [sic] om te leven. Elke liberaal zal zich verheugen over het feit dat de massa's van de wereld (Brazilië, China, India, enz.) toegang krijgen tot consumptie, een bewijs, zo zal hij zeggen, van de doeltreffendheid, wenselijkheid en transhistorische universaliteit van de markteconomie. « De democratische verbeelding leidt alle leden van de samenleving naar het idee van materiële verbetering, en zowel rijk als arm beschouwen het verwerven van rijkdom als onmisbaar voor het welzijn(1) » schreef Tocqueville in 1835. In China zien we ook dat dictatuur samengaat met consumentisme.
Sinds enkele jaren zien we in verband met de klimaatverandering een andere gemeenplaats: het zijn de arme mensen in het Zuiden die het eerst de gevolgen zullen ondervinden. Zit hier niet een beetje postkoloniaal slecht geweten achter, gekoppeld aan wishful thinking? Wij westerlingen zijn nog steeds behouden (phew!) en het zijn opnieuw onze vroegere slachtoffers die zullen lijden, in de dubbele bestraffing (moe!). De diagnose lijkt juist, behalve dat de huidige gebeurtenissen het in twijfel trekken. Denk maar aan de recente mega-branden die de Australische bossen hebben geteisterd en de bewoners van Sydney en Canberra van alle rangen en standen hebben verstikt. De doden en vermisten nog niet eens meegerekend, meldden de kiezers-consumenten in het land met de grootste uitstoot van broeikasgassen ter wereld(2) dat zij al hun bezittingen door de branden waren kwijtgeraakt(3), en de onmacht van de hulpdiensten om de situatie onder controle te krijgen, smeekten om regen. Ook Portugal, Catalonië, het Verenigd Koninkrijk, Griekenland, Zweden, Rusland, Californië, Chili, Brazilië, Canada, Israël, niet bepaald arme landen, zijn getroffen door mega-branden… In Frankrijk hebben overstromingen verwoestingen aangericht
verschillende departementen en gemeenten (om nog maar te zwijgen van het feit dat er ook mega-branden waren). Moraal: de opwarming van de aarde klopt aan elke deur, ook aan de vergulde en zogenaamd gepantserde deuren van het Westen; en het gebeurt sneller dan verwacht!
Ook al loopt de klassenstrijd duidelijk als een rode draad door de ecologische catastrofe, het idee dat we « allemaal in hetzelfde schuitje zitten » wordt steeds denkbaarder. Als de laatste het begint over te nemen, moet het parool dan zijn « Nu zijn we allemaal rijk »? « De zogenaamde « bescherming van de natuur » struikelt openlijk over de doelstelling om de armen uit de armoede te halen, en het linkse denken verzandt al tientallen jaren in zijn tegenstrijdigheden; het probeert het vuur te doven door er benzine over te gieten(4) « , merkt José Ardillo op. Door koppig te blijven streven naar tijdelijke welvaart op korte termijn, spelen we een zeer gevaarlijk spel. « De beste maatstaf voor rijkdom is, zonder in armoede te vervallen, er niet ver van af te dwalen(5)
Bernard Legros
Notes et références
Cité in Crystal Cordell Paris, La philosophie politique, Ellipses, 2013, p.185.
Scott Morrison, premier ministre australien climato-sceptique et drogué au carbone, n'a
pas la moindre intention de restreindre la production de charbon.
Sans oublier les animaux, qui ont payé, par centaines de millions, le prix fort de la catastrophe.
José Ardillo, Les illusions renouvelables. Énergie et pouvoir : une histoire, L'Échappée, 2015, p.265.
Sénèque, De la constance du sage, Gallimard, 2008, p.85.