The media-political outbursts always leave the impression that what is happening is only unexpected. We would witness a form of emergence of the abnormal in a world of the most normal. Thus, Caterpillar is laying off massively and the mass media are laughing — they certainly have some shareholders in common; the politicians, on their side, are coughing and pretending to be astonished: the MR, spearhead of the notional interests (but voted and tolerated by most of the other parties) that have attracted transnationals like Caterpillar, magnetized by the tempting tax advantages, is crying about this « vblack Wednesday for Charleroi and Wallonia », while its president (Olivier Chastel) « is shocked and outraged after the announcement of the closure of Caterpillar in Gosselies ». A little more, we believe in it…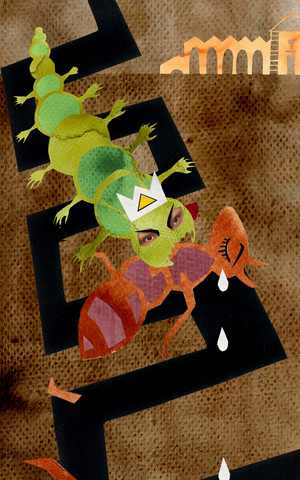 Cynical, but more honest, the administrator of the FEB (Federation of Enterprises in Belgium) is clearer, revealing half a word of his plan: « It's a drama, but on the other side there are opportunities. » Car the Robin Hood of Bel-20 will create a task-force that will make it possible to bring together the highly qualified supply represented by thousands of Caterpillar workers and the demand of companies… and thus to bring competitiveness into play, with men and women less inclined to be picky when they have « a child to feed », come « to buy a car » and would « like tobuy a house… « (1). The governments, great facilitators of finance, will help the FEB, because for them it is no longer a question of avoiding redundancies, but simply of trying to manage the redundant.
And who could blame these workers, immersed in the logic, like most of us, of debt and « purchasing power », which have allowed the slavery and chains to be accentuated, ensuring the continuation of corporate profit and consumption? Who could blame this attachment to his job, where the worker spends most of his life?
But what the impression of an accident hides more deeply is that beyond the social drama, even if Caterpillar survived, we would by no means be in a « normal situation ». The illusion of the norm before the « social drama » makes us forget that the multinational company symbolizes destructive progress, the progress made possible by black gold, creating bulldozers, trucks, underground mining machines, high wall extractors, road milling machines, forestry machines, graders, hydraulic shovels, drills, construction dumpers, draglines(2)… all these machines which puncture by tons the raw materials, shape the capitalist world and concretize its projects, those same ones against which the beings of the Zones to defend (ZAD) of a little everywhere in Europe fight.
Does the slave in the mines of Brazil or the Congo gain anything from the closure of Caterpillar? Of course not… as the indefatigable defenders of the « if it is not produced here, it will be produced in any case in others » will say(3). However, we want to oppose this form of resignation with the possibility of joining in our struggles the slave of the « South » with the one of the « North » and say that Caterpillar is not good for anyone…
For those who still argue and wonder if social and ecological struggles are compatible, privileging the side of the former in the unconditional defense of employment, we would like to remind them of what the philosopher Marx said: « Capitalist production therefore develops the technique and the combination of the social production process only by exhausting at the same time the two sources from which all wealth springs: the land and the worker. »(4)remember that the exploitation of one is always at the expense of the other, and that change will therefore only come from the disappearance of transnationals like Caterpillar, orchestrated from below, of course (then destroying the destructive jobs themselves, changing the slogans of saving jobs to « let's burn Caterpillar »)
In fact, this will require that some people realize that « saving the climate without touching jobs » is not possible, unless one is fighting for capitalism by saying one is fighting against…
Alexandre Penasse
Notes et références
La fin de Caterpillar: «« J'ai un enfant à nourrir, j'ai acheté une voiture, je devais acheter une maison… », nous confie Michel, effondré ». http://www.lanouvellegazette.be.
« Les draglines Cat® sont un outil d'excavation essentiel pour de nombreuses exploitations minières à ciel ouvert à travers le monde. Hautement productives, elles offrent le coût par tonne de matériaux le plus fiable du marché ». Voir http://www.cat.com/fr_FR/products/new/equipment/draglines.html
On proposera ici le nouveau terme de BIMBY (Better In My Backyard), variante du NIMBY (Not In My Backyard) et pour lesquels on trouvera quelques points communs.
Cité dans Gorz, A., Misères du présent, richesse du possible. Éditions Galilée, Paris, 1997