De staat: censor, geen redder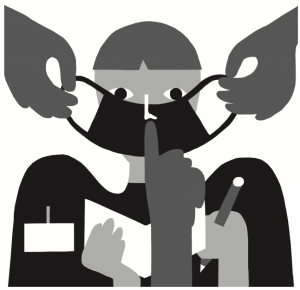 Nooit eerder was het gevoel zo acuut dat we worden geleid door een staat die zonder terugblikken handelt, gecombineerd met de stekende indruk dat hij dat doet met een heel ander doel dan « ons redden ». Als hij ons uit het slop had willen halen, had hij immers al lang de kans gehad om daar het bewijs van te leveren. Integendeel, zij heeft haar waanzinnige race voorwaarts, met de ogen gericht op de groeicurve, voortgezet en zet deze meer dan ooit voort, terwijl flora en fauna, en dus ook wij, te lijden hebben onder de gevolgen van hun demiurgische waanideeën, waarop wij momenteel geen vat hebben, ondanks de vreselijke gevolgen ervan: herhaalde en verwoestende bosbranden, voortdurend stijgende gemiddelde zomertemperaturen, ontbossing, biodiversiteit in voortdurende achteruitgang, burgeroorlogen (soms in een vergevorderd stadium, met name in de VS), structurele ellende, groeiende ongelijkheid, enzovoorts. Onze ouderen, daarentegen, hebben met hun leven betaald. Zo zal men zich herinneren dat het leven tegenover de ijzeren wet van het kapitaal van weinig belang is — degenen in verre landen die voor onze « ontwikkeling » zorgen, zullen u dat zeggen. Dit artikel is doorspekt met citaten van George Orwell, omdat we 1984 achter ons hebben gelaten.
Daarom was het nodig hen duidelijk te maken dat er iets niet klopte, een persconferentie aan te grijpen om te verklaren dat « de koning naakt is » en dat velen het tegelijk konden horen(1). Is de legitimiteit van een regering en van groepen deskundigen die uit alle macht eten en ons uitnodigen voor onszelf te zorgen terwijl zij er vooral voor zorgen het bestaande systeem in stand te houden, d.w.z. voort te gaan in een productivistische wedloop voorwaarts die het steeds minder waarschijnlijk maakt dat wij in staat zullen zijn onze afdaling in de afgrond te keren en ons andere perspectieven te bieden, niet iets wat ons allen aangaat? Als de Covid-19 een gelegenheid is om het bewustzijn van hoe deze wereld en de machten die er zijn werken, te versnellen, dan is het een gelegenheid om het bewustzijn van hoe deze wereld en de machten die er zijn werken, te versnellen.
« In zekere zin wordt het wereldbeeld van de Partij het krachtigst opgelegd aan hen die niet in staat zijn het te begrijpen. Het kan hen ertoe brengen de meest flagrante schendingen van de werkelijkheid te slikken, omdat zij niet inzien hoe groot hetgeen van hen wordt verlangd is en niet genoeg belangstelling hebben voor het openbare leven om op te merken wat er gaande is. Het is dit gebrek aan begrip dat hen ervan weerhoudt gek te worden. Voor hen is alles eenvoudig, zij nemen alles in zich op zonder nawerkingen, want wat zij inslikken laat geen residu achter, net zoals zaden door het lichaam van een vogel gaan zonder dat hij ze hoeft te verteren.
Wat er nu gebeurt gaat veel verder dan dit comfortabele « voor of tegen » dualisme, dat de bevolking verdeelt in twee groepen voor- en tegenstanders: pro- en anti-vaccin, provaccin, anti-vaccin, pro- en anti-staat, enz., dat kenmerkend is voor een stroming die de waarheid heeft gedegradeerd tot het domein van de absolute relativiteit, een waarheid die ieder voor zich houdt op grond van zijn subjectiviteit. Het gaat erom vooruit te lopen op de vorming van tegengestelde groepen, ten einde eenvoudigweg onpartijdige informatie te verkrijgen, vrij van alle belangen. Wanneer je echter probeert de Macht in twijfel te trekken over de legitimiteit van bepaalde beslissingen, of zelfs van degenen die ons moeten « vertegenwoordigen », zal deze altijd proberen je in een in diskrediet gebrachte categorie te plaatsen — dat gezegd hebbende, deze reflex is gebruikelijk bij iedere gesprekspartner die het debat weigert. De meest geschikte op dit moment: 'samenzwering'. Wie dus twijfelt aan de noodzaak van een vaccin, wie vraagtekens zet bij de particuliere belangen achter deze als enige oplossing gepresenteerde oplossing, is een « beperkte geest » of een « corona-scepticus »(2). De Mug schreef onlangs (22–28 augustus), in een nummer getiteld « Het samenzweringsvirus »: « Het samenzweringsvirus is een virus dat is geïdentificeerd als een belangrijke doodsoorzaak in de Verenigde Staten. Anti-Bill Gates of Big Pharma geruchten doen de ronde in vele talen op sociale netwerken (…) De angst? Dat een aanzienlijk deel van de bevolking het (de) toekomstige vaccin(en) tegen Covid-19 weigert « . Waarom zouden we het « vrezen », als het gerechtvaardigd zou zijn?
« Wanneer men regeert, en moet blijven regeren, moet men de zin van de werkelijkheid weten te verdubbelen. Want het geheim van regeren is het geloof in de eigen onfeilbaarheid te combineren met het vermogen om van het verleden te leren. Het moet gezegd dat de meest subtiele beoefenaars van dubbeldenken niemand anders zijn dan degenen die het hebben uitgevonden, en dus goed geplaatst zijn om te weten dat het erin bestaat kwade trouw als systeem in te voeren. In onze maatschappij zijn degenen die het meest verlicht zijn over het gebeuren ook degenen die het verst verwijderd zijn van het zien van de wereld zoals die is.
De mediahype van door angst gevoede informatie gaat gepaard met de presentatie van oplossingen die vanzelfsprekend lijken, zoals wijdverspreide vaccinatie (« Een vaccin in België voor januari », DH, 26 augustus, naast honderden artikelen) of de totale digitalisering van ons leven en onze school (« Le Covid m'a tuer ». De school van gisteren', Le Vif, 27 augustus, een voorbeeld uit een overvloed aan artikelen). Zowel angst als het tegengif moeten worden bijgebracht. De nieuwe oorlog overschaduwt de andere gevechten en maakt ze tegelijk onwettig en ongepast, nog voor ze verboden worden. » De bevolking, de politici, de media, met hun kwaliteiten en gebreken, ieder van ons met zijn successen, zijn fouten, wij moeten vooruit. Dit is wat moeilijk blijft: wij hebben de kunst om de verkeerde strijd te voeren. De vijand is het virus « (3), zal Sophie Wilmès zeggen.
« Tegelijkertijddoet het besef in oorlog te zijn, en dus in gevaar, de concentratie van macht in een zeer kleine kaste, voorgesteld als de conditio sine qua non om te overleven,natuurlijk lijken .
« De oorlog moet oneindig doorgaan zonder de overwinning te verzekeren.
Meer in nummer 46
Notes et références
Moustique, « Le virus du complotisme », 22 août 2020.
Idem.
La Libre, 1er et 2 août 2020.