At the Haguenau hospital, near Strasbourg, in Alsace, 7 out of 8 patients in intensive care were vaccinated. We called the hospital and they confirmed it. This is how vaccination creates the disease, the saturation of hospitals, the specious argument of the political-media world to make the 3rd dose, which will be with certainty followed by the 4th, 5th, 6th, etc. And the whole totalitarian world they are putting in place, which is basically the only reason for their whole show.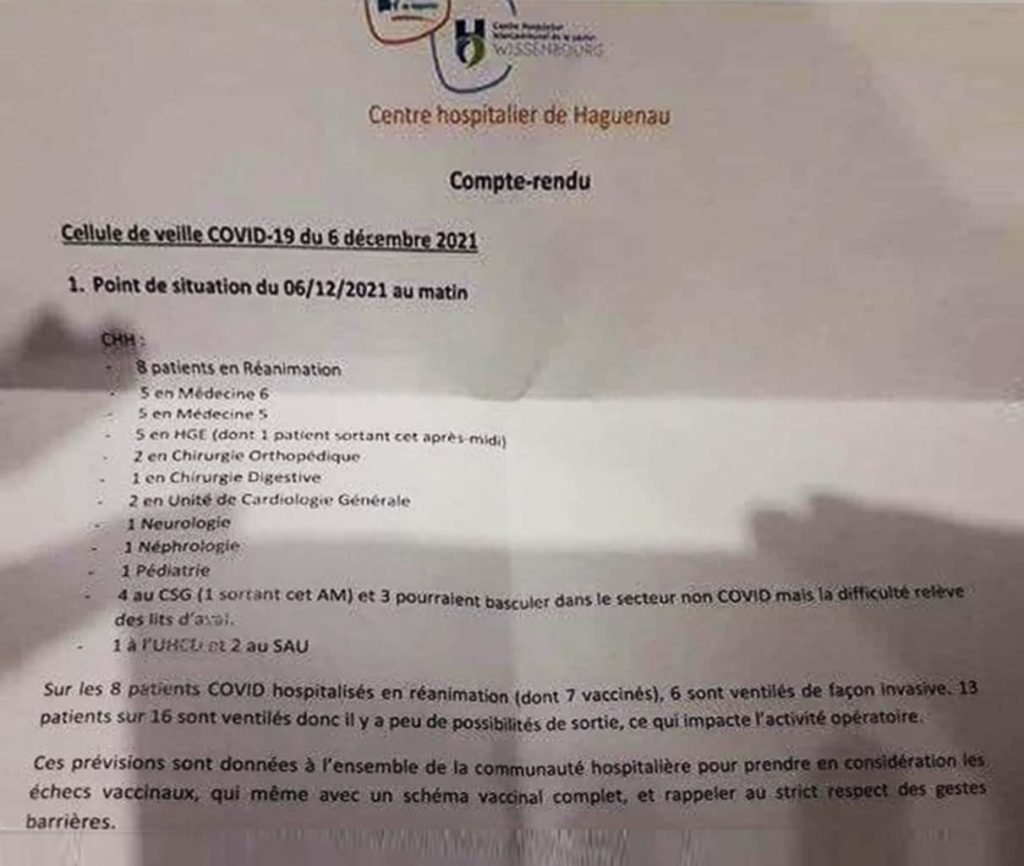 On the Internet there are two notes that seem to come from hospitals. Kairos has investigated and can confirm with certainty that one of these notes (the one concerning the Haguenau Hospital Center) is true and was really circulated internally. We have had this confirmed directly by the hospital's legal department.
On the other hand, the Centre Hospitalier Hubert Henry (named after a famous document forger in the Dreyfus Affair), does not exist(1).
It is interesting to discover that next to a 100% true note, another totally false one is broadcasted. Do we want to drown the fish and make the two notes look false, like « conspiracies »?
The lady in charge of the legal department of the Haguenau Hospital confirmed that the note was indeed circulated in their department, that the situation described therein was real on December 6. When asked why there was such a vaccine failure (out of 8 Covid patients in the ICU, 7 were fully vaccinated), the lady preferred to refer us to a press release that the hospital will make available on its website very soon.
Everything is fine.
E.D. (A.P. for the caption)