In March 2018, the collaboration between Financitémagazine and La Libre came to an abrupt end, after 12 years during which the former was quarterly embedded in the latter. A look at a case of proven censorship, typical of the generally more insidious thought control that is typical of our « modern » societies.
Kairos : Describe in a few words what is Financité magazine?
Julien Collinet : Financité magazine was born 12 years ago. At the beginning, Financité was an association that only informed the public on everything related to solidarity investment. It then became an association of permanent education with a mission of information and sensitization in relation to finance in general. Then there was an evolution towards much broader themes and an interest in more things. As a result, this magazine, which at the beginning was only dedicated to solidarity investment, has turned into something more critical about finance, global economic issues and their implications on people, working for example on food speculation. It is important to know that from the second issue, the magazine was inserted in La Libre Belgique but we also distributed it in 400/500 places of deposit in Wallonia and Brussels: cafés, CPAS, medical houses, etc., plus our subscribers who receive it by post.
What was your relationship with La Libre at and afterwards ?
It was really good. We had our annual meetings, I always exchanged with them. It is important to know that they were in charge of printing the magazine, they were very happy and had very good feedback from their readers. People often thought it was a supplement of La Libre Belgique. I've always been told that it's good for them, giving them quality editorial content as well. So there was never any blame, until a September 2017 issue.
So no reminder, even when you were treating some « delicate » subjects?
Until then, they never told us anything. There was never a little reproach or a simple discussion about the content. We really felt free to publish what we wanted.
The collaboration came to an abrupt end a few weeks, explain to us how what happened?
As I said, until September 2017, there were no problems, it was getting better and better each time. They offered us more opportunities, were in a process to continue and strengthen the partnership. Then there's this issue in 2017 that was about inequality, with a photo of Albert Frère on the cover. My choice then was to deal with inequalities and to embody them, not to say » inequalities in the world « , but to show who are its representatives. Thus, the 8 richest men in the world are listed at the beginning of the file, which was not a problem at all for La Libre. But it's a week after the publication that we receive an e‑mail which indicates that it made a lot of commotion within La Libre…
Small precision here, they do not control what is going to come out, it is after that they react by based on the feedback they received.
It is important to know that the magazine was sent for printing on Tuesdays and usually it was printed on Tuesday afternoon. But since they trusted us completely, there was no proofreading. In short, we received an e‑mail from the person in charge of the partnership, who told us that it was causing a lot of commotion and wanted to meet, in particular with the general manager of IPM, Denis Pierrard, former general manager of Libération in France.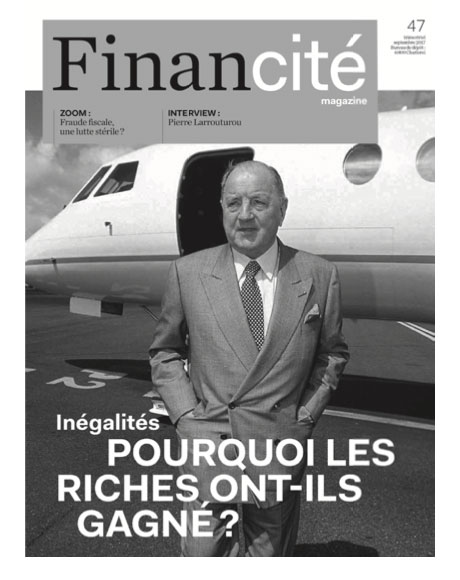 So you go to this meeting…
We go to this meeting which takes place two or three weeks later. I go there with the director of Financité, to meet the person who manages the partnership and Denis Pierrard. Basically, they explain to us that they have had phone calls, that the board of directors has risen up against this One, that it looked like a PTB leaflet, that it is really demagogic, that our information was not solid, that we were implicating people who are close to La Libre, that this is not acceptable, etc. In the dossier, we mentioned large families with significant assets in Belgium, such as the Emsens family, which became rich thanks to the asbestos trade. In this regard, they tell us that it is not solid(1).
« The Emsens family (€3.3 billion in assets) got rich thanks to the asbestos trade, through its company Eternit. These people have killed thousands of people because of their noxious products and we let their fortune prosper.

(Financité, September 2017)
What do you say to them?
On the fact, we let him speak, I really found it ubiquitous, quite violent that our work was questioned like that. They also add that it is dishonest to point the finger at Albert Frère like this, when he is a very generous person.
He is a patron of the arts.
Yes, a philanthropist… They add that even if he had done tax evasion (sic), it is not illegal. It may be immoral but, well, we're not allowed to talk about it. Already before, in the e‑mail, they asked us, referring to the logo of La Libre on the Financité website and on the magazine, to withdraw all this immediately, not wanting to be associated with it anymore.
At this point, they ask us several conditions. In addition to removing the logo, they want us to indicate in the future, if we continue the partnership, that our words do not commit the editorial staff of La Libre. We had no worries about that, it even seemed honest to us. But they also required that the paper be proofread before publication and that they could demand changes. This meant that we had to provide the material a week before. If there is a delay, no problem, we could arrange it, the newspaper is published every three months.
Although you indicate that the words of magazine Financité were in no way binding on La Libre they ask for a right of review and modification ?
Yes, and we thought about this at the time, because first of all, it would be a problem for us if they were to ask us to remove a piece of information one day, and secondly, there is a form of self-censorship implicit in this case, because we know that we can be rejected if we write something that they don't like. But we finally accepted because it allowed us to have a huge distribution for a small newspaper like that.
60.000…
Yes, on Saturdays they print 60,000. This allows us to have an audience that we could not have ourselves by our small means. So we kept going, while thinking about what might happen.

Then, the December issue arrives.
Yes, the December issue is coming, which is not at all about a polemical topic, as it deals with cooperatives as a response to uberization, for which I take the example of bike delivery people, Delivero, etc. But in fact, there is another article, which is in the « zoom pages » published by Financité [L'association] and which I am popularizing a little. I'm trying to test them and I'm putting back a little reference to Albert Frère, in an article about how the rich are, inevitably, the ones who use tax havens the most. So, recalling the inequalities, I make a small sentence about Albert Frère to remind us how strong they are and I indicate how much his wealth weighs compared to that of the Belgians. And there, it does not fail, they ask me to remove it, directly.
But the paper also shows that the Belgian rich do more tax evasion than the European average, justifying my title » Belgian rich love tax havens « . And here, too, I am asked to remove « Belgian ». It's not much, but…

It's not much, but it means a lot.
This means that you can bash the rich globally but not the Belgian families (and this we will learn later, clearly understanding it when they cancel the March 2018 issue) because the boards of the press groups are composed of people defending the interests of these families. In this case, they warn us two hours before the closing, we had worked two months on it, we were not going to say: « We cancel everything ».
So against my will…
… we take it off in the end.
It's violent. And then what?
The March issue addresses the issue of service public. Again, the subject is re-read. In the first mail I was sent, I was told: » Dorian [Dorian de Meeûs] has read again « .
The editor-in-chief of La Libre Belgique .
Yes. What is interesting is that when we later decided to make this matter public by issuing a press release, Belga interviewed Denis Pierrard, director of IPM, who said: » The editorial staff had nothing to do with it, they never intervened in the content « , while it was the editorial director of La Libre checked and then asked for changes in this issue.
So you think the managing editor checks and doesn't ask for anyone's opinion other. He knows himself what to censor, which will not please the shareholders?
Yes, it is. The person who manages the partnerships writes in his e‑mail: » Dorian read it again, he found the file great « , etc. She brushes a little bit in the direction of the hair, adding however: » But there are two things we can't accept, especially in the letters to the editor where we talk about inequality and someone who says he is sick of seeing the gap between the incomes of bosses and workers « This in itself, even if one can find it demagogic and all that one wants, is true.
But above all, there is a brief that poses a problem, which concerns a report published by an Icelandic NGO showing that some Belgian banks have investments in nuclear weapons. I mention banks, including Degroof Petercam, which will prove important later on. I know that Degroof is on the board of La Libre… Basically, he explains to me that it's really too simple, that you can't summarize such a complicated subject in a brief, that it would require a lot of explanations.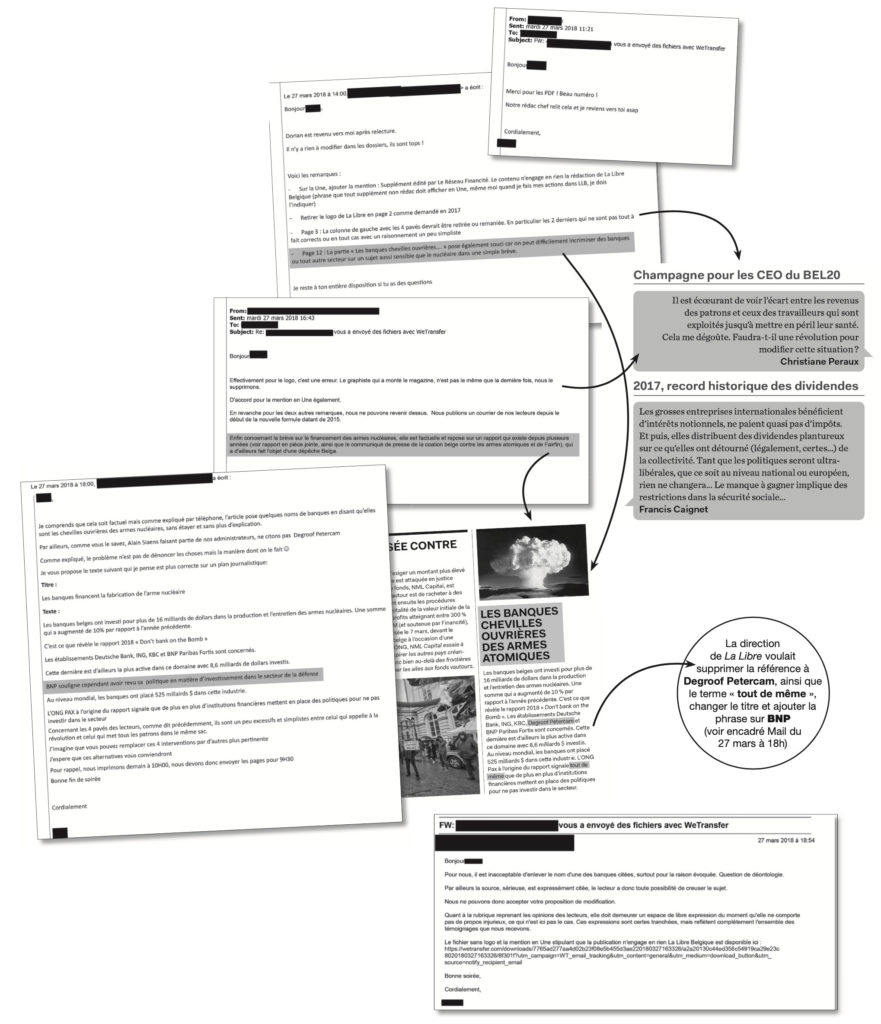 Is it de Meeûs who says that?
No, it's the middleman, but I guess the orders come from above. In short, there are phone calls. I defend myself, say that it is factual, etc. So I know that's the problem. After several exchanges of emails, I received a message: » Ok, we have discussed with Denis Pierrard and with Dorian [de Meeûs] « , telling me afterwards on the phone: » It is not possible, we are making you an offer « . And then he e‑mailed me a proposal: » Let's remove Degroof Petercam from our board of directors, it's a problem « .
Because there is the famous Alain Siaens who is at CA?
That's right. They say » Siaens is part of our board of directors « .
At that point, what do you tell them?
I say this is not acceptable and I refuse their request. At this point, I know we're not going to get published. The next day, normally the day of publication, they call me and I have to push them to tell me themselves: » Asit is, we refuse to publish it « , and then they tell me » It is Patrice le Hodey, owner of IPM (see the article in this file: » The Hodey galaxy »), who decided . It's the boss of IPM who decided for a small publication and a brief story! So there we refused. They still agreed to print the newspaper but not to insert it.
So La Libre wanted you to rewrite the newspaper?
They accepted in fact that we publish this brief, after negotiation, but on the condition of removing Bank Degroof, which is close to La Libre Belgique, because one of the directors of Degroof is a director of IPM.
What's fantastic is that, through a kind of mirror effect, it gives an idea of what they can and cannot say in La Libre. We, with Kairos, we have been criticizing the media for years, and therefore La Libre, they always told us that they were free to do what they wanted, this famous « freedom of the press » that we know is totally false. This shows that the most important thing for the Belgians, for the readers, is not said: the wealth gaps, the way the money goes to tax havens…
I wouldn't go that far because La Libre publishes articles on tax evasion, maybe does the minimum, but…
So it's all schizophrenic?
Let's just say that there's no such thing as a phone call from a shareholder in an editorial office. The censorship is implicit. I worked 5 years before at Canal+ in Paris. Never, before Bolloré, did Vivendi call to say « Don 't do that « , but the censorship is implicit, I have plenty of examples.
What is interesting is that there was no censorship before September 2017.
By the way, it's simple: I don't think they read it. But one day, the important people at La Libre received the Saturday paper and saw Albert Frère's head, with an article and a somewhat provocative title. So they look at what's inside. And that's what happened: they told me at the meeting I had with Pierrard, that they had received phone calls, that there were important people who complained. Afterwards, there was an overzealousness in relation to our publication which they reread three times to avoid any problems. Because short stories like that, we could have done 10 of them before and it would slip through the cracks. The overzealousness can also be explained by the fact that people who are very high up in a newspaper are paid for it: their employer is the shareholders and, at some point, they want to save their place.
No doubt these important people did not read Financité and got interested in seeing the cover, but in the meantime they read without doubt La Libre ?
Yes, indeed (laughs).
Did this event change your perception of the mainstream media, even though you were probably lucid about it? Did you say to yourself: » I didn't think they could go that far » ?
I have a certain background: I went to journalism school in France, I worked in editorial offices where media criticism was not present and where I understood, because there were problems, how important this criticism was. I had found a certain freedom here at Financité. I thought it was the right compromise: it allowed me to be hired by a non-profit organization, of course it's not totally independent but at least I don't have any important shareholders behind me, I thought everything was going well at the time. It didn't fundamentally change my perception because it was something I knew.
But when it comes to you…
On the other hand, yes, it is violent. I admit that it was 6 months quite hard by the way, personally.
You can imagine what happens in these newsrooms when you still believe in a free press. People like de Meeûs and all, they are managers more than editors, they are buffers between the press groups and the newspaper, they know what you can say, what you can't say, what you didn't know at Financité.
Yes, it is. We are not going in the right direction today, when you see the status of journalists. There are practically only independents, but they are false independents, people who are on ejector seats. So they have no interest in going against their management.
THE — ABSENCE OF — REACTIONS FROM OTHER MEDIA
What is also interesting is how other media reacted. Apart from RTBF, which other media outlets reacted? Does Le SoirDid you say anything about this to the Hurbain family, which is in the same situation with regard to its shareholders?
At first, it is important to know that we hesitated before releasing the information. I really wanted to do it.
Did you get any threats not to take it out?
No. They called me. They wanted us to make an appointment, a bit of a reunion. I dragged it out a bit and we got them by surprise… I don't think they thought we would get it out. I wanted to bring it out because it is important, it says a lot about the independence of the press in Belgium. Afterwards, we were afraid of shooting ourselves in the foot, of being boycotted. It could be dangerous: the association needs press relays when we release certain information. We knew when we released it that it wouldn't be picked up in the press. We were very clear on that.
So, apart from the RTBF, nobody spoke?
We contacted Medor which released [une partie de] the day after our press release; Belga also made a dispatch. What you need to know is that normally when Belga publishes one of our news, it is taken up on all the sites, which have their own account, whether it is 7 sur 7, Le Soir, La Libre… and here, just the RTBF. For my part, I was even surprised that RTBF was playing it. I didn't think he would relay it. However, it is obvious that a lot of journalists have read the press release and that it has been widely circulated in the newsrooms, because it is a subject that affects journalists. I don't think we've ever had a press release that was circulated so much but not relayed on other media websites.
Did you know the composition of the Board of Directors of La Libre (see p.12)?

No, not at all. I realized that Bank Degroof was on the Board of Directors, because I received an e‑mail on my mailbox, just after the Albert Frère story, where I had been called to tell me that the content had not gone down well with La Libre, from a certain Alain Siaens, who does not introduce himself, who does not say who he is and who asks » Such information, I would like to have your source, it seemsstrange tome ».
Unluckily, the source was the SPF économie. So, anyway, no news but I google this guy and I realize that he is on the board of La Libre. So that's when I discovered it. On the other hand, there is something a bit insidious that I am discovering about the press in Belgium: I thought that things were going a bit better here than in France where the media belong to big industrialists whereas in Belgium we have rather press groups: Rossel, IPM, etc. But by the way, when you dig a little, you discover the composition of the board of directors, you see that all the press groups belong to big Belgian fortunes but, in addition, you find in the boards of directors the whole Belgian financial and industrial oligarchy. They are linked like that.
But in France there is a strong criticism of the press. Le Monde diplomatique has done a lot of work on this, Acrimed, guys like Halimi, Accardo, Ruffin, whereas here, except for Geoffrey Geuens who had worked a little on this, there is almost no one, which means that there is still this ignorance. When you released the information, a web user reacted: » I thought that La Libre was one of the last bastions of a still respectable press « .
On the question of a respectable press, I would not go not until then. The majority of journalists are people who do their job well. La Libre, Le Soir, on tax evasion issues, for example.
But the more disturbing we are, the less we will talk of us. Is it now in Financité you tell yourself that you are going to leave a place, or you think that it is not your role, to a criticism of the mass press and also of the link between finance and the press.
Yes, the question will arise and we will make a case for it, it is important. It was actually planned in this issue. I was supposed to interview Aude Lancelin, author of Le Monde Libre , but it didn't work out in terms of timing. I would have loved to see their reaction, it's a shame.
How do you see the future of a magazine that had the chance, in quotation marks, to touch 60,000 people. Does this change everything now?
It changes everything, you really have to rethink the whole thing. We just finished the previous issue but everything was done in a hurry. We knew that when we published the information, it would not be relayed by the press, on the other hand, we counted on the civil society and we had a lot of support from citizens, associations and we will count on these relays to diffuse the newspaper now.
Interviewed by Alexandre Penasse on June 21, 2018