October 27 and 28, 2021 continuation, but not end, of « The Julian Assange Affair », 12thseason, episode XXX. Because yes, it's been twelve years that this public enemy number 1 has been resisting the deprivation of his freedom, including 84 months of confinement in the Ecuadorian Embassy and 30 months in prison in conditions that amount to torture according to Nils Metzer, UN special rapporteur on torture.
What he did to be treated as the greatest of criminals, Kairos readers know well(1)He did what any journalist worthy of the name should do: seek and tell the truth. With Wikileaks, which he founded in 2006, he informed the whole world about the lies, war crimes and criminal actions of the American leaders and their CIA in Iraq, Afghanistan, Syria, wherever « American democracy and Western values » should be brought for the benefit of these populations.
These documents revealed, among other things, the murder of two Reuters journalists and other innocent civilians in Baghdad, the torture at Abu Ghraib prison, the illegal detention of Guantanamo detainees, the carnage caused by the wars in Afghanistan, Iraq, Syria, the eavesdropping of European leaders, Merkel, Chirac, Sarkozy and Hollande among others… But it is Julian Assange that this power accuses of espionage!
That the United States wants to morally and physically destroy the person who exposes its turpitude is normal. It is in their role and in their genes. A long history of lies, robberies, murders and betrayals: from the pilgrim fathers ripping off the Indian tribes that welcomed them, the conquest of the West and the extermination of the Indian peoples, slavery, coups d'état, wars in Latin America and elsewhere, the assassination of democratically elected leaders such as Jacobo Arbenz and Salvador Allende… That is why the revelations about false testimony, the scenario of a kidnapping and possible assassination of Assange by the CIA and Mike Pompeo are neither shocking nor implausible: they are in line with the American war against all those who touch the imperialist interests of the United States. On the other hand, what is abnormal and revolting is the attitude of the official press and its journalists (with a few rare exceptions) who should be up in arms to support, protect and save one of their own, especially since they have largely benefited from the Wikileaks files and even cited Julian Assange as « man of the year » on two occasions.
Not content with abandoning him to his fate, some media have actively contributed to his demonization and the defamation of his image in the public sphere. Regarding the BBC, that « respectable old lady », this is what Nina Cross says: » Whistleblowers whose work does not threaten U.S. military impunity but is considered ideologically acceptable are referred to by the BBC as dissidentjournalists , of journalists activists for human rights. But the journalist who denounces American war crimes is » a hollow man, a mischief-maker, who wants to attract attention, a stooge of Putin, a troublemaker, […] the useful idiot of Russia, unhygienic, insensitive to his cat, noisy, rude and antisocial […]. The BBC has invested heavily in its smear campaign with articles, videos and podcasts. […] The defamation of his character, intended to inspire disgust, probably influenced the judges as much as it did other BBC subscribers. […] His behavior shows that the BBC does not serve the interests of the public but those of the Foreign Office, the British elite and its allies in the American security state. » (2)
Behind the persecution of Assange is the criminalization of all whistleblowers and investigative journalists (those who do not limit themselves to denouncing only the powerful who do not please the United States). Craig Murray, a former British diplomat and journalist, has just been jailed for eight months. As luck would have it, this honest man who vigorously defended Assange will not be able to travel to Spain to testify in the trial against UC Global, the security service that spied on Assange in the Ecuadorian embassy. » Assange and Murray are not only telling us truths we are not supposed to hear. The fact that they are denied solidarity by their colleagues, those who could be next in line for the firing line, tells us everything we need to know about the so-called mainstream media: the role of institutional journalists is to serve the interests of power, not to challenge them.(3)
When these constituted powers betray their duty, it is up to all of us to take up the job. We met with Marie-France Deprez who, with a group of citizens, meets every
Monday in Brussels, place de la Monnaie (once a month in front of the British embassy) to inform his fellow citizens: » We are now atact 135, in fact for more than 2 and a half years . […] To feel the will of all those who participate in the gatherings pushes me to continue and not to give upclench the arms. Everyone understands the challenge of this case for the right to be informed properly. Since we started gathering at the Place de la Monnaie, we have met thousands of people ranging from the most From those who have never heard of Assange or WikiLeaks to those who have learned about them. […] One thing is certain, when people have time to stop and talk, it is rare that they are not shocked by the situation and convinced that we are right to act. […] The journalists who regularly support us are very rare. Lode Vanoost (DeWereldMorgen), Vladimir Caller (The Red Flag), Zin-TV, others passing through. Of course, Le Grand Soir announces our gatheringevery week. Investig'Action publishes articles (a partner in this media often joins us). We had three The first time TV journalists, BX1 in February 2020 and RTBF on January 29, 2020 (during the installation of the statue Anything to say? by Davide Dormino, on the Place de la Monnaie) and this Wednesday, October 27… Sometimes, news on the RTBF website too. A journalist of the Belga TV Agencyphone after each gathering more important (opening of hearing, etc.). But if the other newspapers don't pick up his ad… ».
The man who defines himself as an » activist, journalist, software programmer, expert in cryptography, specialized in systems designed to protect human rights defenders » is not a criminal(4). Journalism is not a crime. We, the citizens who want to preserve our right to information, must act to prevent the extradition of Julian Assange and demand his immediate release .
Annie Thonon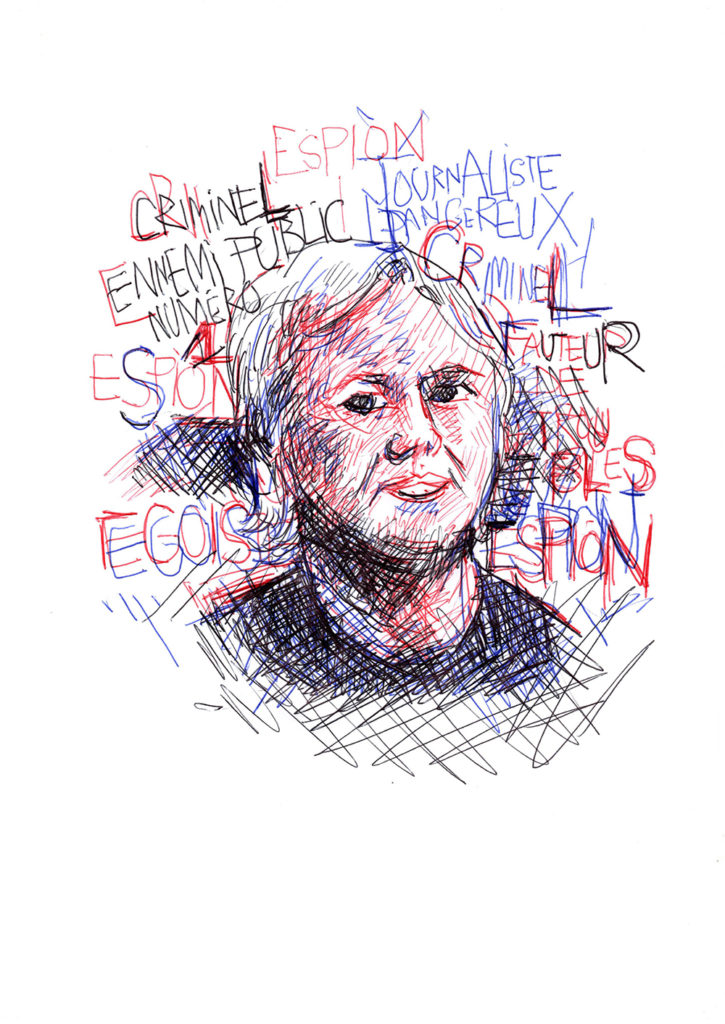 Notes et références
Pour ceux qui désirent se remémorer toutes les péripéties de la saga, voir le site « Comité Free Assange Belgium » : https://www.investigaction.net/fr/proces-assange-ou-en-est-on-a-la-veille- des-audiences-en-appel/ https://www.corriere.it/esteri/21_ottobre_16/julian-assange-compagna-cia-voleva-ucciderlo-prove-03c56b70-2de5-11ec-be4a-8aaf23299e0e.shtml
Nina Cross : Le rôle de la BBC dans la persécution de Julian Assange https://www.legrandsoir.info/le-role-de-la-bbc-dans-la-persecution-de-julian-assange-2e-partie-impunite-the-indicter.html
https://www.legrandsoir.info/l‑incarceration-de-craig-murray-est-une-nouvelle-etape-dans-la-guerre-contre-le-journalisme-independant.
Hum, un journaliste qui a des convictions, très mauvais cela de nos jours… cela n'a pas été toujours le cas, songeons à Jules Vallès, Paul Nizan, John Reed, Armand Gatti.